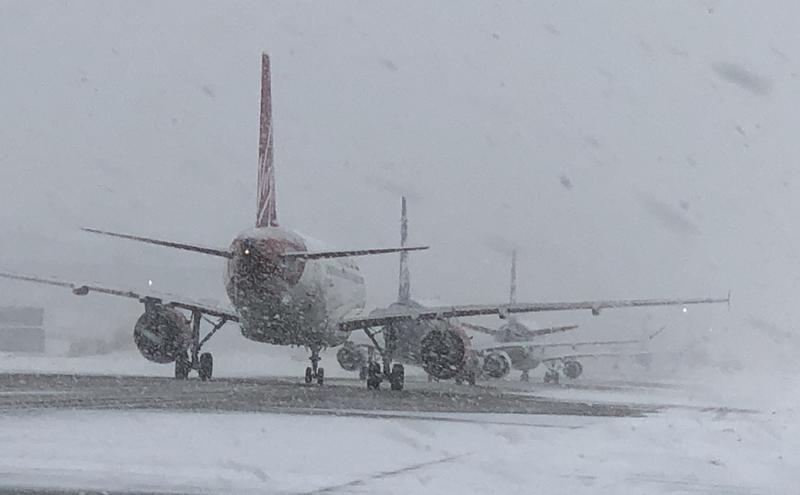 January 15, 2020
As you know, we are experiencing winter weather. The SEA Snow team is hard at work keeping the runways clear and the planes moving safely for you. Watch this page and check the resources below to stay up to date on airport operations. 
Resources
SEA Flight Status Online
Check the flight widget on the SEA Airlines home page. This is the same information seen on the in-terminal flight information displays and comes from the airlines. You can use this page to check the status of specific flights, or delays to or from another airport. For example, to check delays or cancellations for flights to Chicago, select the Chicago airport under Arrivals and Departures, then leave the airline blank.
Link
Check with Your Airline
The airline should be your first call for a status update. Here's a directory of airlines that serve SEA.
Link
Limited Parking Availability in Garage
Parking availability in the garage is currently limited due to a weather-related parking restriction on the top floor. Upon arrival, please allow more time to find a stall.
Link
SEA Airport App
Download the SEA Airport App for your iOS and Android platforms to get updates on your flight and Checkpoint Wait Times.
Link
SEA Airport Social Media
Updates are posted to the SEA Airport Facebook page and Twitter feed.
SEA Airport Text Alerts
Sign up to be notified of a weather incident or receive alerts during peak travel periods. Text the word CONNECT to 206-347-8045.
Flight Aware's Flight Cancellations Page 
This site tracks daily by airport delays and cancellations. To track SEA flight status, input KSEA into the Filter all Stats by airport box.
Link
Weather Conditions at SEA Airport
Get the latest conditions and forecast from NOAA/The National Weather Service station.
Link
Sound Transit Alerts
View service alerts or sign up for email and text alerts.
Link
Thanks for your patience during this time. Stay safe and warm.