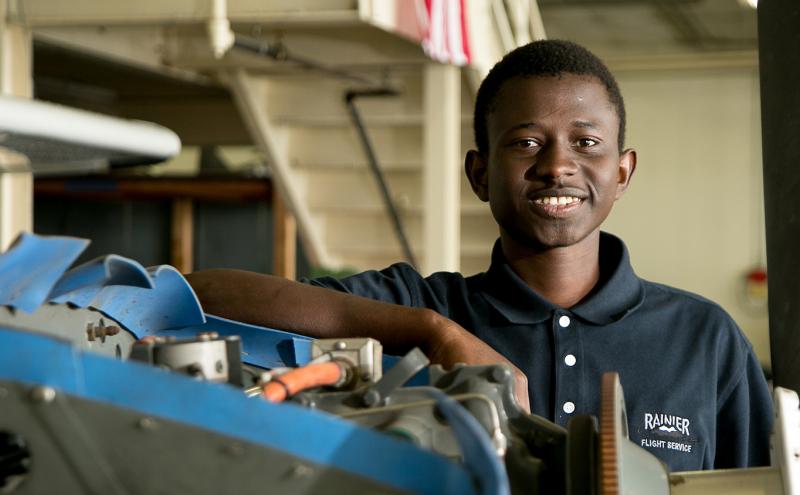 August 3, 2020
The Port of Seattle today launched the first cycle of the South King County Fund, established to develop equity-based partnerships and provide resources and support to near-airport communities. The Port has pledged $10 million dollars in funding between now and 2023 with $1 million available for 2020. The Fund's first grant cycle will focus on supporting regional recovery from impacts of the COVID-19 pandemic.
"The global health and economic crisis has hit our most vulnerable communities the hardest," said Port of Seattle Commission President Peter Steinbrueck. "We established the South King County Fund to address inequities in our economy and environment. The regional economy faces a worsening economic and health crisis--the South King County Fund is intended to address inequities and create new economic opportunities where they are needed the most."
Grants will support communities most deeply impacted by the current economic crisis through projects connected to Port-related industries, including aviation, maritime, construction trades and green career industries.
"The COVID-19 pandemic has exposed, deepened, and exacerbated existing structural failures and social inequities impacting communities of color, women, immigrants, and people living on low-incomes," said Bookda Gheisar, Senior Director for the Office of Equity, Diversity, and Inclusion. "South King County Fund will meet a critical need in our communities and aim at supporting some of the essential economic and workforce related efforts in communities experiencing the most impacts."
The Port of Seattle established the South King County Fund in 2019 to develop equity-based partnerships and provide resources and support in these communities. The fund will address noise mitigation, environmental health and sustainability in near-airport communities.
In response to the devastating impact of the COVID-19 crisis, the Port Commission added economic development as an additional focus for the South King County Fund. With ties to all of Washington's key economic sectors and connections to more than 500 employers operating at our facilities, the Port stands uniquely positioned to help lead the regional recovery.
The Fund invites proposals for projects with outcomes related to workforce development, job creation programs or economic recovery solutions in Port-related industries. Projects must benefit near-airport communities, for example: Burien, Des Moines, Federal Way, Normandy Park, SeaTac, and Tukwila. Projects must also serve those who are economically vulnerable and face great challenges, including people of color, Native people, immigrants and refugees, those with less English proficiency, veterans, seniors, youth, and/or people with disabilities. Community organizations, chambers of commerce, and other non-profit organizations working in these program areas are eligible to apply.
There is $1 million in funding available and grant requests can be up to $100,000. Proposals are due by 12 noon on September 30, 2020.
More details and proposal materials are available at at the South King County Fund webpage.
Contact
Perry Cooper | SEA Airport Media Officer
(206) 787-4923 | cooper.p@portseattle.org