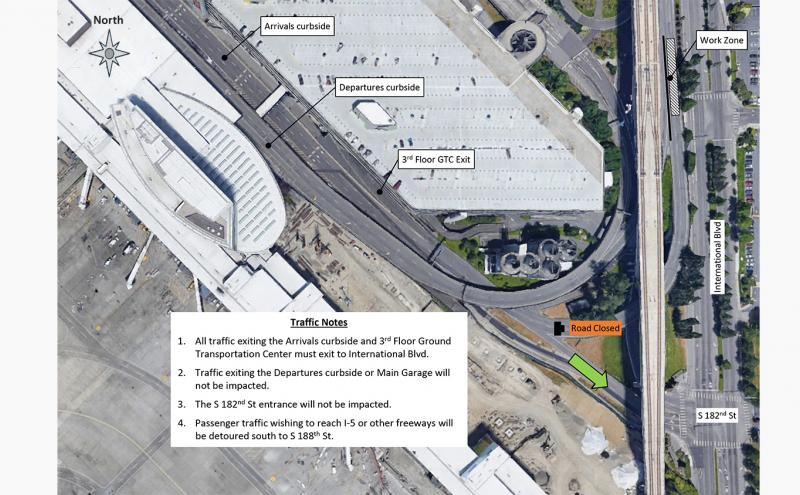 Travelers using Arrivals Drive will exit to International Blvd or plan alternate access options
January 22, 2021
Unscheduled road repairs along a portion of the northbound Airport Expressway will close the exit to the lower (Arrivals) drive heading northbound beginning Saturday morning, January 23 at Seattle-Tacoma International Airport (SEA). Travelers and ground transportation operators using the lower (Arrivals) drive will exit to International Boulevard until the repairs are complete. Due to the road repairs, travelers are asked to be aware of the potential for increased congestion on the airport drives and are encouraged to use alternative options for pickup and drop-off of passengers. 
An existing water main is leaking underneath the northbound Airport Expressway and in need of emergency repairs. All traffic exiting the lower (Arrivals) drive will be directed to the existing roadway at S. 182nd St. and International Blvd. Vehicles can reach I-5 via S. 188th St. The repairs are expected to last up to two weeks. Here are a few alternatives to consider:
Use the airport parking garage to pick up and drop off to avoid exiting on the lower drive. Exiting from the garage is not affected by the construction. See more about parking at Sea-Tac.
For pickups during the busy evening period, Think Opposite – use the upper/Departure drive at night to avoid traffic. See all of our travel tips here. 
Use public transportation such as Sound Transit's Link Light Rail, rideshares, courtesy vehicles, or airporters. See more ground transportation options available at Sea-Tac Airport.
Pickup or drop off passengers one stop away at the Tukwila or Angle Lake Light Rail stations or use the Sound Transit Passenger Drop-off/pickup location at 176th St. and International Boulevard. For more information visit Sound Transit.
Overheight vehicles will need to drive through the upper/Departures drive to access the South Parking Entrance or use the S. 182nd St. airport entrance.
We apologize for any traveler inconvenience.
Select this link to view a larger PDF version of the map above. For more information, please contact Perry Cooper at cooper.p@portseattle.org or 206-787-4923.
Contact
Perry Cooper |  SEA Airport Media Officer
(206) 787-4923 | cooper.p@portseattle.org