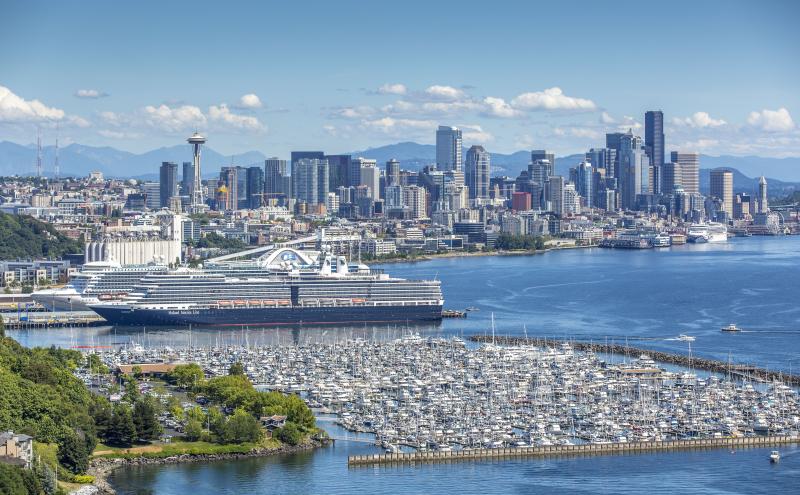 Bookmark this page to follow ongoing updates for the 2020 cruise season at the Port of Seattle.
Cruise line contact information
COVID-19 Travel Advisories for Cruise Lines:
Monday, September 21
The Port of Seattle responded to a Request for Information (RFI) from the United States Center for Disease Control (CDC) and Prevention, providing information pertaining to the safe restart of cruise operations. The Port provided its responses to the CDC as part of our effort to support the safety of the port workforce, crewmembers, passengers, and our communities. Read document
 
Monday, July 6
The Port of Seattle confirms that no cruise ships will be arriving for the 2020 cruise season due to the COVID-19 pandemic. 
Friday, June 19
Cruise Lines International Association (CLIA) announces that its cruise members will voluntarily extend the suspension of cruise operations from U.S. ports until September 15, 2020 as health officials and the U.S. Government continue to address COVID-19. 
Friday, June 5
We thank our cruise partners for recognizing the severity of the COVID-19 health crisis and making the difficult decisions to cancel cruises. We look forward to welcoming cruise passengers back to Seattle, once health authorities declare this crisis over, and we can provide safe facilities necessary for operations.
Tuesday, March 24
Maintaining the health, safety, and wellbeing of our community is the Port of Seattle's top priority. The Port now expects the launch of the cruise season will be delayed until the resolution of the public health emergency.
Royal Caribbean Cruises Ltd. announced an extended global suspension of cruse operations. 
Friday, March 13 
Cruise Line Industry Association (CLIA) announces that CLIA oceangoing cruise lines will be voluntarily and temporarily suspending cruise ship operations from U.S. ports of call for 30 days as public health officials and the U.S. Government continue to address COVID-19. 
Canada's Transport Minister announced a suspension of cruise across Canada until July 1. United States maritime laws require foreign flagged vessels, which include many cruise ships, to stop at a foreign port on a U.S. port to U.S. port itinerary. This is why most Seattle to Alaska cruise itineraries visit Victoria, and changes in Canada can impact Seattle-based cruises. The Port of Seattle is reviewing Transport Canada's actions and evaluating the order's impacts on the 2020 Alaska cruise season.  
Wednesday, March 11 
The Port of Seattle announced that it has cancelled the April 1 and April 5 planned sailings of the Seattle 2020 cruise season.
 The Governor of Washington and King County Executive issued a health order limiting the number of people at events, and mandated social distancing. This does not apply to transportation hubs like Seattle-Tacoma International Airport.
  
Tuesday, March 3 
SEA and the Port of Seattle announced changes to maintain the safety, health, and well-being of passengers and employees using Seattle-Tacoma International Airport