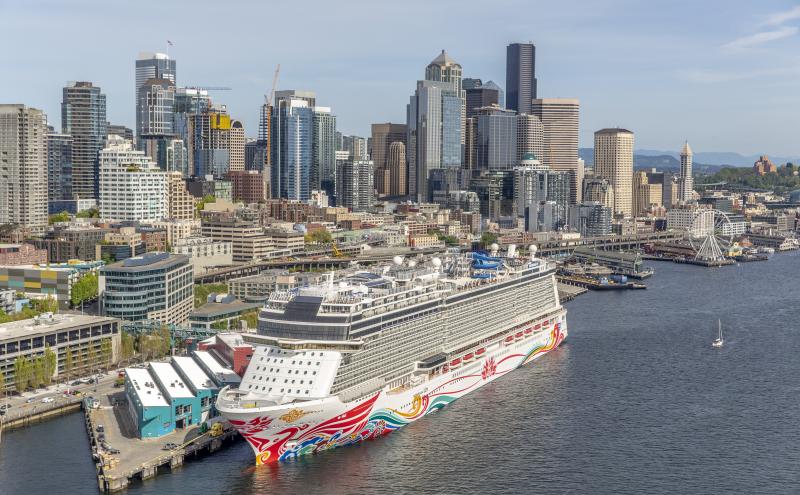 Bookmark this page to follow ongoing updates for the 2021 cruise season at the Port of Seattle.
Cruise line contact information
COVID-19 Travel Advisories for Cruise Lines:
Friday, April 30
Centers for Disease Control (CDC) provides additional guidelines to cruise lines and ports easing  pathway to a healthy and achievable return to service.  
On April 29th, the U.S. Centers for Disease Control (CDC) issued five new clarifications to its Conditional Sailing Order that constructively advance planning to safely resume cruise in the United States. The clarifications include an alternate pathway to cruise resumption when passengers and crew are vaccinated, updated testing requirements, and the use of multi-port agreements.  
These changes do not automatically mean a return to cruise. Cruise lines will still need to meet all the CDC Conditional Sailing Order requirements before sailing can resume.  
The Port will emphasize four areas of work in planning for resumption of cruise:
Ships can bypass the required simulated test voyages carrying volunteers and jump to sailings with paying passengers if the cruise line operator requires that 98% of the vessel crew and 95% of passengers on a scheduled sailing on are fully vaccinated.
As an alternative, cruise operators who decide not to mandate vaccinations, CDC will review and respond to applications from cruise lines to perform simulated voyages within 5 days, a review previously expected to take 60 days.  Depending on the outcome of the simulated voyages CDC would determine cruise operators certification to sail.
CDC will update its testing and quarantine requirements for passengers and crew on sailings with paying passengers to align with the CDC's guidance for fully vaccinated people.  So, for example, instead of requiring passengers take a PCR lab test ahead of boarding, fully vaccinated passengers would take a rapid antigen test during the embarkation process.
CDC has clarified that cruise ship operators may enter into a "multi-port agreement" rather than a single port agreement as long as all port and local authorities sign the agreement.
The CDC has clarified guidance on quarantine guidelines for passengers who may be exposed to or contract COVID-19. For example, local passengers leaving the ship may be able to drive home and passengers who have traveled by air to cruise may quarantine in a hotel.
The work to resume cruise requires partnership with public health officials, cruise lines, terminal operators, local labor, Alaska ports, and our international partners.  Depending upon approval from CDC, cruise lines may be able to offer cruises from Seattle mid to late summer for 2021 season.   
Friday, April 2
Centers for Disease Control (CDC) provides new technical guidelines to cruise lines and ports.
Under the Conditional Sailing Order, cruise lines and ports need to comply with new technical guidance released by the CDC on April 2.  Depending upon those requirements, and approval from CDC, cruise lines may be able to offer cruises from Seattle towards the end of our 2021 season.  We look forward to better understanding the next steps ports should take to facilitate a safe return of cruise.  We greatly appreciate everything public health officials are doing to manage the pandemic. 
 
In the meantime, we continue adding safety measures and facility improvements at our cruise terminals that are consistent with best practices developed from safely operating Seattle-Tacoma International Airport through the pandemic.  When it is safe to cruise again, we will be ready.
Thursday, February 4
Canada's transport ministry announced an extended suspension of cruise operations in their waters through February 2022 due to continued concerns about the COVID-19 pandemic.  We respect the decision by the Canadian government to continue the suspension.  This may affect our 2021 cruise schedule, as under federal law cruise vessels must stop at a Canadian port on their Alaska itineraries.  There remains a possibility of a limited cruise season in Seattle this year.  We are working with our cruise line customers on updates to the schedule. Nonetheless, the health and safety of our community comes first, and we await further guidance from the U.S. Center for Disease Control (CDC).  We will continue working closely with federal and local officials and our industry partners to implement the latest health and safety requirements to support a safe return of cruise.  When it is safe to cruise, Seattle will be ready.
Thursday, January 21
The cruise 2021 schedule remains in great flux as cruise lines adjust their procedures to meet new United States Center for Disease Control (CDC) Requirements. In October 2020, the CDC provided guidance on steps cruise lines and ports need to take to safely resume cruise. The Port welcomed these new requirements, some of which reflected input we provided to them at the time. When adopted, these measures will make up some of the most robust health protections we have observed in any travel industry. 
Cruise lines are actively working to implement these health measures to meet the new CDC standards. As a result, many cruise lines are extending their no-sail periods to provide more time for planning and provisional sailings. The Port will rely on cruise lines to best determine when they are ready to resume their schedules as long as they are approved by the CDC with the engagement of local health organizations. 
In light of this, we expect the cruise season to start more slowly and later than usual this year. Normally our season begins with ships arriving to the Pacific Northwest in April, with our season hitting its full stride by May and June. Right now, berth reservations are in flux, making a firm schedule of sailings difficult to predict. 
Cruise is an important part of Seattle's economic recovery and we will continue to coordinate with local and state public health agencies as we prepare for our next cruise season. 
Tuesday, November 3
On October 30, 2020, the U.S. Centers for Disease Control and Prevention (CDC) lifted its "No Sail" order for cruise ships in favor of a "Conditional Sailing" order and will be working with the industry on a phased-in return to service. The phased-in approach will include: (1) establishment of laboratory testing of crew onboard cruise ships in U.S. waters; (2) 15 simulated voyages designed to test a cruise ship operator's ability to mitigate COVID-19 on cruise ships; (3) a certification process; and (4) a return to passenger voyages in a manner that mitigates the risk of COVID-19 introduction, transmission, or spread among passengers and crew onboard ships and ashore to communities. 
These phases will be further determined based on public health considerations including the trajectory of COVID-19 transmission and the demonstrated ability of cruise ship operators to successfully employ measures that mitigate the risk of COVID-19.
The Port of Seattle strongly supports federal standards to ensure safety for communities, employees, and passengers. We look forward to reviewing the CDC order in detail as our first priority is to protect the health of our guests, our workers, and the community. Cruise is an important part of Seattle's economic recovery and we will continue to coordinate with local and state public health agencies as we prepare for next year's cruise season. Cruise lines and their partners are prepared to implement multiple layers of protocols informed by the latest scientific and medical knowledge. With the Seattle cruise season typically beginning in April, we will be keeping a close eye on other cruise markets as they resume voyages in the coming months to confirm that appropriate health protocols are in place to protect passengers at our terminals before the cruise season begins. We have also been advocating for federal standards in aviation, and we have submitted responses to the CDC's prior Request for Information regarding our work in supporting the need for federal standards for cruise. 
Monday, September 21
The Port of Seattle responded to a Request for Information (RFI) from the United States Center for Disease Control (CDC) and Prevention, providing information pertaining to the safe restart of cruise operations. The Port provided its responses to the CDC as part of our effort to support the safety of the port workforce, crewmembers, passengers, and our communities.
See updates from the 2020 cruise season here.