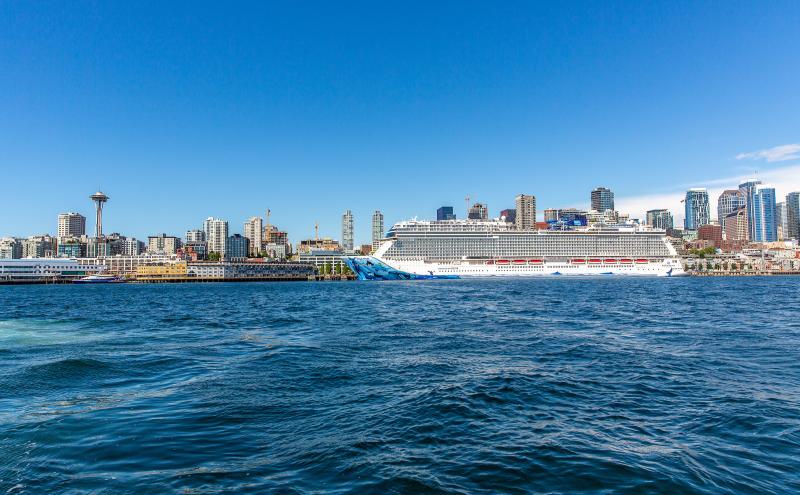 Bookmark this page to follow ongoing updates for the 2022 cruise season at the Port of Seattle.
Cruise line contact information: Cruise Line Directory 
COVID-19 Travel Advisories for Cruise Lines
Get updates on operations at Seattle-Tacoma International Airport
---
Monday, February 28, 2022
Port of Seattle Announces 2022 Cruise Schedule 
First ship to arrive April 11, while COVID safety remains top priority.
The Port of Seattle unveiled its preliminary cruise schedule for 2022 , with 296 scheduled sailings bringing an estimated 1.26 million revenue passengers through its two cruise ship terminals. Cruise lines are adding additional ships to the Alaska market this season. It is anticipated that the number of passengers per ship will vary by sailing and will increase as the season progresses. The seven major brands homeporting in Seattle will be sailing 14 vessels, up from 11 most seasons.
"The Port of Seattle looks forward to providing another season of safe cruise experiences as we continue to work with our local public health officials to ensure the health and safety of passengers, crews, and the community. Our vision is for a thriving Seattle Alaska cruise industry, one that leads the world in terms of environmental standards, inspiring other Ports to meet the same high standards, and delivers job and business opportunities where they are needed most," said Stephanie Jones Stebbins, Managing Director of Maritime at the Port of Seattle. "Cruise is a critical part of our local and regional economy, supporting thousands of jobs across maritime, tourism, hospitality, agriculture, and services."
---