Safety and well-being come first at the Port of Seattle. And that includes a commitment to keeping our community and partners informed of our work to safely resume cruise at our two terminals.
Cruise lines are working to achieve certification and authorization from the U.S. Centers for Disease Control (CDC) to carry cruise passengers in the United States. Progress is being made to launch a mid- to late- summer cruise season in Seattle. Cruising has already restarted in a limited capacity in some other parts of the world, including Europe and Asia. Many of the cruise lines operating globally are gaining experience that will apply to the safe return of cruise in Seattle.
The Port is actively bringing together cruise lines, local health partners, federal agencies, and community groups to prepare for the safe return of cruise ships to Elliott Bay.
Preparing for the safe return of cruise
The 2021 sailing schedules are being developed as cruise lines work to adjust their procedures to meet CDC requirements. When adopted, these measures will make up some of the most robust health protections in any travel industry. 
Health and safety guidelines
This spring the CDC issued clarifications to its Conditional Sailing Order that constructively advance planning the safe start of  cruise in the United States. The clarifications include an alternate pathway to resuming cruises if all passengers and crew are vaccinated, updated testing requirements, and the use of multi-port agreements. The work to resume cruise requires partnership with public health officials, cruise lines, terminal operators, local labor and Alaska ports.   
The Port of Seattle continues to follow CDC guidance requiring employees and guests to wear a facial covering at transportation facilities including SEA Airport and Port of Seattle cruise terminals.
Cruise ships
All major cruise lines homeported at the Port of Seattle are members of Cruise Lines International Association (CLIA) and work directly with the CDC to get certified to sail from Seattle. The Port strongly supports these federal standards to ensure  the safety of communities, employees, and passengers; and supports each cruise line partner to achieve their CDC Certification.  
Cruise terminals
The Port provides two cruise terminals in Seattle, in partnership with Cruise Terminals of America and the cruise lines.
To mitigate the risk of COVID-19 among onboard passengers and crew and onshore to communities, each cruise ship sailing from the Seattle cruise terminals is required to achieve CDC Certification. Terminal enhancements deploy an additional layer of health measures with touchless technology, safety barriers, and social distancing.
Airport arrival
| | |
| --- | --- |
| | Seattle-Tacoma International Airport (SEA), operated by the Port of Seattle, is just 30 minutes from downtown cruise terminals and is nationally recognized for its FlyHealthy@SEA travel safety operation. With Airport Council International (ACI) Airport Health Accreditation and Global Biorisk Advisory Council (GBAC) Facility Accreditation, this status assures your arrival in Seattle meets the highest and most current health travel standards. |
Local health update
The Port of Seattle is located in King County, Washington state. Washington Governor Jay Inslee plans to fully re-open Washington state on June 30, or earlier if more than 70 percent of eligible adults are vaccinated. In Washington state all residents over the age of 12 are eligible to receive a COVID-19 vaccine. In King County, more than 70 percent of eligible residents have received at least one COVID-19 vaccine shot.
Economic recovery for cruise
Safely resuming cruise is a key part of the Port's equitable economic recovery strategy, particularly for the tourism, retail, and maritime sectors. Seattle cruises to Alaska typically generate nearly $900 million in local business activity per season and support approximately 5,000 jobs.
Communities in Alaska also face severe economic hardship without a typical cruise season. For example, several vessels that depart from the Port of Seattle stop in Alaska at Icy Strait Point, a privately owned historical town and cruise ship destination owned by  the Huna Tlingit. All profits derived from Icy Strait Point benefit the Huna Tlingit people as well as the community of Hoonah. The local community benefits directly from the dollars spent, through  employment opportunities with preference for local hire, and entrepreneurship opportunities from the establishment of tourism in Hoonah, sales tax, and head tax.
Partner spotlight
Cheryl's Northwest Tours was created to show cruise passengers the iconic and beautiful places of the Pacific Northwest. Cheryl O'Brien's small, woman-owned business employs seven people and is dependent upon the Seattle cruise industry. Read about her business, the impact of COVID-19, and her hopes for the future. Learn how Cheryl O'Brien shows cruise passengers the beauty of our region.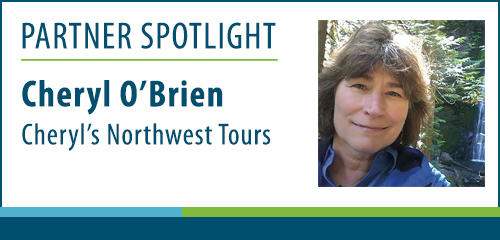 Stay up to date
Bookmark FlyHealthy@SEA for updates on SEA Airport's efforts to keep you traveling safely in this new normal 
Follow social media with #SEACruiseHealthy or @PortofSeattle