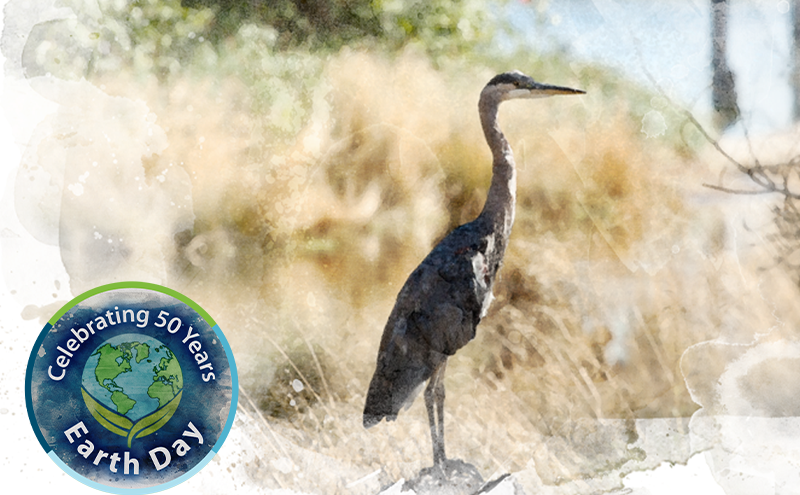 On April 22, communities around the world will celebrate the 50th anniversary of Earth Day. This year's theme is taking action on climate change.
Climate change represents the biggest challenge to the future of humanity and the life-support systems that make our world habitable. EarthDay2020.com
The first Earth Day in the 1970s launched the modern environmental movement and created the largest civic event on the planet. 
Sustainability at the Port
2020 Vision: What does a zero-carbon, clean future look like?
At the Port, we think about (and take action on) protecting and preserving the environment every day of the year. As agents of environmental change, we measure all new projects against a rigorous sustainability framework and strive to balance economic growth, environmental stewardship and social equity, and quality of life. 
Explore how the Port honors 50 years of Earth Day with major action on climate and habitat. More
Here's how the Port is working to protect our past, present, and future.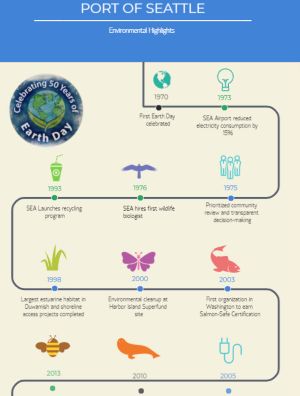 Past
The Port of Seattle has been a leader in protecting the environment since the first Earth Day 50 years ago. 
Read a detailed history of environmental milestones at the Port since then. More
Or, see selected projects highlighted in a graphical timeline.  More 
Present
And a few of the many 2020 priorities across all areas of the Port: 
| | |
| --- | --- |
| 1. Honoring 50 years of Earth Day with major action on climate and habitat | More  |
| 2. Setting a high bar for sustainability at the Port. See vision statements from Port Commissioners  for a zero-carbon, clean future | |
| 3. See an interactive story map for how the Port is tackling climate change in maritime operations to reduce emissions, improve air quality, and capture carbon | |
| 4. Using data to ensure environmental equity | |
| 5.  Launching a new sustainability newsletter in 2020  | Subscribe now |
| 6. Recognizing local businesses and organizations for outstanding environmental leadership and practices that help reduce greenhouse gas emissions   | |
| 7. Supporting the Paris Agreement on Climate Change | |
| 8. Partnering with community members in the Duwamish River Valley to address environmental justice issues | More  |
And more specific projects to protect our region, its natural resources, and quality of life:

Cutting carbon emissions by 50% and reaching our goal a decade early by using Renewal Natural Gas at SEA 
More
Plugging cruise ships into clean electric to reduce dependence upon fossil fuels
Promoting adoption of Sustainable Aviation fuels at SEA Airport to reduce emissions
More
Installing electric vehicle charging stations at Port facilities 
More
 
Using electric ground support vehicles to service planes at SEA Airport
More
Collaborating with other ports in the region to reduce air pollution and greenhouse gases
Read

| | |
| --- | --- |
| Restoring the Duwamish River ecology and cultural connections and renaming six parks | |
| Executing green building practices at the airport and other Port facilities to lessen the impact on the environment | |
| Managing a strategic plan for responsible development at SEA Airport | More |
| Turning unused green space at SEA Airport into a pollinator habitat | More |
| Providing matching grants to communities near the airport to fund environmental projects and programs | More |
| Supporting urban forestry and environmental improvements in three cities near the airport | More |
| Creating forested parks and healthy green spaces to strengthen neighborhoods and help the environment | More |

| | |
| --- | --- |
| Becoming the first (and only) port in the U.S. to form its own stormwater utility  | More |
| Putting kelp and native oysters to work to counteract the impacts of climate change to the marine environment | More |
| Becoming the first US major transportation facility to be certified Salmon-Safe. And maintaining all parks organically to comply with the fish-friendly guidelines | More |
| Participating in Clean Marina Initiatives and EnviroStar programs at recreational marinas | More |
| Collaborating with the cruise industry in 2004 to create a memorandum of understanding to not discharge into Washington waters | More |
Future
The Port of Seattle's goal is to be the greenest and most energy-efficient airport and seaport in North America.

We're glad you asked! Here's how you can join the Port and its partners in this historic movement!
| | |
| --- | --- |
| Build an oyster shell filter to pull heavy metals out of the water from your roof | More  |
| Help us restore the ecology of parks in the Duwamish and reclaim their historic and cultural connections | More  |
| Be a Good Traveler and fly carbon neutral by offsetting your flight's carbon emissions  | More |
| Go green when you travel with the Green Guide to Sustainable Travel | More |
| Practice organic landscaping at home with tips from the Port's parks maintenance team | More |
| Learn more about the Port's sustainability initiatives and how you can get involved | Subscribe now |
| Volunteer at Duwamish Alive to restore critical salmon habitat as part of the Port's orca recovery effort  | Watch video |
| Eat local and support food producers in your community  | More  |
| Take children outside and instill in them a love of nature and conservation | More |
| Teach youth how to harness science, technology, art, and creativity to help protect the environment  | More |