Winners for 2016-2018 Represent the Best of our Region's Green Values
2018 Environmental Excellence
Seattle-area maritime and aviation businesses and community partners earn recognition for outstanding environmental leadership and practices in their operations and programming at Seattle-Tacoma International Airport and Port of Seattle maritime facilities. The Environmental Excellence Awards celebrate the dedication of local partners to engage in healthier communities for cleaner air and cleaner water and to invest in enhanced energy efficiency.
Aviation Award Winners
Ground transportation is the second-largest source of greenhouse gas emissions behind aircraft at the airport, and a priority sector targeted by Port emission reduction goals. This year's award winners reduced or offset ground transportation sector emissions and enhanced availability of environmentally preferable forms of ground access mode choice among passengers.
Award recipients Bremerton-Kitsap Airporter and Whidbey SeaTac Shuttle, both small and veteran-owned businesses, implemented voluntary alternative fuel conversions. Additionally, Lyft achieved reductions in deadheading through an innovative "rematch" program and significant voluntary carbon offsets.
Small Business Award – Environmental Performance
Bremerton-Kitsap Airporter
A small and veteran-owned business, this award recognizes Bremerton-Kitsap Airporter (BKA) for alternative fuel conversations on fleet shuttles at Sea-Tac Airport that reduced GHG emissions. By converting 14 passenger buses from gasoline to propane fuel, BKA reduced carbon emissions by 161 metric tons in 2018. BKA's propane-powered buses used 51,660 gallons to travel 400,000 miles in 2018 (of 1.5 million total mileage) shuttling passengers to and from the airport.
Small Business Award – Environmental Performance
Whidbey SeaTac Shuttle
Whidbey SeaTac Shuttle (WSS), also a small and veteran-owned business, implemented converting nine passenger buses from gasoline to propane fuel. WSS' propane-powered buses used 52,969 gallons to travel 350,000 miles, a total mileage of 700,000, shuttling passengers to and from the airport. This ultimately reduced carbon emissions by 164 metric tons in 2018.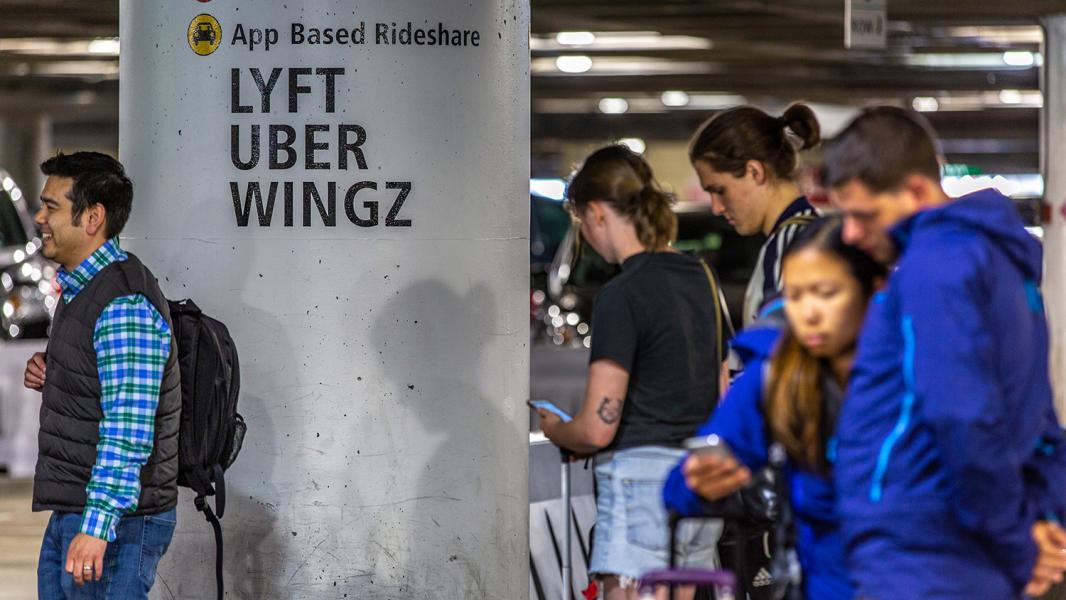 Environmental Excellence Award – Performance and Innovation
Lyft
This award recognizes Lyft, an app-based rideshare service, in both the Environmental Performance and Innovation categories for its creative use of technology to reduce current and future environmental impacts, including:
Innovative rematch technology enabling drivers to immediately pick up a passenger(s) shortly after completing a drop-off, which reduced deadheading and GHG emissions by an estimated 250 metric tons of carbon in 2018 at Sea-Tac Airport.
In 2018, Lyft became one of the largest voluntary carbon offset purchasers in the world and the first and only transportation network company (TNC) to become carbon-neutral for both company and ride related emissions. Lyft estimates 9,100 metric tons of carbon from Sea-Tac operations were offset during this investment.
Though not considered in 2018 actions or contributing to this award, Lyft's future plans to reduce environmental impacts are innovative and in-line with award program goals to encourage ongoing support for Port sustainability initiatives. For example, Lyft is launching two new electric vehicle (EV) initiatives in Seattle in 2019 with an Express Drive rental-car program that will add thousands of EV rentals onto their platform for drivers; and piloting a "Green Mode" option where a rider can request an environmentally preferable hybrid or EV car. Moreover, Lyft Plans to begin purchasing renewable energy to cover all their electricity consumption, including EV charging by drivers.
Maritime Award Winners
Community outreach and public education efforts best-represented achievements among the Port's maritime partners. This year's award winners provided resources and environmental education to minority and historically under-served communities as well as teaching environmental stewardship to students and developing sustainability leaders of tomorrow.
ECOSS and Sound Experience provide invaluable education programs to local communities and students while Pacific Fishermen Shipyard and Electric earned an honorable mention for Environmental Performance.
Environmental Excellence Award – Education and Outreach
ECOSS
This award distinguishes ECOSS for outstanding work educating and serving diverse communities to empowered over 10,000 businesses and community members in 2018, including: 
Providing multilingual educational materials and other resources to minority communities and non-native English speakers.
Providing spill training and spill kits and collaborating with King County's RainWise program to enable businesses and homeowners in improving stormwater management.
Hosting food waste prevention, compost, and recycling trainings to restaurant owners and community members.
Educating business owners and individuals about toxic household products and hazardous chemicals as well as non-toxic and environmentally-friendly alternatives.
Organizing volunteer programs, habitat restoration events, and other outdoor environmental stewardship outings.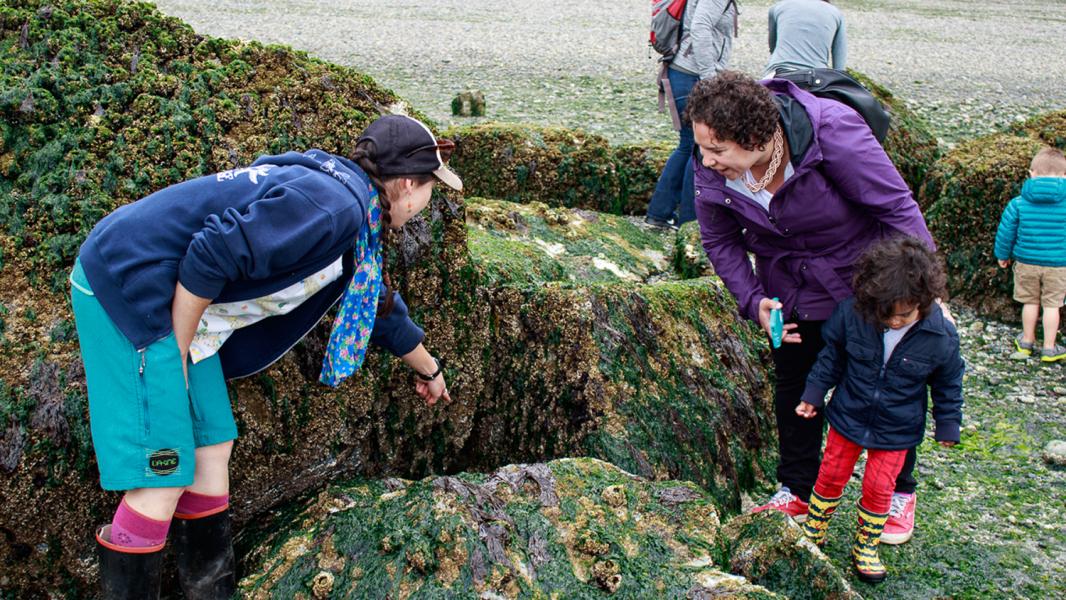 Environmental Excellence Award – Education and Outreach
Sound Experience
The Port celebrates Sound Experience for its experiential youth education program that reached 878 students in 2018 by focusing on:
Enhancing environmental understanding of the Puget Sound region by developing hands-on curricula on watersheds, ocean/estuarine features, marine food webs, human impact on the environment, biodiversity, marine animal ecology, natural history, climate, and habitat.
Developing leadership qualities and fostering teamwork qualities through individual and group assignment and activities.
Encouraging stewardship for the marine environment, Puget Sound and the local maritime industry.
Honorable Mention – Environmental Performance
Pacific Fishermen Shipyard and Electric receives an honorable mention for its consistent efforts to reduce the environmental impact of operations. Last year Pacific Fishermen implemented sustainability practices that reduce wastes and increase the use of non-toxic paints, thinners and cleaning solvents and installed a 7.9 kW Solar photovoltaic array to offset 316 pounds of CO2 annually.
2017 Environmental Excellence
Seattle-area maritime and aviation businesses and one nonprofit were recognized in 2018 for outstanding environmental leadership and practices that lead to cleaner air, cleaner water, and greater energy efficiency. The "Environmental Excellence" awards by the Port of Seattle celebrate the significant role of local partners in making our Port the greenest in North America.
Maritime Award Winners
Environmental Performance: Vigor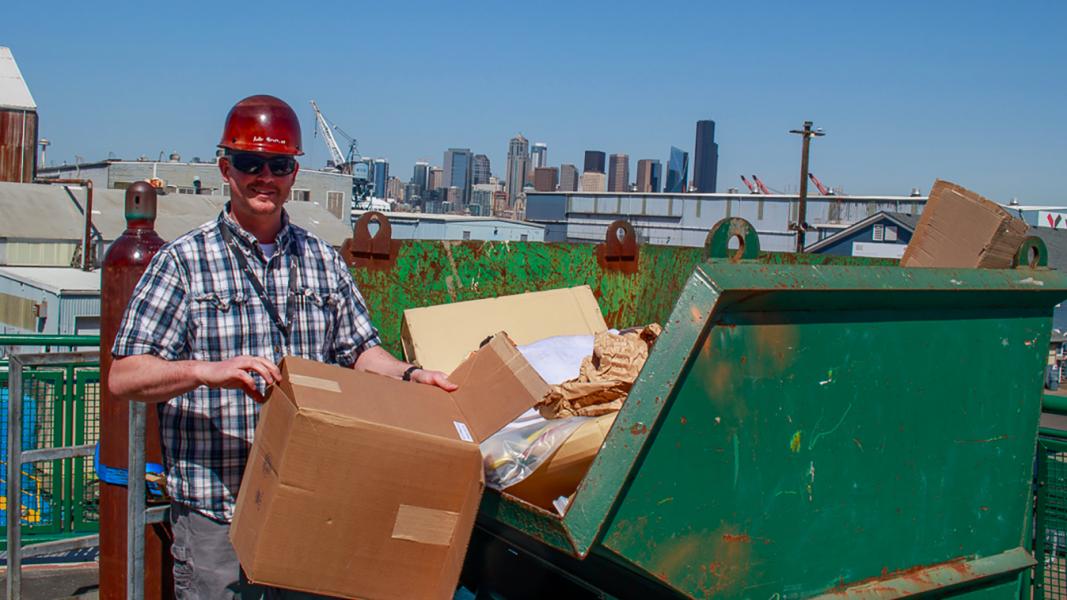 Installed energy-efficient LED fixtures at Harbor Island facility, reducing the facility's energy consumption by 823,000 kWh annually

Conducted in-depth analysis of waste stream and eliminated garbage waste, resulting in a 91% recycling rate

Hosted an Earth Day clean up event in cooperation with the City of Seattle with over 200 employees, and adopted a monthly "Extreme Clean" campaign
Environmental Performance – Small Business: Castan Inc. Trucking Company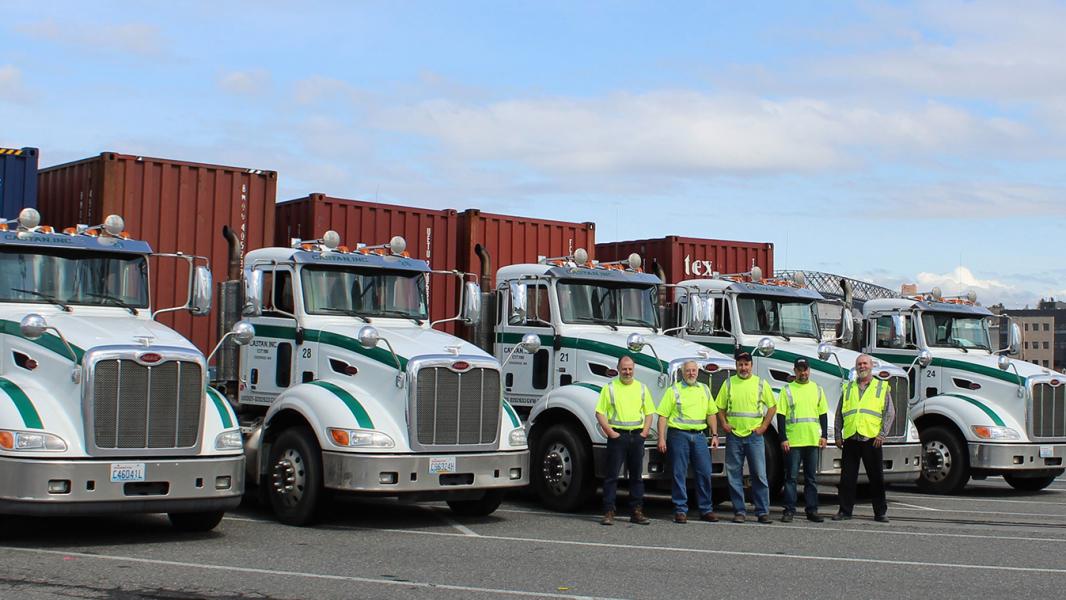 Converted their entire truck fleet of 1996 diesel engines to 2014 liquefied natural gas engines

Reduced harmful nitrogen oxide by 85%, particulate matter by 99.8%, and 72 tons of greenhouse gas (GHG) emissions annually
Environmental Performance - Honorable Mention
Maxum Petroleum – reduced environmental risk and improving habitat
Seaview Boatyard – improved air and water quality
Education and Outreach: Maxum Petroleum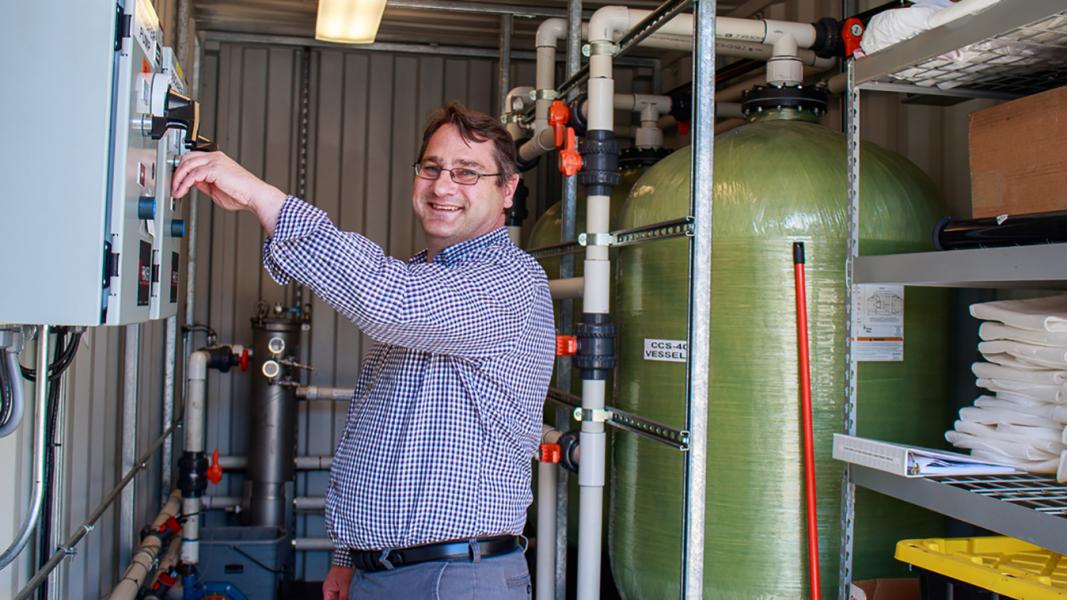 Hosted a two-day Advanced Incident Command System Training and Emergency Drill with spill response contractors, neighboring facilities, state and federal agencies

Organized two advance stormwater management workshops with the Environmental Coalition of South Seattle
Education and Outreach – Small Business: Seaview Boatyard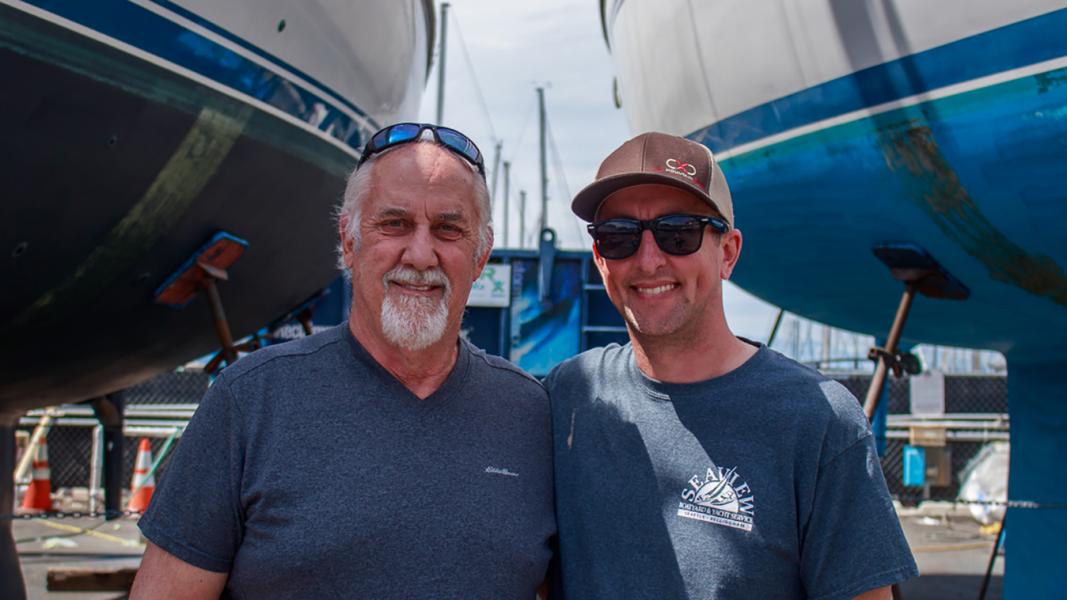 Led Washington boatyards as the first boatyard to install advanced stormwater reclamation using the StormwateRx Aquip System, which helped to accelerate the adoption of similar stormwater treatment systems industry-wide

Improved water quality via the advanced stormwater reclamation system


 
Aviation Award Winners
Environmental Performance: United Airlines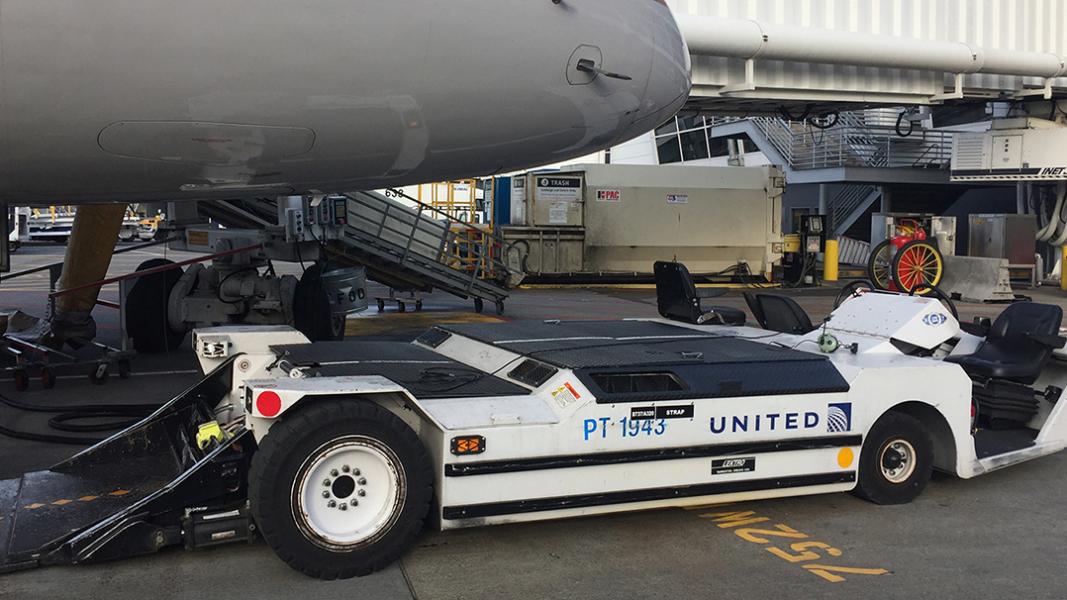 Recognized for outstanding environmental accomplishments at Sea-Tac International Airport (STIA) and company-wide:
Added 22 electric Ground Support Equipment at STIA, saving 20,000 gallons in fuel and cutting GHG emissions by 217 metric tons annually

Converted air cargo facility lighting to energy-efficient LEDs, saving 124,000 kWh (71%) and $14,000 annually

Implemented other sustainability initiatives including:

Changed in-flight operations and materials, saving 1.6 million gallons in fuel and cutting GHG emissions by 20,500 metric tons annually

Supported alternative aviation jet fuel development, including being the first U.S. carrier to fly with commercial-scale volumes of sustainable alternative jet fuel (2016) and continuing to fly using sustainable aviation fuel today out of LAX

Invested $30 million in a U.S.-based alternative aviation fuels developer

Donated unused products and recycled in-flight waste through United's Eco-Skies program.
Environmental Performance – Honor Roll: HMSHost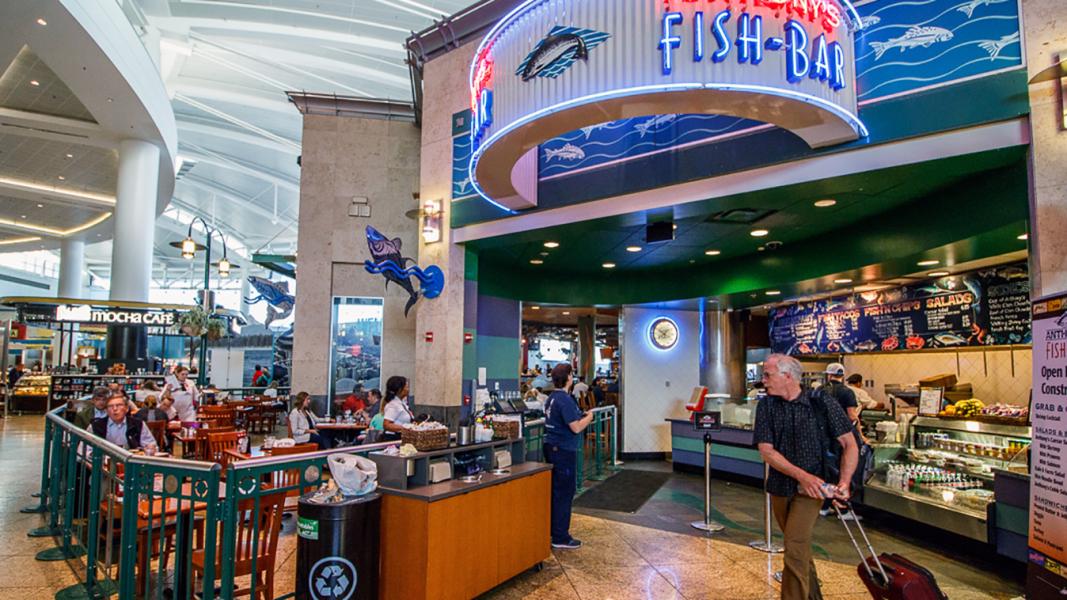 Recognized for a diverse range of sustainability initiatives related to their STIA restaurant operations. Honor Roll distinction is based on the significance, diversity and scale of HMSHost's accomplishments combined with past awards in 2016, 2015, and 2014, including:

Participated in Seattle's Strawless September campaign to reduce plastic pollution and permanently switched to on-request only environmentally preferable straws

Donated 16,574 meals (20,718 lbs.) to the Des Moines Area Food Bank

Reduced STIA restaurant waste and conserved resources including:

Recycled 68 tons of glass and cardboard, and 7,000 pallets from Airport warehouse

Used environmentally-preferable durable (washable) food service ware

Donated or recycled nearly all used restaurant equipment and furniture during four restaurant closures in 2017

Converted to energy-efficient LED lighting Energy-Star rated appliances

Conserved water by offering it on-request only to sit-down restaurant customers
Innovation – Small Business: The Common Acre
Recognized for innovative, ecologically-focused land conservation project called "Flight Path", which highlights effective public-private partnership and community outreach, including:
Partnered with Port staff to convert three acres of neglected scrub land at the former Tyee Golf Course into managed pollinator habitat

Breed disease-resistant honeybees including 70 queen bees to enhance site and surrounding area pollination and improve ecosystem health

Developed a custom native plant seed mix using select plant species that support healthy pollinator populations and improve aviation safety by discouraging bird flocking

Commissioned and installed a pollinator and transportation-themed art exhibit in the Airport terminal between 2014 and 2015 that featured 26 regional artists and reached over two million viewers

Harvested and sells honey from the Sea-Tac Airport beehives to help cover operational costs
2016 Environmental Excellence
The winners of the 2016 annual Green Gateway Environmental Excellence Awards represent the Port's customers who demonstrate leadership in protecting our natural environment. The awards recognize airport and seaport tenants, airlines, cruise lines, and business partners for the critical role they play in assisting the Port in meeting its environmental goals.
Food donation program serves airport communities while benefiting the environment
Dining and retail operators at Sea-Tac Airport reduce waste by donating leftover food at the end of each day, making significant contributions to the Des Moines Area Food Bank. Sea-Tac's food donation program is celebrating its tenth anniversary this year and the benefits to our airport communities are significant. Watch the video.
Ten leaders in sustainability across the Port of Seattle were recognized for their commitment to energy efficiency.
Aviation Award Winners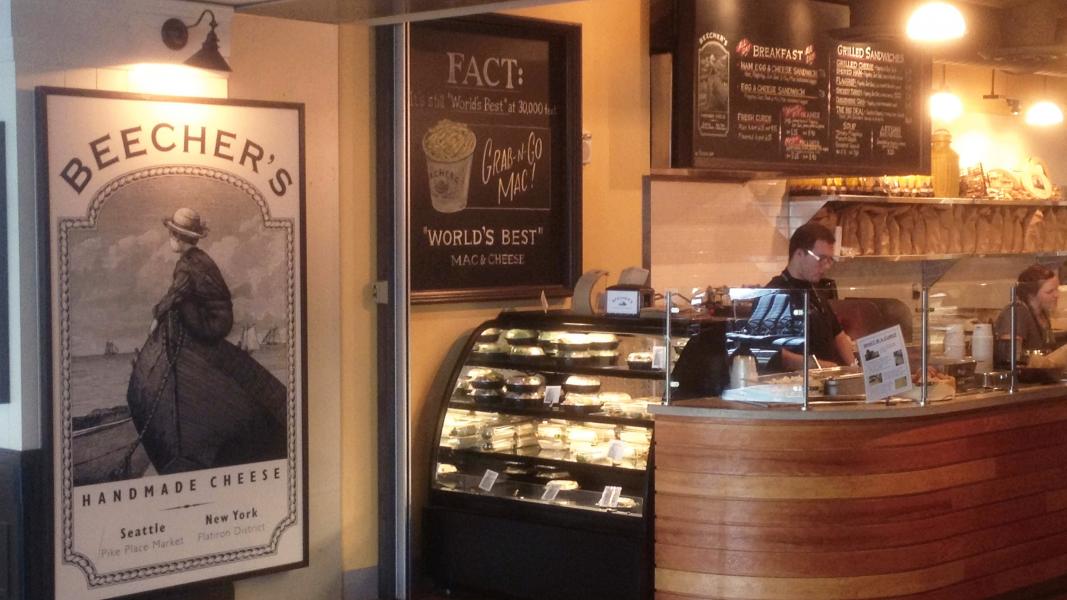 Donated 6,670 meals – more than four tons of food - through Sea-Tac Airport's Food Donation Program
Implemented composting and recycling practices for employees, green cleaning practices, and water conservation using low-flow pitcher rinsers and refrigerated thawing of frozen items
Installed approximately 8,000 square feet of auto-tinting and energy-efficient window glass in their new SkyClub Lounge, expected to reduce annual energy costs by 7.2 percent, saving 17,000 kilowatt hours
Received and distributed nearly 25 tons of airport food donations within the community (about 800 meals per week over the entire year)
Helped reduce airport solid waste handling costs - $3,400 in landfill disposal fees
Since 2006, the food bank has helped airport businesses donate more than 229,000 pounds of food - 183,000 nutritious, ready-to-eat meals to families in airport communities
HMSHost (Prime Airport Dining and Retail Operator)
Donated 31,038 meals (38,798 pounds of food) through the Airport Food Donation Program
Donated $12,000 and 40 backpacks to support the Des Moines Area Food Bank's Weekend
Recycled 45 tons of glass and 23 tons of cardboard, and kept 7,000 used wooden pallets out of the landfill through a re-use program
Replaced incandescent lights with energy-efficient LED light bulbs and replaced appliances with more efficient equipment
Replaced disposable service ware with compostable and/or recyclable alternatives and disposal towels with linen towels that can be laundered and reused
Generated 238,307 fewer paper "to-go" bags and an equal number of tray liners by choosing reusable liner-less trays over disposable bags for food service delivery
Recycled 30,000 plastic chowder bags by taking time to clean each bag so it could be recycled
Routinely used compost (food waste) and recycling bins to cut restaurant waste in half
Conserved water by thawing frozen products in walk-in coolers rather than running under cool water
Maritime Award Winners
Developed recycling incentive program for all vessels in the fleet
Participated in initiatives such as Coastal Cleanup Day & World Oceans Day
Hosted first-ever shoreside Environmental/Sustainability Fair, demonstrating a commitment to environmental education and outreach
Installed solar panels, integrated into the ship's energy grid
Developed an Environmental Ship Index certification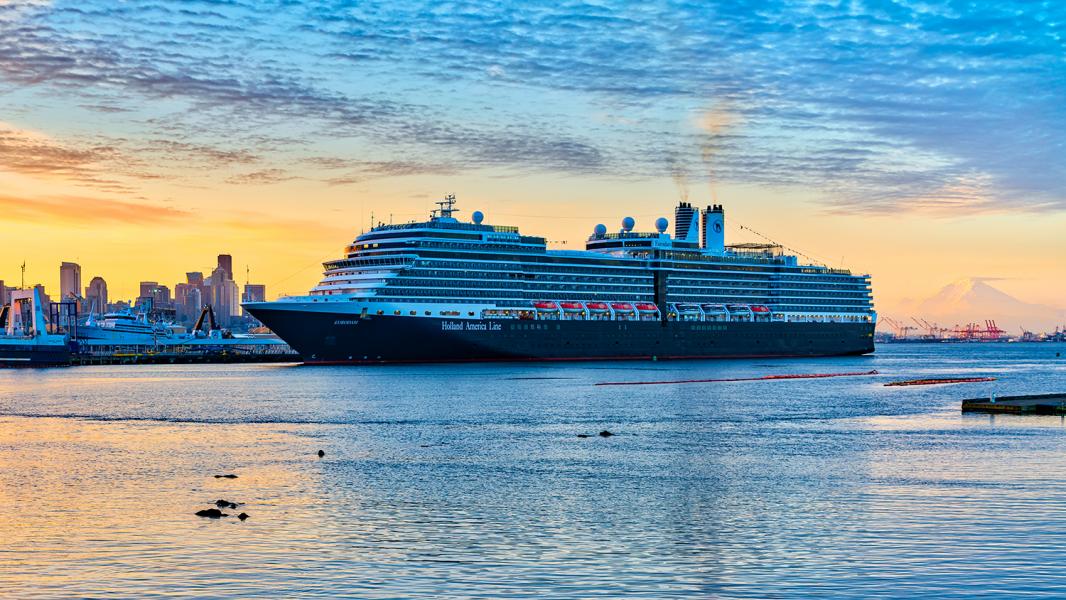 Assessed new chemicals to be used on board for impact to emissions, waste disposal and water pollution
Plugged into shore power while at dock to reduce carbon emissions
Used electronic data logging for environmental data on the ship, improving data quality and efficiency
Established a "Doing What's Right" hotline to report environmental violations
Developed a Fuel Team internal website to share energy-saving ideas
Implemented an innovative key card activation system for lights and air conditioning in guest rooms, resulting in significant energy savings
Plugged into shore power to reduce carbon emissions while at dock
Installed LED lighting to save energy
Introduced a unique shredder that significantly reduces the volume of waste produced