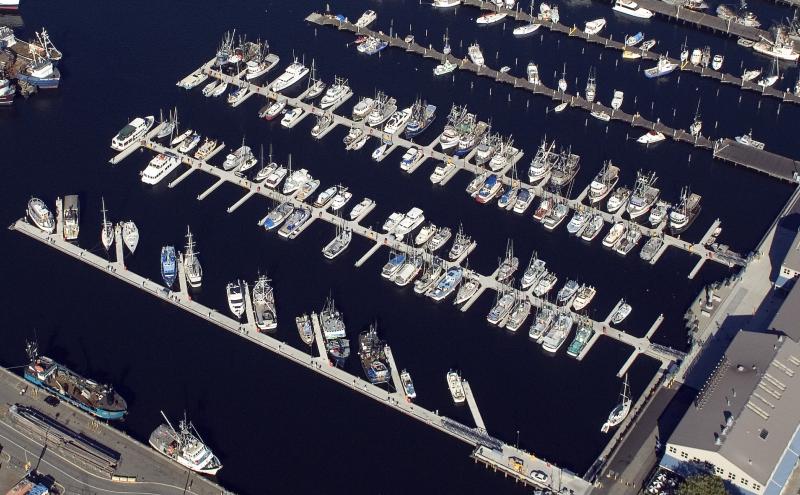 Fishermen's Terminal is the Homeport to the North Pacific Fishing Fleet. We offer a full complement of services for commercial fishing and workboats.
Electricity
Meters are read "in and out" and charge by KWh used.
480volt/200amp/3-phase
240volt/100amp
110volt/30amp twistlock
Water (metered)
Standpipes with 3/4 inch garden hose fittings
Garbage
1.5 cubic yard dumpsters are available for shipside delivery. Service fee applies
Oil recycling available
Recycling bins are located west of Net Shed 10 and are available to customer for disposal of all ferrous and non ferrous materials, and mixed recyclables such as paper, glass, cans and plastic.
On-site equipment rentals
Forklifts: 3,000 - 5,000 pound capacity available, 30,000 pound capacity available but must be operated by terminal staff.
Cranes - One 3,000 pound capacity and two 1,700 pound capacity cranes
Electric hoist - 3,000 pound capacity
Loading docks
Accommodate vessels up to 300 feet (91 meters) long
2,800 linear feet (853 meters) of dock space
Hot work allowable with permit from Seattle Fire Dept (call 206-386-1450)
Reservations recommended, call terminal office
Parking
Free parking in designated areas
Additional amenities.
Near transit
Conference center on site
EnviroStars Certified Clean Marina
Net repair area available
Gear storage available
Garbage and recycling centers
Sewage pump-out
Free parking
Restrooms
Showers
Near bike trail
Pet friendly
Restaurants on site
Restaurants nearby
Plaza
24-hour staff and/or security on site
30, 50 & 100-amp power available
Floating concrete docks with finger piers
Boatyard on site
Office space on site
Retail on site