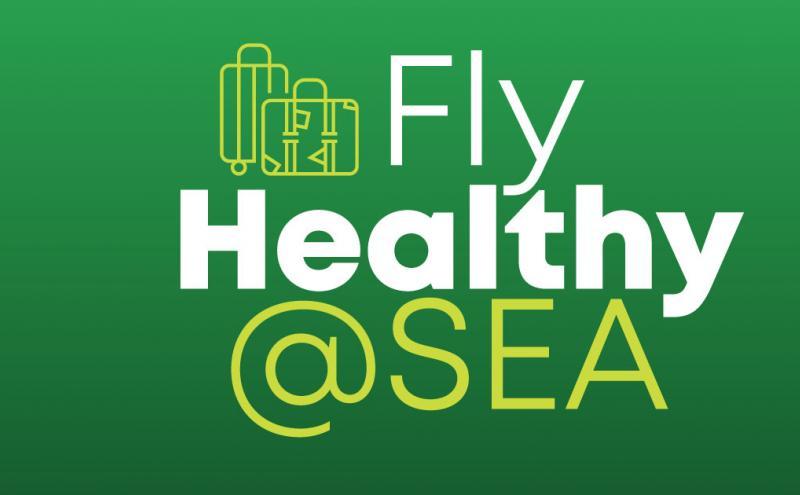 Your safety, health and well-being are our priority. We require face coverings, escalated cleaning and disinfecting, implemented physical distancing, and added touchless technologies.
We're focused on the here and now and keeping travelers and the SEA team safe. We miss you and we are ready for you when you feel good about traveling. 
The FlyHealthy@SEA Action Plan details the airport's actions to protect you now and the work underway for the next phase of traveling safely in our new normal. The program continues to evolve as travelers return to the airport.
Explore the weekly dashboard of airport traffic to track the economic recovery
Information changes rapidly. Keep up with us on social media with #FlyHealthySEA. Our customer care team is here to answer your questions. Tweet or DM us with a question.
Your Health and Travel 
Before you take the skies, your experience at SEA looks and feels different. 
Masks are mandatory and must be worn over the nose and mouth. 
Our air filtration and ventilation system constantly circulates fresh, outdoor air through the terminal and uses filters that capture 90% of COVID-19 sized particles.
The airport's pop-up COVID-19 vaccine clinic for airport workers administered over 8,000 doses this spring. We doubled down on cleaning and frequently disinfect with medical-grade cleaning products. We even secured international accreditations for cleaning practices.
SEA launched Pre-Booked Parking as an innovation for seamless, contact-free travel.
Eat and shop with confidence because airport restaurants and retailers are also going above and beyond to protect your health and well-being.
XpresCheck offers onsite COVID-19 testing for traveler daily from from 8 a.m. to 5 p.m. Make an appointment online at XpresCheck.com and learn about travel and COVID-19 testing options.
2020 by the Numbers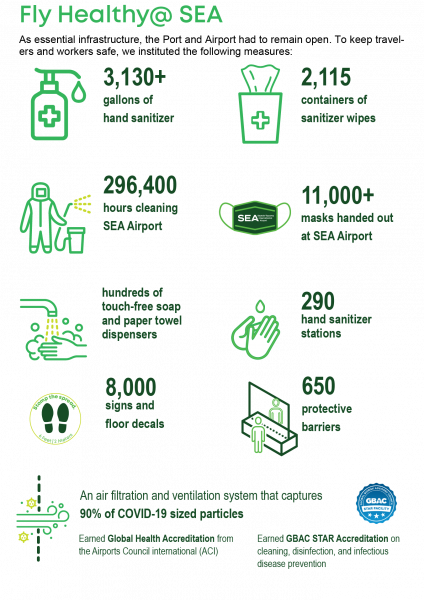 FlyHealthy @ SEA Updates Archive