The COVID-19 global pandemic forced massive shifts in our lives. We now expect different behavior from each other and new protocols from businesses to protect our health. We're living in a new normal.
Your safety, health and well-being are our priority, always. As part of FlyHealthy @ SEA, a few things will be different the next time you travel. We require face coverings, escalated cleaning and disinfecting, implemented physical distancing, and added touchless technologies.
Our team at Seattle-Tacoma International Airport (SEA) is ready for the incremental increases in air travel now and to come. We currently forecast being down 61 percent this year, but we know a busier terminal and better times are ahead.
---
Information changes rapidly. Keep up with us on social media with #FlyHealthySEA. Our customer care team is here to answer your questions. Tweet or DM us with a question.
Preparing to Travel — Recovery Ready
The next time you visit SEA, your experience will look and feel different.
A requirement to wear face coverings in the public areas of SEA
Signage for reminders and spacing to honor physical distancing
Plastic protective barriers that buffer travelers and airport employees
Frequent disinfection with medical-grade cleaning products 
Added over 250 hand sanitizer stations throughout the terminal for your use. Download the SEA App with our interactive map of hand sanitizer locations. 
Each dining and retail tenant at SEA developed COVID-19 operational readiness plans detailing procedures such as physical distancing requirements, sanitation and personal hygiene protocols, personal protective equipment, and how to provide services while limiting close interactions.
Launched Pre-Book Parking to pay for SEA Airport parking online for a safe and contact-less transaction prior to arrival. By booking in advance, save up to 25% on drive-up parking rates. 
We are happy to see you as we stretch towards 20,000 daily departing passengers. Seattle-Tacoma International Airport is ready for you.
FlyHealthy @ SEA by the Numbers
88 percent of airport dining and retail tenants are re-open! During the worst days of the pandemic two-thirds were temporarily closed. See what's open and how you dine, imbibe, and shop will be different the next time you travel.
Over 2,343 gallons of hand sanitizer and 1,444 containers of sanitizer wipes used in response to COVID-19.
The Mask Up SEA Street Team in the terminal distributing SEA Care Kits to travelers without masks or face coverings. Over 7,600 SEA Care Kits handed out!
Added over 280 hand sanitizer stations throughout the terminal. Download the SEA App with our interactive map of hand sanitizer locations.
TSA is screening a daily average of 18,200 passengers passengers. That's down 68% from the period last year. Explore our dashboard to track the airport's economic recovery.
Added almost 5,000 signs and floor decals with reminders for physical distancing. 
Installed close to 300 plastic protective barriers that buffer interactions between travelers and airport employees.
Replaced 270 touch-free paper towel dispensers in airport bathrooms.
Last updated on September 10, 2020
Help Stop the Spread — Passenger Actions
We're in this together. We ask you to follow these guidelines to protect yourself, your fellow travelers, and airport employees, including: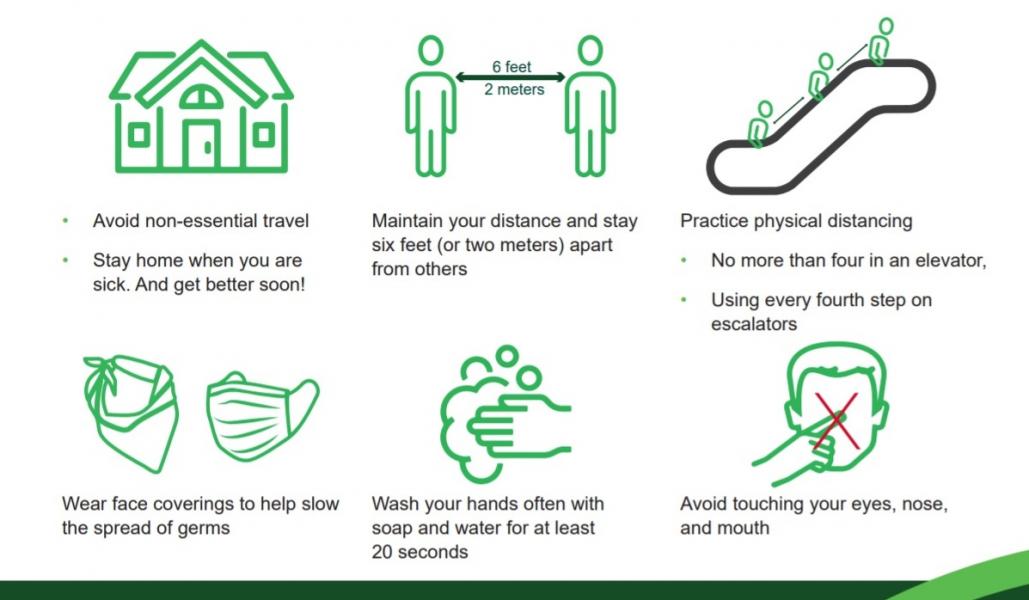 FlyHealthy @ SEA Updates Archive 
Weekly Update for September 25, 2020 - The Next Phase of FlyHealthy@SEA
Update for September 11, 2020 - Cleaning and disinfecting update 
Update for August 28, 2020 - Air ventilation and filtration 
Update for August 14, 2020 - Customer Feedback Surveys 
Weekly update for July 31, 2020 - The Next Phase 
Weekly update for July 24, 2020 - By the Numbers
Weekly update for July 17, 2020 - Temperature Screening Experience
Weekly update for July 10, 2020 - SEA Birthday Wish — Healthy Travelers!
Weekly update for July 2, 2020 - Mask Up SEA
Weekly update for June 26, 2020 - Passenger Trends Show Gradual Return
Weekly update for June 19, 2020 - Face coverings are required 
Weekly update for June 12, 2020 - Doubling Down on Cleaning
Weekly update for June 5, 2020 - Recovery dashboard, Pre-Booked Parking, By the Numbers 
Weekly update for May 29, 2020 - Actions by Dining and Tetail tenants, By the Numbers 
Weekly update for May 22, 2020 - By the Numbers 
Weekly update for May 15, 2020 - Meet FlyHealthy @ SEA, terminal activity update