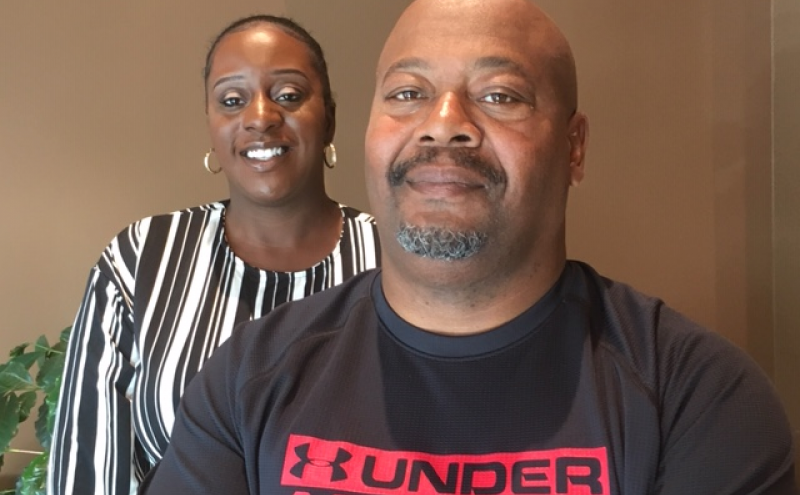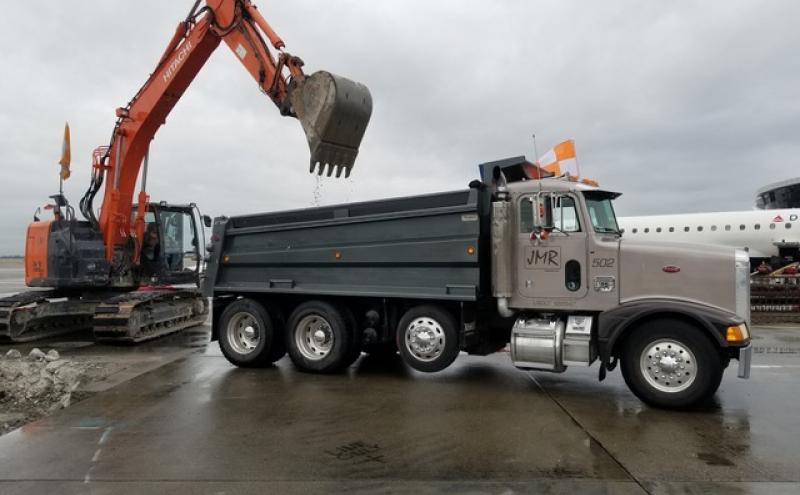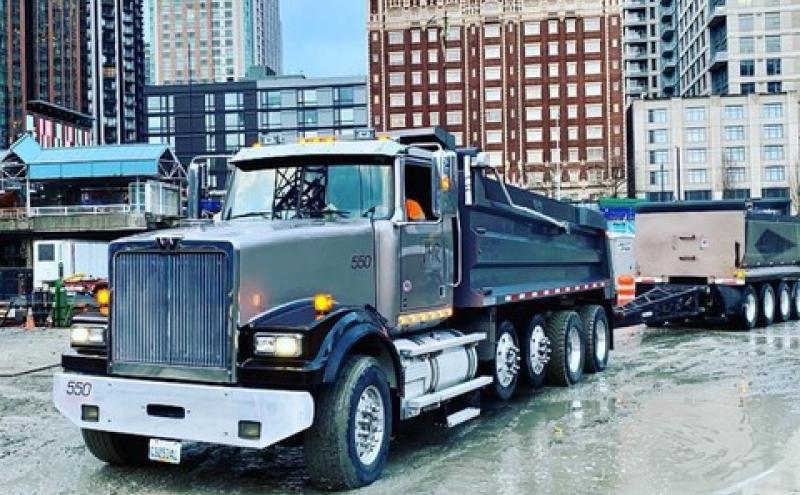 All four of Darnell Richardson's children work in the family business. "Two of my sons are drivers," he said, "and the youngest one is getting his license." Daughter Jameila is 'the new face of the company.' "I don't drive the dump trucks, but I could," she said. "I go to the networking events and I make all the contacts. I build connections."
JMR Trucking hauls dirt and construction materials debris. It is a certified Minority Business Enterprise, MBE and Disadvantaged Business Enterprise, DBE. Richardson says that certification has been a big help building his business. "Scarcella Brothers, (a civil construction company based in Seattle) really helped us in the beginning. They used us when they wanted to meet DBE goals. We subbed for them. Now we work with them even when they don't need minority participation—just because we are dependable and have a good track record."
It was Scarcella Brothers that JMR was subcontracting for on the Port of Seattle Third Runway Project. JMR also worked on the Port's Lara Lake project in SeaTac. "We've also done a couple of Port jobs with Gary Merlino. He was a big help to our business, too." Richardson said. JMR also worked on the Taxiway A/B Extensions, Taxiway L Relocation, and Taxiway Q Hot Spot/Runway Incursion Mitigation projects.
Richardson says as a child in New Jersey, he loved dump trucks. He even went to the home of a family friend who owned one and spent hours pretending to drive it. When he got older he wanted to open a trucking company with his brothers. When that did not work out, he joined the Army and ended up in Seattle. He met his wife and made a home here. "I told her one day we'd start a business. Our dates were driving around to truck dealerships late at night and I would pick out trucks I'd like to own one day."
"I was in the backseat on those date nights," Jameila added.
To buy that first dump truck, Darnell Richardson worked for other people. He drove their trucks, was a laborer, cut grass, anything to make money and save some. When he got his dump truck in 2000 and told his wife he was quitting his job, their fourth child was still in diapers. She was inconsolable. "She cried and cried. I told her, 'since you are crying so much, I will name the business after you, your initials, JMR.' I worked day and night to make it. Sometimes I slept in that truck."
JMR has a fleet of twelve trucks now and has moved its operation to Kent. The company is made up of ten people and five are Richardsons. "We are a close family," Jameila said. "We learned a work ethic early. I had to clean that first truck everyday and I got dropped off at high school in that truck. We all rode in it." Gradually the business grew and Richardson's integrity and work ethic paid off. Scarcella Brothers played a role in that success and continues to mentor the firm. "When you treat someone right," Richardson said, "They always come back. We don't cheat; we don't undercut; we don't take on more than we can handle, and we're straight up."
And what do the Richardson's do when they aren't working? "Not working, what's that?" Jameila said. "Daddy's like a robot. He's always working." "I start work at 5 in the morning," he said. "But I am a good boss. We're all adults, let's just do the job." Richardson does have a '55 Chevy and occasionally goes to car shows.
Jameila Richardson planned to be a nurse. She was in school and working as a certified nursing assistant.
"Daddy said, 'just give us a couple of years.' So I did and it's the best decision I ever made. I have completed two scholarships from the UW Foster School of Business and I take any business classes that come my way. It's my job to build and keep relationships. That's how you build a company up. I'm taking over as the new generation." She says taking over the family business with her brothers is inspiring, just to know how hard their parents work to pass this along "It keeps us humble."
And for Darnell Richardson, "It means the world."