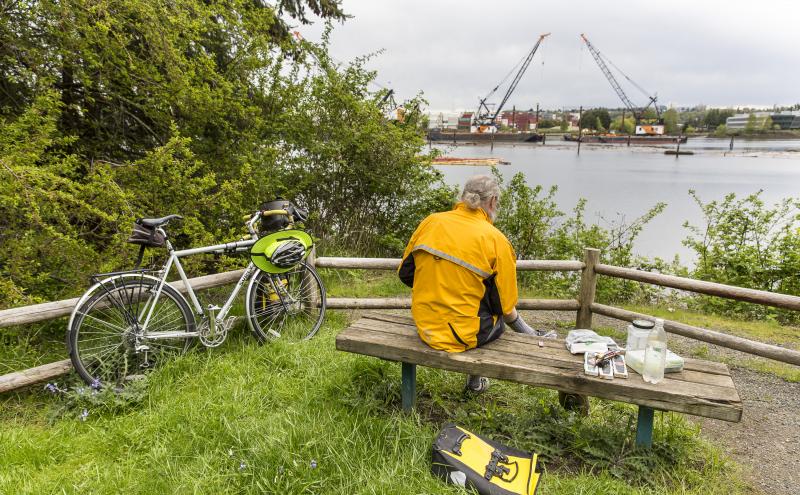 The Port of Seattle is using a rolling five-year Long Range Plan (LRP) to focus our efforts to best accomplish this job growth and the other 25 year strategic objectives established by the Commission in the Century Agenda.
The strategies below are excerpted from our second Long Range Plan for the years 2018 through 2022. It connects the goals of the Century Agenda to strategies, objectives, actions, and performance measures focused in five areas: aviation, maritime, economic development, environment & sustainability and high-performance organization.
Organized around the strategic objectives identified in the Century Agenda and those pertaining to organizational excellence, the LRP ensures that all Port divisions have specific, achievable actions to keep up with the dramatic growth in our industries and create economic opportunities for all in our community.
The LRP allows the Port to more effectively and transparently improve the Port's ability to support the local economy by creating 100,000 new jobs for the Puget Sound Region while addressing key environmental opportunities and social responsibility of all its stakeholders. Both Century Agenda and High Performance Organization strategies and objectives are important in the development of the LRP, and to ultimately achieve the vision for supporting the local economy.
CENTURY AGENDA
Focused on external growth: moving cargo, traveling public, community engagement and environmental stewardship
4 Strategies/17 Objectives
Strategy 1: Position the Puget Sound Region as a premier International Logistics Hub
Strategy 2: Advance this region as a leading tourism destination an business gateway
Strategy 3: Use our influence as an institution to promote small business growth and workforce development 
Strategy 4: Be the greenest and most energy efficient port in North America
HIGH PERFORMANCE ORGANIZATION
Focused on operations excellence, organizational alignment and a people-centric organization
5 Strategies/11 Objectives
Strategy 1: Increase customer satisfaction
Strategy 2: Eliminate workplace injuries
Strategy 3: Act as one Port
Strategy 4: Become a model for workplace equity, diversity and inclusion
Strategy 5: Foster employee development and leverage talent 
Read the entire Long Range Plan.