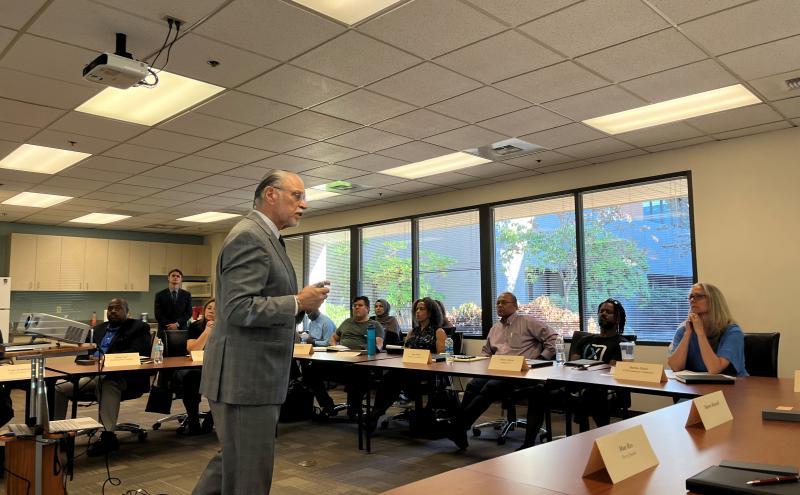 ​The Port of Seattle and the Northwest Mountain MSDC officially kicked-off the two-month Business Accelerator Program for minority and women owned small businesses on Wednesday, September 7, 2022. The second annual Business Accelerator Program will connect cohort associates with the knowledge and mentorship they need to grow and take their business to the next level. 
The Port of Seattle and Northwest Mountain MSDC thanks everyone who took the time and effort to apply to this year's programming. Interest in the program was high with 56 firms submitting applications to be a part of this second Business Accelerator cohort. The selection committee, consisting of representatives from King County, Sound Transit, Mortensen, NWMMSDC, and Port of Seattle, narrowed down the businesses they believed to have the applications that most closely aligned with the Port of Seattle's goals, objectives, and future state.  
At the in-person kick-off event on September 7, the select 13 cohort associates met, introduced their businesses, networked, and began relationship building with Port of Seattle Executives and some of the selected mentors. The first learning session occurred on Monday, September 12, 2022, with a Business Plan Builder workshop via Zoom. The remainder of the curriculum includes sales training, marketing and collateral development, leveraging cash flow, access to capital, and topics of the cohort's choosing. The group will reconvene in person at the end of the program for the graduation event on November 16, 2022. 
Congratulations to the following 2022 Cohort Associates: