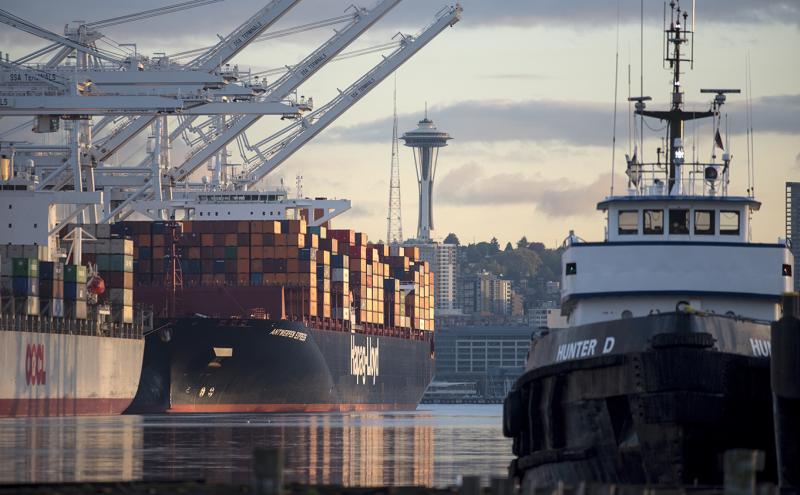 The Port of Seattle Commission will consider Executive Director Stephen P. Metruck's recommended 2019 budget and 2019-2023 budget blueprint at its next meeting on November 13, 2018.
The Port will host an information session for members of the public to learn more about the budget and the projects proposed for the 2019-2023 budget blueprint on November 19 from 4:00 p.m. to 7:00 p.m.
The budget and 2019-2023 blueprint reflect priorities to position our region as an economic and environmental leader.
The 2019 budget includes major capital development programs at the airport, as well as investments in the maritime and economic development divisions. These initiatives are aimed at improving regional productivity, efficiency, community and environmental health, regional transportation, customer service and security, and long-term financial sustainability to fund future investment in our region.
The 2019-2023 budget blueprint proposes advancing more than 20 key maritime and economic development projects to maintain Port assets, advance maritime industries, and invest in communities and the environment between 2019-2023. Highlights of recommended projects for funding include:
$100 million for a new cruise berth (assumes 50 percent tenant cost share)
$39 million for development of Terminal 91 uplands
$35 million for berth replacement at Terminal 91
$30 million for bringing electrical power to the waterfront
$23 million for Fishermen's Terminal Gateway Building
$17 million for a Terminal 117 habitat restoration program
All of the 2019-2023 budget blueprint proposed projects will require further financial analysis, community benefit analysis, community engagement and ultimately funding authorization before the Port moves forward on construction. These materials provide more detail why the Port is considering these proposed projects:
Port Funding
The Port utilizes a mix of general obligation bonds, operating revenue, and tax levy funds for its projects and initiatives.  In 2018, the median homeowner paid $5,925 in total property tax with $69 going to the Port. In 2018 the Port received a total of $72 million in property tax funds.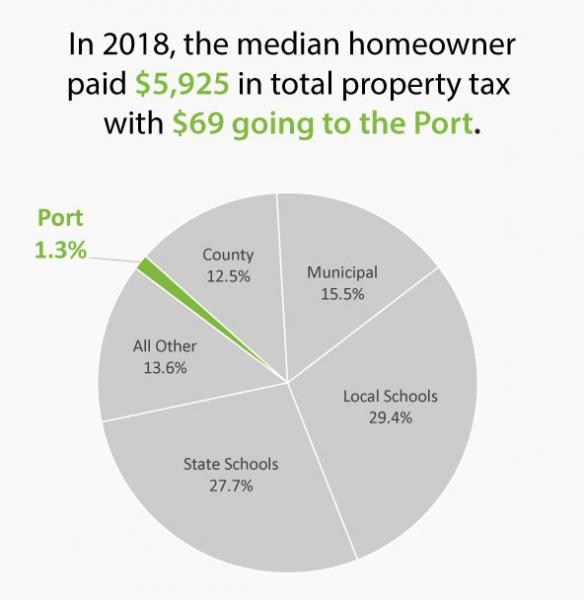 To fund additional community and environmental programs, and expand the Port's bond issuance capacity in support of capital development, the Port's Executive Director Stephen P. Metruck recommends increasing the amount of the tax levy by three percent per year for five years.
Under a three percent increase the Port in 2019 would receive $74.2 million in property tax funds. A three percent increase would raise the median King County home owner's property tax by $1.39 in 2019, and by 2023 could raise the estimated annual payment for the Port from $69 to $79. Even if planned, future increases would need to be approved by an annual vote.
The Commission will consider Metruck's recommended funding plan on November 13.
2019 Budget Highlights
The Port's 2019 budget plans to spend 51 percent of its $1.94 billion for 2019 funds on capital expenditures and 23 percent of its budget on operating expenses. The largest segments of the Port's capital spending goes to Seattle-Tacoma International Airport and the Northwest Seaport Alliance. More details on the Port's 2019 budget are available here.   
Airport and non-airport capital projects are funded separately. Seattle-Tacoma International Airport is self-funded and relies on its own operating cash flow from airline cost recovery, non-aeronautical revenue such as tenant rent, and unique funding sources such as grants and facility charges.  The FAA prohibits airport revenue from supporting non-airport projects. No tax levy dollars go directly to supporting the airport; however, tax levy dollars are used for environmental and transportation projects near the airport, including noise mitigation funding for Highline School District.