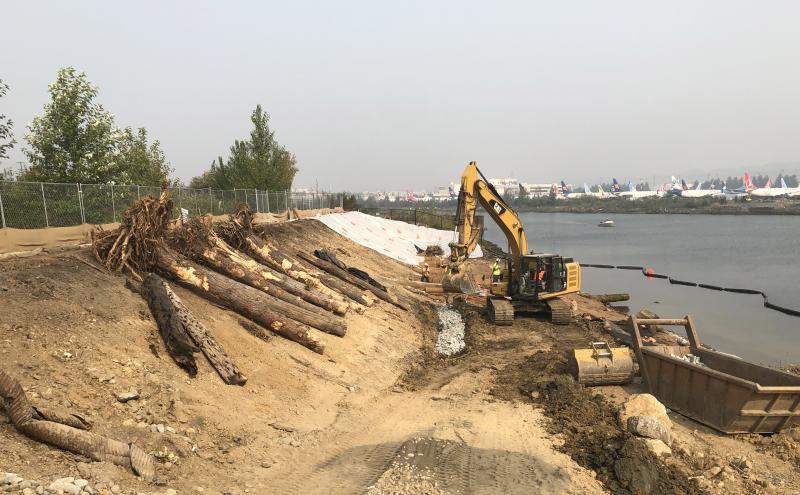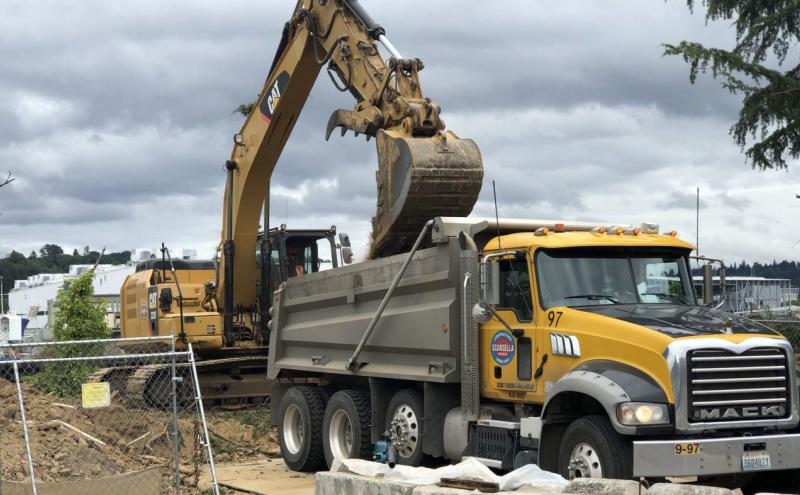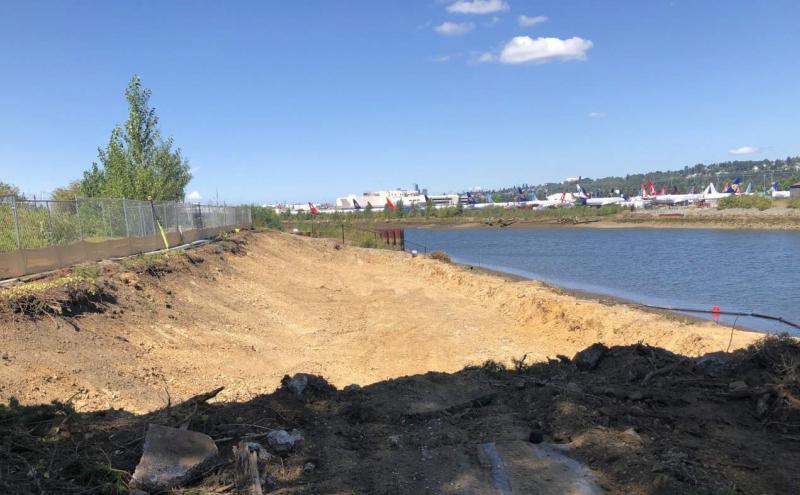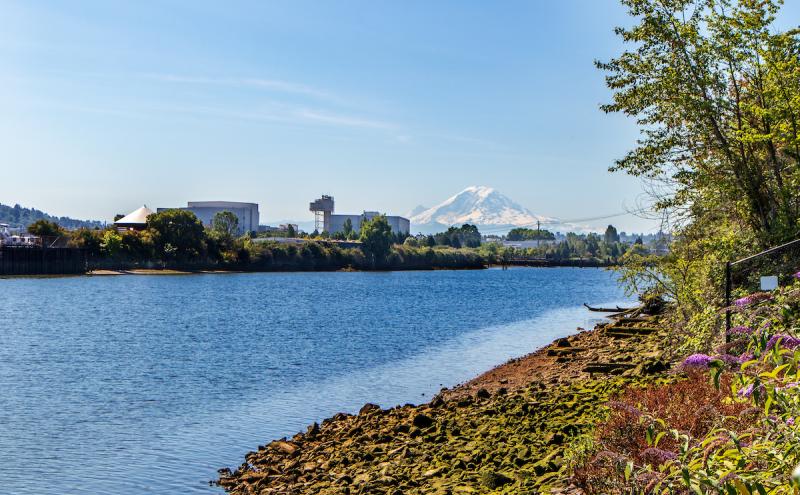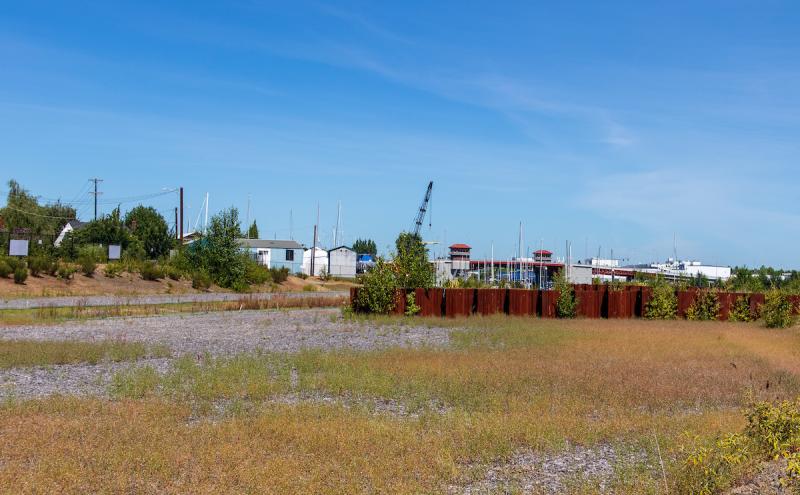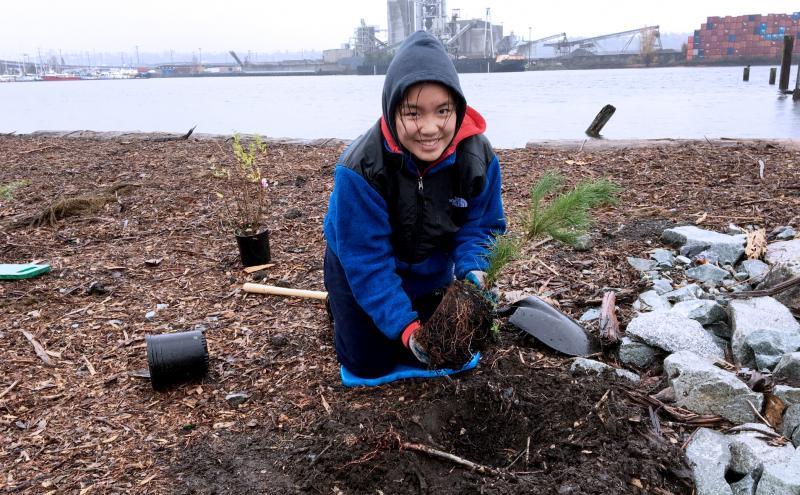 CONSTRUCTION UPDATE – FALL 2020
In-water construction to reshape the river shoreline into a healthy habitat area will begin soon. Since tides fluctuate significantly this time of year some of the best times to work are during low tides, which can occur at night. The construction team's work schedule will have to adjust around the daily tidal schedule. Starting in mid-October there may be some nighttime construction at Terminal 117, possibly between 9:00 p.m. and 9:00 a.m and Saturday. 
If you experience excessive noise or light impacts from the site, please contact Dave Jenkins, Port of Seattle at
Jenkins.D@portseattle.org
or (206) 423-1509.
The Terminal 117 project will restore 14 acres of habitat and shoreline access. Restoration efforts will create upland habitat and restore priority habitat for Chinook salmon and other imperiled species along 2,000 feet of the Duwamish River shoreline. The site has been identified by other local, state, tribe, and federal officials as a high priority habitat restoration area that will benefit the community for decades to come.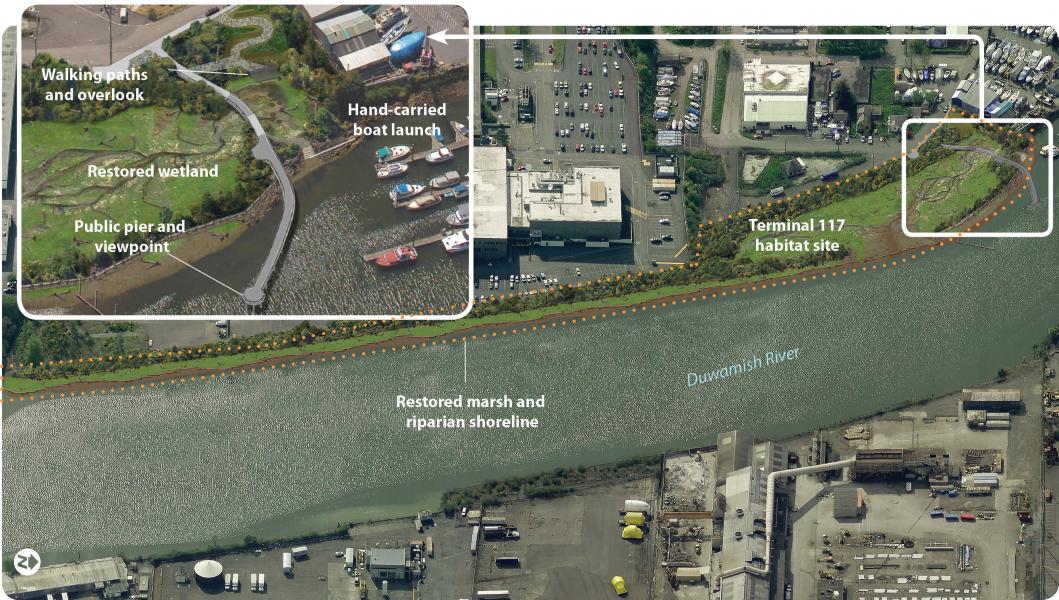 Purpose
Community Capacity Building: Investing in Long-Term Community Assets. Based on community feedback in 2013-2014, the habitat site will feature public amenities desired by the local Duwamish Valley community. The site will include a view point pier, accessible pathways/trails, seating, environmental interpretation signage, public art, and a hand-carry boat launch. The project achieves the Port's "triple-bottom" line approach and aligns with the goals of  Resolution 3767, the Duwamish Valley Community Benefits Commitment.
Healthy Environment and Communities: Restoring Salmon Habitat. The Terminal 117 project restores 14 acres of estuarine habitat in the Duwamish River, including sub-tidal aquatic area, inter-tidal sediment slopes, inter-tidal marsh, and native riparian/forested buffer. In this habitat area, out-migrating juvenile Chinook salmon are able acclimate into saltwater environments further downstream, giving them a greater chance for survival as they navigate the Puget Sound. This project contributes to salmon recovery in the region, which can also support the endangered Southern Resident orca population.
Economic Prosperity in Place: Funding a Green Economy. The project establishes a local "habitat credit bank" as a mitigation tool that enables third parties to invest in habitat projects as mitigation credits to comply with the Clean Water Act and the Endangered Species Act. Revenue generated by credit transactions in the Terminal 117 mitigation bank can be re-invested in additional habitat restoration projects in the Green-Duwamish Watershed and Elliott Bay. In addition, the site will serve as a learning lab for young environmentalists seeking skills training and hands-on experience with careers in habitat restoration and marine wildlife conservation.
Construction Schedule
July 2020 – October 2021

Estimated Project Cost
The project is estimated to cost $25.9 million and will utilize previously approved Environmental Remediation Liability funding (tax levy) in addition to funds from a 2008 insurance settlement. 
Past Event Materials and Related Documents
August 2020
July 2020
May 2020
May 28, 2020 – Terminal 117 Jobs webinar
April 2020
Press release for Commission authorization to begin habitat restoration at Terminal 117
Video recording of Port Commission meeting for Terminal 117 habitat restoration authorization 
(public comment begins at 15:30, Terminal 117 presentation begins 3:37:09)
Project History
Terminal 117, located south of the South Park Marina on the Duwamish River, used to be a Superfund "Early Action Site" because of pollution caused by the Duwamish Manufacturing and Malarkey Asphalt Company until it ceased operations in 1993. The Port acquired a portion of the property in 1999. In 2003, the EPA designated Terminal 117 a Superfund site and the Port and City of Seattle were responsible for cleaning up the contamination.
In 2007, the community advocated with the Port Commission to transform the cleaned-up property into a public park, and the Commission agreed. During the Superfund cleanup, the Port opened a field office in South Park and conducted community engagement for design ideas on the proposed Terminal 117 Habitat and Park. The Port finished its portion of the cleanup in 2015. In 2020, construction begins!