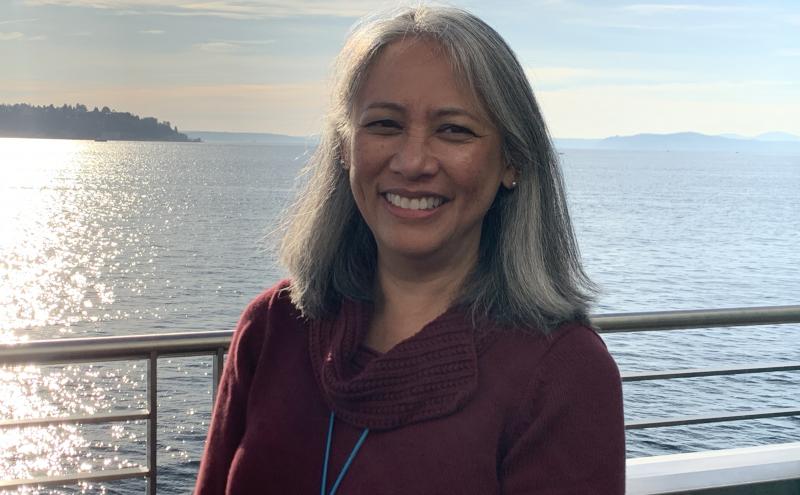 You could say engineering is in Tina Soike's blood. Her grandfather was an engineer, her dad was an engineer, and two of her uncles were engineers. It's no surprise that she married an engineer, nor is it a leap to guess that she has a son who is an engineer. "As a kid I thought I might be a teacher, but I have always liked math and science and I like puzzles — putting things together. It was kind of natural."
Tina Soike is the Chief Engineer and Director of Engineering Services for the Port of Seattle. In this position, she manages four workgroups and 125 people. The workgroups include the design staff, construction management, survey and mapping staff, and those in construction safety.
Soike grew up in Seattle and went to the University of Washington (UW) school of engineering. "I got an internship here at the Port while I was in school and the following year they hired me." That was 40 years ago. "I moved around to different departments. I was in project management, then airport operations, and about five or six years ago I came back here."
Tina Soike is also a Champion of Inclusion and embraces the Port's Diversity in Contracting Initiative. "We embrace diversity. We are always looking for minority and women-owned businesses in consulting and on our construction side. There are aspirational goals we want our prime contractors to meet, so we watch that closely.  We want to help those small businesses be successful. It's better for us and we can hire them again and have repeat business with them."  
Kindness is important to Soike. She says a lot of it is just how you talk to people, "… delivering a message without belittling. You can get the same message across by being helpful and encouraging. My hope is that people see that."
"I've gotten where I am by being flexible and seeing where doors open, so I don't know what's next. I guess many times it's seeing a gap and just stepping in. That's what energizes me —saying, 'oh let's try to improve this or fix this.'" "And, Tina Soike said, "I've got a four-month-old grandson. That's what's next!" And maybe a fifth-generation engineer.
Want to boost your business with the Port? Add your business to the VendorConnect database to be notified of future opportunities.