PURGE: Port Unified Resources in Gang Enforcement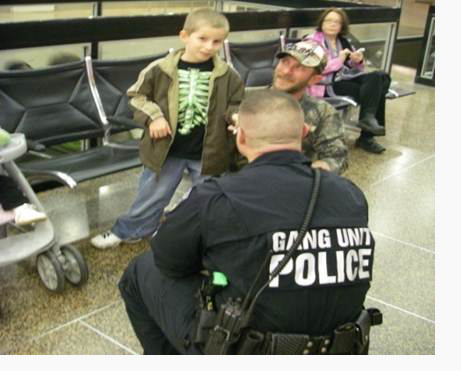 Airports and seaports are not immune to the impact of gangs. Whether using ports for transportation, employment, or a venue for their illegal activities, gangs pose a significant enforcement challenge to airport and seaport law enforcement agencies, including the Port of Seattle Police Department.
Due to the unique diversity of the POSPD's jurisdiction, PURGE's mission is to seek out suspected gang activity within the traveling public, employees and citizens of the port. PURGE is a patrol-based gang unit consisting of two supervising sergeants, two detectives and 10 officers. This is a collateral duty assignment for these officers, structured much like many SWAT teams. Selection to PURGE includes a full testing and assessment process. Gang enforcement officers may find themselves in higher risk situations based upon the type of individuals they proactively attempt to detect and interact with. Port gang officers need to be knowledgeable of national and global trends as well as regional gang knowledge. All PURGE members receive specialized training in gang identification and tactics.
The Port of Seattle Police Gang Unit is charged with aggressively and proactively protecting the gateway to the Pacific Northwest by detecting organized crime and gang elements that may operate in, around and travel through the Port of Seattle. Through education, enforcement, law enforcement partnerships and community involvement, the Gang Unit will continually attempt to suppress these elements. The members of the Port of Seattle Police Department Gang Unit are committed to creating a safe environment for our citizens, ensuring the economic stability of our stakeholders, and maintaining the Port of Seattle's role as a pivotal component of the regional infrastructure.
The Port of Seattle Police Gang Unit accomplishes its mission by incorporating the department's core values of Leadership, Integrity, and Accountability in every function of their operations. Members of the Gang Unit treat every citizen with respect and professionalism, while incorporating a firm, fair, consistent and ethical enforcement philosophy.
Unified Resources
The name of our unit represents our goal in striving to be a resource for all law enforcement agencies, not only within King County, but throughout the State of Washington and the United States. "Unified Resources" also represents our efforts to build alliances with our community members, stakeholders, and other airport and seaport law enforcement agencies.
For a better understanding of the threat that gangs pose to public safety and homeland security and why they are a concern to the Port of Seattle Police, please refer to the U.S. Department of Justice's National Gang Threat Assessment (2005).
Community Engagement
Education is a major component of gang prevention. Many employers, parents and educators are unaware of the possible signs of youth gang involvement. If you have questions about what to look for, the U.S. Department of Justice, in cooperation with the Office of Juvenile Justice and Delinquency Prevention (OJJDP), and the Community Oriented Police Service (COPS) have prepared a quick reference guide about the warning signs of gang involvement and tips for prevention. Visit USDJ for more information.
Are you a victim of graffiti? Graffiti can have a negative impact on residents' feeling of security, business operations, and the perception of your community. As the gateway to the Pacific Northwest, graffiti is a concern of the Port of Seattle Police.
To report graffiti on any Port of Seattle property
contact us
, or call 206-787-5801 (non-emergency).