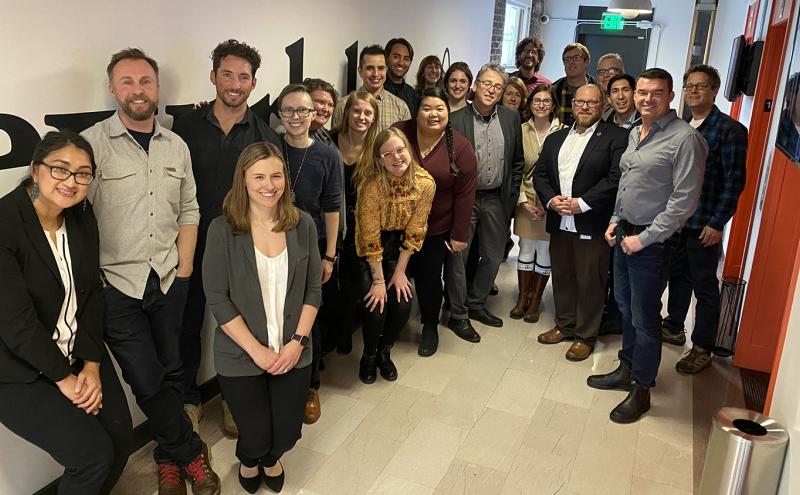 Fostering maritime innovation 
Washington Maritime Blue and the Port of Seattle launched its first business accelerator program to bring new ideas to one of Washington state's oldest industries.  Eleven companies were chosen for the accelerator based on how they could help advance the state's strategy to create a Blue (sustainable) Economy.  
After a kickoff event at the Port of Seattle Headquarters in January, participating startups received access to industry and ocean leaders and worked alongside a global network of mentors and advisors over the next three months.  Accelerator leader Elizabeth Scallon facilitated seminars and workshops to help the startups navigate challenges and obstacles.  In April 2020, the inaugural cohort of 11 startups pitched their businesses to over 300 maritime stakeholders, investors, and interested parties at a Virtual Demo Day (the COVID pandemic dashed plans for an in-person event).  
Since graduating from the accelerator program in April, participating companies have had significant success,  including a substantial Series A equity investment, seed level funding, demonstration projects, customer contracts, regulatory certifications, and significant revenue increases.  
About the Accelerator
About our Partners 
Washington Maritime Blue 
Washington Maritime Blue is a non-profit strategic alliance formed to foster maritime innovation and sustainability in support of an inclusive blue economy, committed to the development of maritime business, technology, and practices that promote a sustainable future contributing to economic growth, ecological health, and thriving communities. While the global maritime economy is expected to double by 2030 to $3 trillion, the State's ocean economy is poised to become a global leader in innovation and sustainability and foster growing economy in a competitive global marketplace. This strategy will accelerate innovation and foster a world-class, thriving, and sustainable maritime industry in Washington State. The strategy, created by stakeholders, will ensure that Washington State is home to world-class thriving, sustainable maritime industry through accelerating innovation for a Blue Economy. 
Members of the 2020 Cohort
Beam Reach
Beam Reach conducts research and education about the oceans, bioacoustics, and sustainability and empowers future generations to protect the endangered orca population 
Discovery Health MD
Discovery Health MD provides medical services for commercial maritime industry in locations around the world, and put together a plan for COVID-19 frontline testing and developed risk reduction strategies for the North Pacific Fishing Fleet, assisting in quarantine procedures and planning for a safe workforce 
ecoSPEARS
ecoSPEARS cleantech company utilizes environmental remediation technologies funded by NASA to permanently destroy cancer-causing toxins from land and waterways. 
eOceans
eOceans is a mobile app and dashboard built for scientists and citizen scientists and teams to log and track the issues that matter to them. 
EQULL
EQULL instantly connects truck owner-operators with shippers and enables customers to track shipments from a mobile app and website. 
Freeboard Sound Solutions
Freeboard Sound Solutions uses SNARRE technology, an advanced scrubber system that reduces nitrogen oxides and particulate matter exhaust emissions. 
Net Your Problem
Net Your Problem helps fishers recycle old fishing nets and upcycle it into raw plastic to make products like kayaks, bathing suits, carpets, and office furniture.  
OneforNeptune
OneforNeptune creates healthy, delicious, and convenient seafood jerky for eco-conscious adventurers everywhere. 
oneTank
oneTank developed a simple, economical solution to remove invasive species from ballast water and help smaller vessels meet global and U.S. commercial shipping regulations 
Pure Watercraft
Pure Watercraft created a high-performance electric outboard motor that is quiet, low maintenance, and emissions free 
Sterling Plan B Energy Solutions
Sterling Plan B Energy Solutions built a high-powered lithium ion battery that can hybridize or electrify any industrial equipment, powering everything from small cities to commercial vessels.