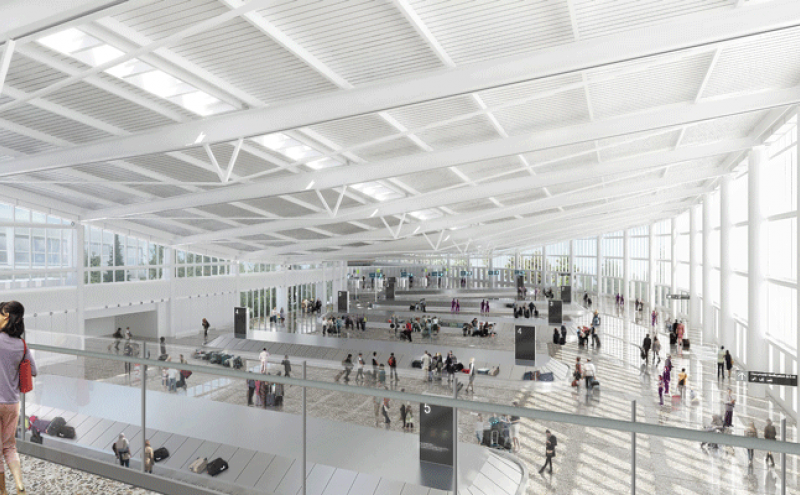 North Satellite Modernization (Now Open)
With more room, more views, and more Pacific Northwest feels, the North Satellite Modernization Project elevates the travel experience with the comforts you're craving. In the newly renovated North Satellite, you'll find modern amenities, seismic upgrades, sustainable features, and improved building function. The expanded and renovated facility includes 20 gates, the new Marketplace at N, nature-inspired art installations, and sustainability features like the use of collected rainwater. The new building forms and functional interests are cost-effective, environmentally friendly, and improve accessibility through thoughtful design and construction. 
International Arrivals Facility
This program will bring an expanded International Arrivals Facility (IAF) to Seattle-Tacoma International Airport (SEA). The IAF, the most complex capital development program in the history of the 71-year-old airport, will significantly improve the arrival process for international passengers without adding new gates. This facility will focus resources to progress the Port's Century Agenda strategy of doubling the number of international flights and destinations over 25 years.
Dining and Retail Redevelopment at SEA
This long-term project, with an estimated completion date of 2024, is designed to create space for new dining and retail businesses throughout the airport. New mezzanine-level restaurants and play areas for children will be included. Visitors can look forward to seeing a variety of new dining and retail options, both familiar national brand names and local businesses with Pacific Northwest flair. Read more about the dining and retail redevelopment here.
Central Terminal Renovation
This nearly $17 million project will add 10,000 square feet of shops and restaurants to the Central Terminal. The renovation will include ADA accessibility improvements and accommodate the demand for dining and retail space at SEA. A second-floor mezzanine accessible by two elevators will allow more retail opportunities as well as seating with unmatched vistas. When complete, the Central Terminal will feature charging stations for all your electronics, more family-friendly seating, and modernized heating and cooling systems.
Baggage Handling System Optimization
In collaboration with the Transportation Security Administration (TSA), the Port will begin construction of an optimized outbound baggage handling system (BHS) at SEA. The new system will replace the aging conveyor system now in place and allow the airport to meet current and future growth.
Cell Phone Lot Access and Air Cargo Road Safety Improvements
Crews have started critical roadway construction and traffic safety improvements to improve congestion in the 200-parking space SEA Cell Phone Waiting lot and traffic on nearby roads. Upgrades include a new one-way entrance route from the Southbound Airport Expressway on an old spur bridge over South 170th Street into the south end of the lot. In addition, the cell phone lot layout will be reconfigured to support the new access routes, with new sidewalks and bus stops added to each roadway.
Automated Parking Guidance System (APGS)
SEA is incorporating new technology and installing the Park Assist® automated parking guidance system (APGS) to solve many customer parking issues once inside the garage. With over 12,000 stalls spread across eight floors in the SEA garage, finding an open stall quickly can be a challenge. With the Park Assist® APGS, parkers will be able to find an open stall quickly using a system of wayfinding signage, smart sensors and LED lights to designate available or occupied stalls.
Sustainable Airport Master Plan (SAMP) 
The Central Puget Sound region is expected to grow by another one million people by 2035. The Sustainable Airport Master Plan is the blueprint for changes at SEA Airport to meet future regional demand. In addition to considering forecasted passenger and cargo demand, the master plan takes stock of current facilities, infrastructure, and operations — looking at scenarios five, 10, and 20 years in the future. It includes air quality, energy and water conservation, recycling and other strategic environmental goals, and will align with the Port's sustainability and energy efficiency goals.
Flight Corridor Safety Program
To help ensure safe aircraft takeoffs and landings, the Port will remove obstructions, primarily trees, from around SEA Airport. This effort, called the Flight Corridor Safety Program, is intended to safeguard people at the airport and in the surrounding community and complies with Federal Aviation Administration regulations.
Concourse D Annex (completed)
The Concourse D Annex project is designed to relieve current congestion for travelers waiting at crowded gates and aircraft waiting on the airfield for an open gate to deplane passengers during peak periods. The new annex uses space at SEA more efficiently to provide for passengers waiting for flights, reduces the amount of time passengers spend waiting for a plane to arrive at a gate, saves greenhouse gas emissions from idling aircraft, and saves airlines fuel.
Center Runway Reconstruction (completed)
The Center Runway (designated as 16C/34C) was originally built in 1969 and was reconstructed in 2015, re-opening in December. During Center Runway Reconstruction, flight schedules, passenger traffic, and other operations were not disrupted.
Pre-Conditioned Air (completed)
This project provides a centralized pre-conditioned air plant, associated heating and cooling piping systems, and jet bridge terminal air handling units to serve airplanes with heating and cooling while at the gates.