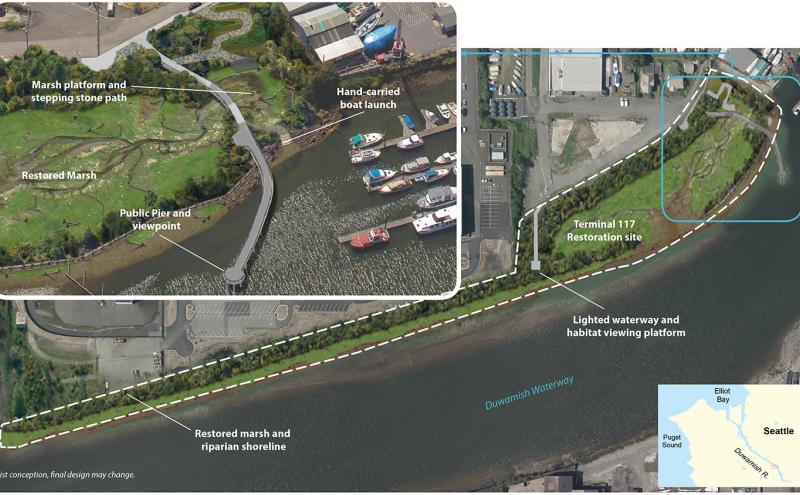 This project benefits the community and environmental health through investments in fish and wildlife habitat restoration and access to parks and green space.
Projected Cost
$22.8 million
Summary
This project will construct a 13-acre habitat restoration project at Terminal 117. This terminal is in the South Park neighborhood and the project will provide needed public access to the river.
Estimated Completion Date
Q2 2020
Purpose
This project will improve fish and wildlife habitat, supporting Chinook recovery goals. It will also include educational environmental interpretation. Shoreline public access will be incorporated into the project, benefiting our near-Port neighbors. Facilities will include a hand-carry boat launch, pier, viewpoint, seating, bike rack, lighting, public art, and trails.
Century Agenda
The project will create approximately 13 acres of fish and wildlife habitat that will contribute to the Century Agenda goal to "create, restore, or enhance 40 additional acres of habitat on the Green-Duwamish Watershed and Elliott Bay." The project will support LRP objectives related to greenhouse gas emission reductions by sequestering carbon in upland and wetland plants.
Business Plan Objectives
Shoreline public access features will benefit South Park, an environmental justice community, along the Port's fence line.