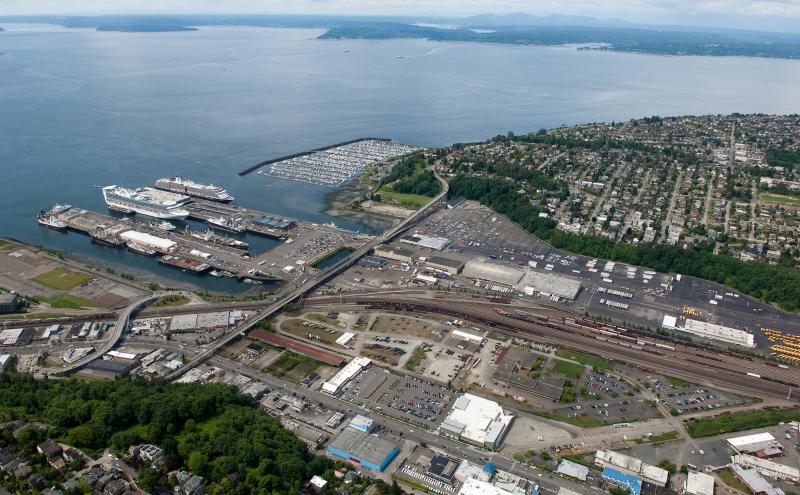 Project Summary
The Port of Seattle is seeking to develop two 50,000-square-foot light industrial buildings and associated site infrastructure improvements to support the development of the Terminal 91 (T-91) area, located north of the Magnolia Bridge.
The new facilities will support fishing and maritime supply chain companies needing to expand within the Ballard/Interbay Manufacturing Industrial Center. The Port has received strong interest from expanding fishing equipment manufacturers and maritime manufacturing companies who want to locate new facilities near the fishing fleet and maritime supply chain.
These new facilities will also be part of the Port's maritime innovation center where companies collaborate to grow and modernize operations.
Phase 1
In early 2019, the Port of Seattle Commission approved $4 million for the Terminal 91 Uplands Project. Phase 1 includes master planning, environmental review, and permitting in support of the Port's overall development of the T-91 area located north of the Magnolia Bridge.
The Port's Real Estate Development Department is proposing to construct two 50,000-square-foot light industrial buildings to support maritime manufacturers and fishing industry suppliers in the Ballard Interbay Manufacturing Industrial Center (BINMIC).
The new light industrial facility development would unfold over the next 10-15 years in two phases. The buildings proposed in Phase I will initially target current T-91 tenants and other maritime customers who have expressed interest in expanding their current operations on the property.
The Phase I design funds will enable the completion of the following work:
Development and approval of Major Phased Development Plan covering both proposed T-91 Uplands Development phases
Environmental review and community outreach for the Major Phased Development Plan
Detailed site survey of entire T-91 Uplands area
Preliminary T-91 Uplands area infrastructure design connected to the Major Phased Development Plan
Full construction design of Phase I buildings and associated site improvements including necessary T-91 Uplands area stormwater management upgrades to become fully compliant with Port and City of Seattle code requirements
This brings the total authorization to date to $4,300,000, including $300,000 previously authorized, of an estimated total Phase 1 project cost of $39,000,000. The T-91 Uplands Development project is funded in the 2019-2023 Capital Improvement Plan.