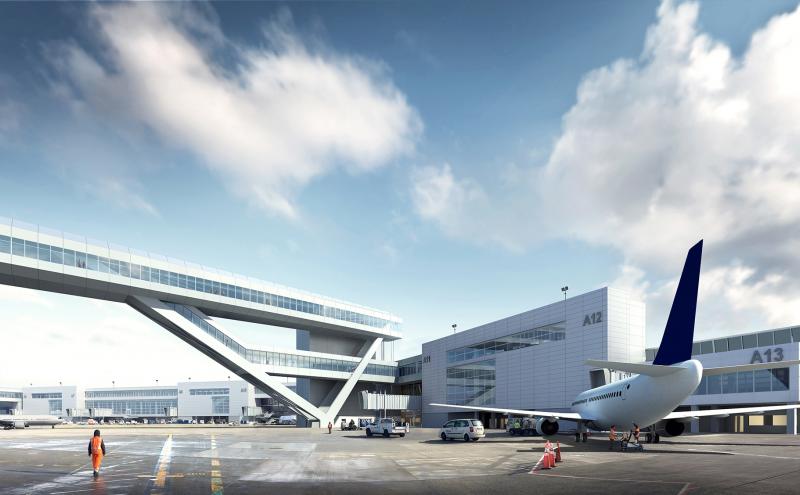 May 8, 2018
The Port of Seattle Commission has appointed a panel of four experts to independently review costs and schedules associated with the new International Arrivals Facility (IAF) now under construction at Seattle-Tacoma International Airport. The project, which will process more approximately 2 million passengers annually, is funded through a combination of airline revenues and user fees, not tax-levy funds.
The independent peer review panel will report directly to the Commission. The panel will examine project costs, schedule, contractor performance and staff management of the IAF.
The IAF is one of the first major construction projects in Washington State using a "progressive design-build" contracting method. Under this approach, construction begins while design is still underway, and the ultimate cost isn't known until the project progresses to a certain point.
"This project is vital to the region's economic future and competiveness. Bringing in a panel of outside experts to review the project will give the Commission and the public independent and unbiased information to evaluate performance and guide our future actions. It's worth the extra review to give the public confidence that this is the best possible facility at the best possible price," said Commissioner Peter Steinbrueck.
Following a 60-day review, the panel will present a report to the Commission on their findings and recommendations. Panel members were selected for their experience and technical expertise in managing large public works projects in challenging building environments such as airports.
The panel members are:
Ken Johnson: President, Shiels Obletz Johnsen. Former Executive Director for the Public Facilities District in Seattle that built Safeco Field. From 2012-2115, he managed the design and engineering team for Seattle's Central Waterfront program. Then he served as Project Manager for Seattle's recently completed $400 million Seawall Project.
John Okamoto: Former Seattle City Council appointee (2015), former Executive Director, Washington Education Association, and Chief Administrative Officer of Port Of Seattle. Served previously as Assistant Secretary of Washington State Department of Transportation and earlier as Seattle-area WSDOT regional administrator where he was responsible for several major transportation projects.
Loren Smith: President, SmithConsult.Global. Experienced as a global aviation business leader and project manager in contract negotiations, financial management and project execution. Worked on Sea-Tac Airport South Terminal Expansion Project in the 1990s.  Led projects around the world including US, Canada, Central and South America, Europe, the Mideast and Asia.
Tina Millan: Senior VP, Director of US Aviation Services, WSP, Florida. Specializes in management of large-scale capital infrastructure programs, including program controls and dispute resolution. Experience in collaborating with senior airport managers for complex projects at several large airports including Dallas-Ft. Worth, San Francisco, San Antonio, and Orlando.
Port of Seattle Executive Director Steve Metruck said he supports and welcomes independent oversight of the project. "The independent panel will review the staff recommendations before we ask the Commission to commit to a final budget and timeline. The project's teams are ready to fully assist the panel in their work," he said.
View Motion 2018-7 as passed by Commission today.
About Seattle-Tacoma International Airport
Operated by the Port of Seattle, Seattle-Tacoma International Airport (SEA, KSEA) is ranked as the 9th busiest U.S. airport, serving 46.9 million passengers and more than 425,800 metric tons of air cargo in 2017. With a regional economic impact of more than $22.5 billion in business revenue, Sea-Tac generates more than 151,400 jobs (87,300 direct jobs), representing over $3.6 billion in direct earnings and more than $442 million in state and local taxes. Twenty-eight airlines serve 90 non-stop domestic and 26 international destinations.
Media Contact:
Perry Cooper | Sr. Manager of Media Relations, Sea-Tac International Airport
cooper.p@portseattle.org | 206-787-4923