The Port supports statewide tourism
The visitor industry is a vital and significant segment of King County and Washington State's economy and is essential to the Port of Seattle because SEA International Airport is the primary gateway for air visitation to our state and the Port's cruise terminals welcome visitors as the gateway of choice for the Alaska cruise market. In 2020 the COVID pandemic severely impacted air and cruise travel and tourism as well as affecting statewide destinations' economic welfare.  
In 2020, as part of the tourism recovery effort, the Port of Seattle Commissioners approved a partnership with the State of Washington Tourism (SWT), the official destination marketing organization for Washington State. The goal of this collaborative partnership is to increase not only the number of visitors to Washington State, but to improve statewide economic vitality, support industry jobs, and promote sustainable tourism. SWT continues to implement a multifaceted statewide marketing program to re-energize safe travel and tourism. 
Responsible Travel Handbook
In an effort to advance conversations around tourism's impact on the environment, destination stewardship, and diversity, equity, and inclusion (DEI), the Port led a collaborative effort with statewide partners to develop this Responsible Travel Handbook. Its contents provide practical guidance on how your organization, region, or community can help usher in a better version of the tourism industry that works for all Washingtonians.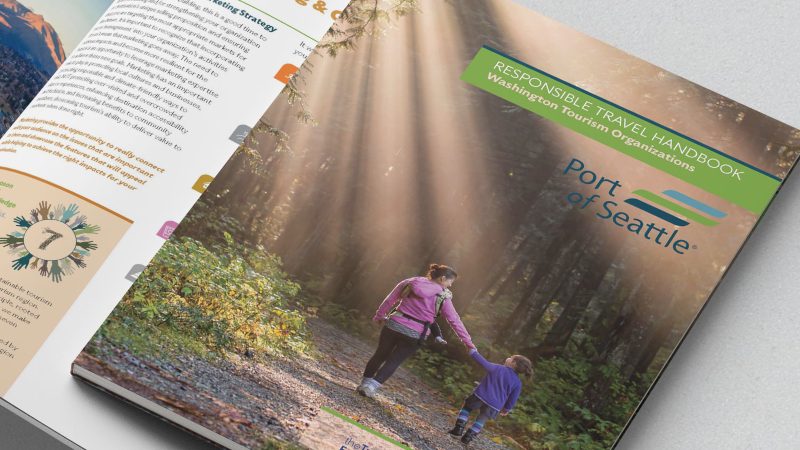 Tourism Programs for Washington State Organizations
Find out more about the annual Tourism Marketing Support Program — who is eligible to apply, how and when to apply, and more. 
 
The Spotlight SEA Airport Advertising Program provides eligible organizations the opportunity to advertise, on a quarterly basis if selected, at SEA Airport to promote tourism destinations and visitors' attractions. Click on the program link below to learn more about the program including how and when to apply. 
International Tourism Development
The Port's International tourism efforts support both SEA International Airport and our cruise terminals as gateways to Seattle and Washington State. Key target markets are countries with direct air service into SEA and countries with high levels of cruising enthusiasts. Three in-market offices are currently maintained in the United Kingdom/Ireland, Germany/Mainland Europe, and Australia/New Zealand with a focus on informing and educating the travel trade and media on the benefits of cruising from Seattle to Alaska, the wide range of pre/post cruise tourism opportunities in Seattle and Washington State, and the advantages of SEA as the preferred gateway for the Pacific Northwest, Western USA, and Western Canada. 
Washington State Cruise and Stay Guide

As the largest and fastest growing cruise market on the West Coast, Seattle has been the natural gateway to Alaska for years. Find ideas for visiting Seattle and Washington State, the heart of the beautiful Pacific Northwest, in our Cruise and Stay Guide!
Visit Washington state
Washington state offers a variety of landscapes, cultures, and experiences. Choose your next adventure — from cities and small towns to rainforests, mountains, and deserts! Check the guide.