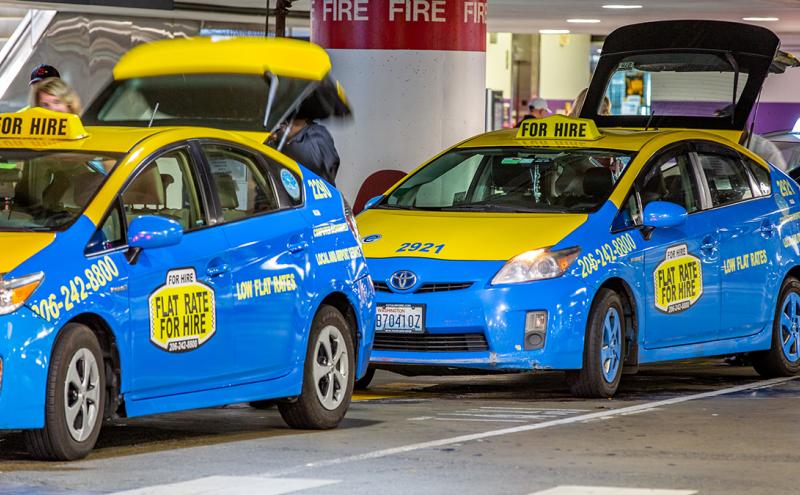 July 10, 2018
The Port of Seattle Commission approved today an update to its current taxi contract. A statement from Commission President Courtney Gregoire and highlights of the agreement follow. 
"The Port of Seattle announced an agreement with its current taxi contractor to address driver concerns, halt the imposition of new fees, and maintain the current fleet of owner operators. These changes prioritize short-term certainty during a very uncertain time and maintain access for drivers who faced involuntary expulsion from the fleet. These changes reflect our commitment to fairness, open dialogue, and determination to create meaningful economic opportunities at the airport.
"These changes follow recent actions by the Port to renovate driver facilities at the airport and stop contractor actions such as eliminating vehicles from the airport fleet and charging drivers an additional buy-in fee.
"Technology continues to disrupt ground transportation in ways that benefit and challenge operators. As a participant in the state's Joint Transportation Committee study and through many other stakeholder relationships, the Port will continue to push for an improved regulatory environment that genuinely improves economic opportunities for drivers."  – Port of Seattle Commission President Courtney Gregoire
Highlights of the agreement include:
The airport fleet of on-demand vehicles would remain at 405 through the end of the contract on September 30, 2019. 
Contractor will extend offers to renew the contracts of all current owners by Aug. 31, 2018, for the remainder of the concession agreement term.
Dispatch fees would remain at the current $155 per week until May 31, 2019. 
From June 1, 2019, through September 30, 2019, fees would be reduced to $60 per week.
Contact
Perry Cooper
Sea-Tac Airport
206-787-4923