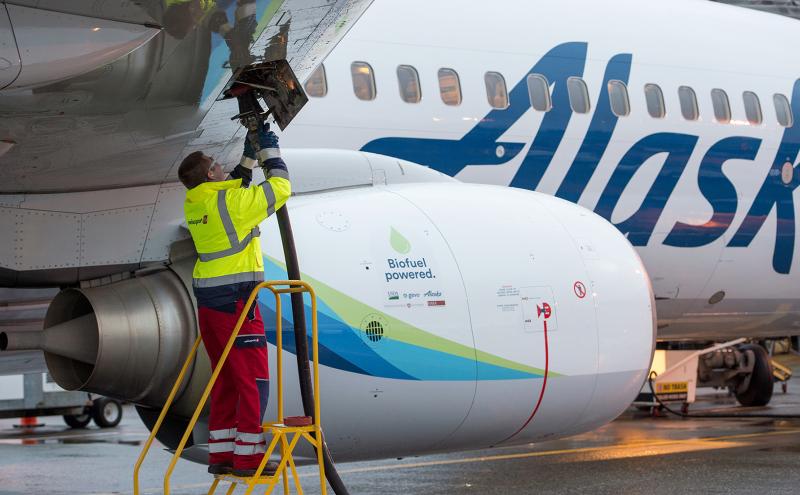 April 8, 2021
Port of Seattle Commission President Fred Felleman and fellow commissioners made the following statements today, commending the Washington State Senate for approving HB 1091, a bill "to reduce greenhouse gas emissions by reducing the carbon intensity of transportation fuel."
"We will all be able to breathe easier now that the Washington Senate has passed legislation to reduce emissions from transportation fuels. There is more work to be done before it becomes law, but this is a historic step forward for our communities, economy, and climate," said Felleman.
"For the last three years, passing a low carbon fuel standard has been our top state legislative priority because we understood how critical it is to make the transition away from fossil fuels and toward renewables. Not only will it bring new jobs and economic activity, but, more important, it will help us to reduce harmful emissions that impact our communities," said Commissioner Ryan Calkins.
 "Aviation and maritime sectors drive our economy. They support jobs for hundreds of thousands of individuals and every Washington industry depends upon trade and travel services. A clean fuel standard is critical to helping the Port and transportation partners overcome a daunting and urgent challenge," said Commissioner Peter Steinbrueck.   
"Transportation industries are especially difficult to decarbonize and contribute to air pollution in communities already disproportionately hurt by health inequities. But in the same way, driving development and adoption of cleaner fuels will disproportionately benefit these same communities," said Commissioner Sam Cho.   
"The cleaner fuels that will come with a clean fuel standard incentive, particularly in the interim while new technology develops and commercializes, are essential to reducing pollution while keeping jobs," said Commissioner Stephanie Bowman.  
"The leadership by Rep. Joe Fitzgibbon and other climate leaders in the House and Senate brought us to this historic place today. We look forward to the legislature completing its work and Governor Jay Inslee signing this bill into law," concluded Commission President Felleman.
The latest Washington Ecology Department found that transportation contributes almost 45 percent of the state's greenhouse gas emissions. The Puget Sound Clean Air Agency found that diesel exhaust from transportation sources contributes about 78 percent of cancer risk from air pollution in Puget Sound. The fastest way to reduce emissions and climate impacts caused by heavy-duty trucks, trains, and planes is by using cleaner fuels.
Contact
Peter McGraw | Port of Seattle Media Officer
(206) 787-3446 | mcgraw.p@portseattle.org