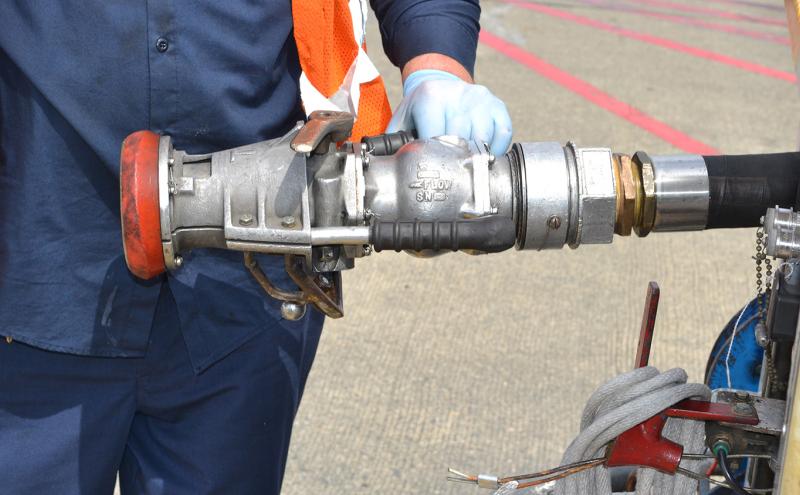 October 22, 2020
A new analysis by Washington State University and the Port of Seattle confirms there is enough available forest residuals and municipal solid waste to produce up to 220-290 million gallons of sustainable aviation fuel (SAF) per year in the Pacific Northwest.
That would be enough fuel to exceed the Port of Seattle's goal to offer a 10 percent SAF jet fuel blend at Seattle-Tacoma International Airport (SEA) by 2028. Offering a 10 percent SAF blend would help the airport, Washington state, and aviation industry meet emissions goals.
Compared to fossil fuels, SAF emits 50-80 percent fewer carbon emissions, and reduces sulfur emissions, soot, and ultra-fine particulates. These pollutants negatively impact the health of communities and the environment.
"This is an urgent time for the climate and our community's health, and the solutions are at hand," said Port of Seattle Commissioner Fred Felleman as he introduced the report. "The Port studied the infrastructure, the financing models, and now the availability of raw feedstock supply for converting to low-carbon fuel. All we need now is the policy incentive to develop a Northwest low-carbon fuel manufacturing sector."
The report, which examined supply chain and economic models for Washington, Oregon, Idaho, and Montana, compared the potential prices of fuels produced using oilseeds and fats/oils/grease (FOGs), forest residuals, and municipal solid waste. While the cost for low-carbon fuels would be higher than conventional jet fuel, financial incentives like a statewide low carbon fuel standard, has been shown to help achieve price parity with petroleum jet fuels.
The Port formally released the study at the 2020 Clean Fuel Forum, which convened industry experts and policy leaders to examine how low-carbon fuel production developments in other states sets an example for how Washington can create similar policy incentives such as a low carbon fuel standard.
"A low carbon fuel standard addresses the most urgent crisis in our community today: air quality for communities closest to transportation impacts, the need for economic investment at a time we need to grow jobs, and a long-term strategy for climate-friendly transportation," said Port of Seattle Commissioner Ryan Calkins as he opened the Clean Fuel Forum. "We cannot afford to wait."
Geographic Density of Forest Residuals
Volume of Convertible Municipal Solid Waste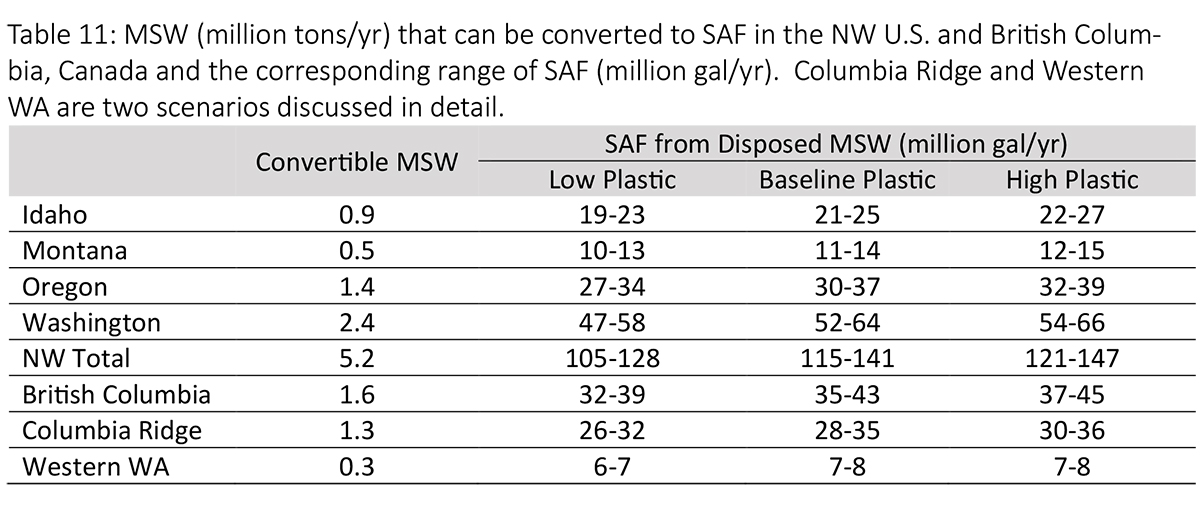 This report follows prior analysis demonstrating the feasibility of local SAF production to potential partners, policymakers, industry leaders, and financial stakeholders. The other reports included a 2016 analysis of infrastructure needs and a 2017 analysis of funding sources.
Policy Leaders Look to 2021 for Low Carbon Fuel Standard
Incentives from other states have steadily drawn low carbon fuel production and use away from Washington, creating economic growth and better air quality in California, Oregon, Nevada, and British Columbia, Canada.
During the Clean Fuel Forum, leaders in Washington said the state should advance the low carbon fuels standard to address a range of climate, pollution, and economic needs.
"The Washington State Department of Natural Resources continues to be engaged in how we reach our carbon reduction goals, whether that's working to lessen the number and intensity of wildfires that have made our state's air the worst in the world two of the last three years or working alongside our rural partners to create jobs in natural resources and in the clean energy marketplace," said Commissioner of Public Lands Hilary Franz. "There's more work to do, but together we can achieve our goals in transportation emissions reductions, forging ahead to 100% clean energy by 2040 and diversifying the economy through innovations in biofuels and other industries that support healthy landscapes and waterways."
"Environmental justice requires that all Washingtonians have access to clean air to breathe, and that our fish have clean waterways and healthy habitats. Critical to achieving that goal is implementing a clean fuels policy for Washington State. Implementation of a clean fuels policy cannot wait any longer," said Sen. Rebecca Saldaña (D-Seattle).
"For so many reasons, this makes sense for our state. Whether we are talking about meeting our state's ambitious climate goals, protecting disproportionately impacted communities from pollution, or creating good-paying, sustainable green jobs—SAF production will be a major component in supporting our efforts to build back more resilient and stronger than ever before," said Sen. Liz Lovelett (D-40th LD). 
"This analysis reconfirms that Washington can be a global leader in decarbonizing aviation fuels," said Rep. Joe Fitzgibbon (D-34th LD). "We have the fuel feedstocks, we have the nation's largest aerospace sector, and we have the technological know-how. The only missing piece is the policy support from state government in the form of a low carbon fuel standard to accelerate the growth of biofuel production. This research will inform the Legislature as we work again in 2021 to advance this policy across the finish line."
Industry Developments Abound in California
During the Clean Fuel Forum, industry experts pointed to low-carbon fuel and SAF developments in states with incentives. Alaska Airlines, American Airlines, and JetBlue Airways announced at San Francisco International Airport. Phillips 66 announced plans to transform a San Francisco refinery into the "world's largest renewable fuels plant."
Airport to Reduce Carbon Emissions by 50 Percent in 2021
The airport continues to reduce its own carbon emissions while advocating for a low-carbon fuel standard. In 2020 the airport became the first airport in the country to purchase thermal renewable natural gas (RNG), a low-carbon natural gas alternative produced from landfill waste, to heat the airport terminal.  This decision to switch from higher carbon fossil fuel to renewable waste-derived fuel will enable the airport to reduce its carbon emissions by 50 percent in 2021, a goal that was initially targeted for 2030.
The airport wanted to switch to RNG earlier, but struggled to find a significant and affordable source of the low carbon fuel. The airport's RNG supply comes from a landfill outside Washington state as most large in-state landfills and dairy farm digesters already capture and sell their RNG either as electricity or transportation fuel to California markets.
According to the Washington State Department of Ecology, 8 percent of the state's emissions come from jet fuel. 
Achieving the Port's SAF goal will make a significant contribution toward the Port of Seattle, State of Washington, and the aviation industry achieving climate goals.
Contact
Perry Cooper | SEA Airport Media Relations
(206) 787-4923 | cooper.p@portseattle.org