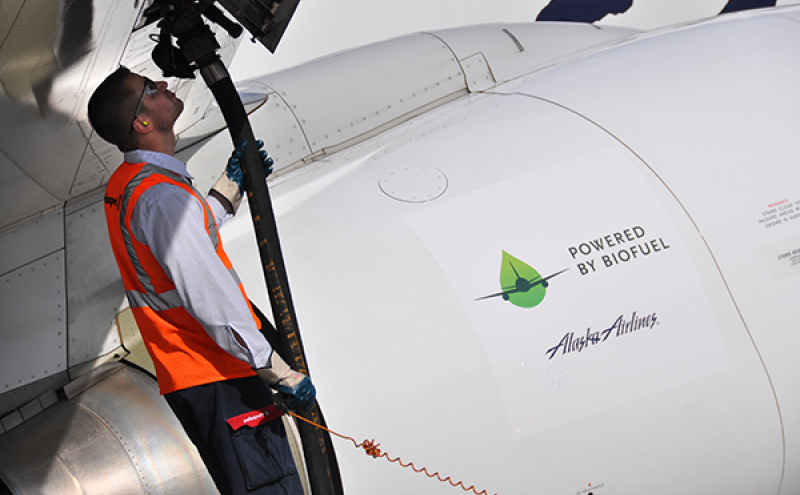 The Port of Seattle has set a goal to power every flight fueled at Seattle-Tacoma International Airport with sustainable aviation fuel (SAF) by 2028.
What is Sustainable Aviation Fuel (SAF)?
SAF is a jet fuel made from renewable sources such as used cooking oil, animal tallow, wood waste, algae, oilseeds, municipal solid waste, etc.             

SAF is a fuel that can range in its renewable content and has been certified to the same safety standards as petroleum Jet-A. This is typically done by blending "raw" or "neat" aviation biofuels with Jet-A.
What are the Benefits of SAF?
Reduces lifecycle greenhouse gas emissions by 50 to 80% compared with petroleum jet fuel

Reduces particulate matter (soot) significantly (not yet tested across all fuel types and engine conditions to give specific range)

Creates clean energy jobs
What role can the Port of Seattle play to bring SAF to Sea-Tac?
Infrastructure – In 2016, we partnered with Boeing and Alaska Airlines to investigate the best locations to store and blend SAF into the airport's fueling systems. The report identified some key locations on and off the airport's property.
Financing – In 2017, Carbon War Room/Rocky Mountain Institute and SkyNRG investigated the feasibility of using different airport revenue streams at Sea-Tac to help bring down the cost to all airlines compared to petroleum jet fuel, as well as support the build-out of fueling infrastructure.  The report identified a range of funding sources, and included ways an airport could be involved without directly paying for fuel.
Land Use – The Port may have access to land through its government partnerships to support locations for blending or production facilities.
Advocacy – The Port can bring attention to issues through education of citizens, passengers, businesses, and elected officials, to reduce barriers and help create incentives for SAF use.
Partnerships – The Port is in a unique position to aggregate demand for fuel and send a strong market signal for SAF production here in Washington state.