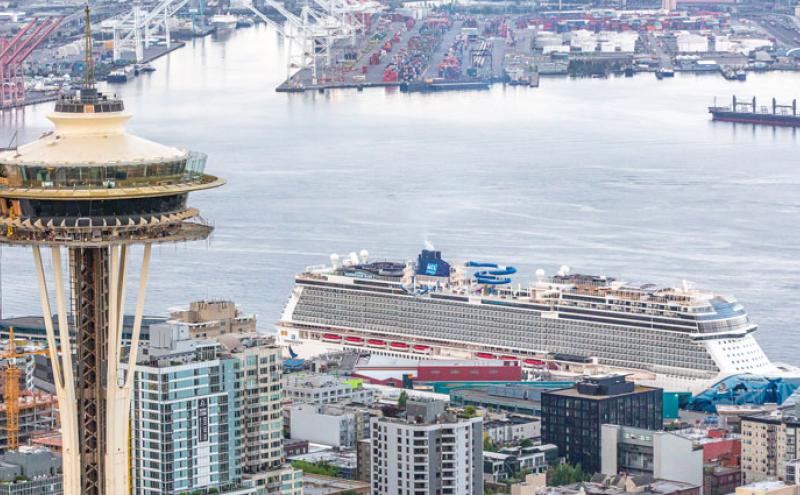 Major milestone for Seattle Cruise showcases economic impact while embracing strict standards on environmental protection
May 29, 2018
The Port of Seattle will welcome Norwegian Bliss, the newest ship in the Norwegian Cruise Line fleet, the early morning of Wednesday, May 30. At over 168,000 gross tons and a capacity of 4,004, double occupancy, Norwegian Bliss is the largest cruise vessel on the west coast and was built especially for the Alaska cruise market. The arrival of Norwegian Bliss marks a major milestone for the Port of Seattle, which over the last 18 years has transformed into the largest and fastest growing cruise business on the west coast, while earning a reputation for progressive environmental protections.
The Port of Seattle has a special relationship with Norwegian Cruise Line, as they were the first cruise line to homeport in Seattle over eighteen years ago. Together, through a public-private partnership, Bell Street Cruise Terminal at Pier 66 was renovated and expanded to welcome the largest ship to homeport in Seattle and cruise to Alaska – Norwegian Bliss.
"The Port of Seattle is thrilled to host the magnificent Norwegian Bliss and her passengers for many Alaska cruise seasons to come," said Port of Seattle Commission President Courtney Gregoire. "Cruise ships like Norwegian Bliss meet our objectives of increasing economic opportunity in our region while constantly raising the bar on environmental sustainability. We thank Norwegian for their eighteen years of partnership with the Port of Seattle, and look forward to many more to come.
"We are proud of our partnership with the Port of Seattle, where we have cruised out of for nearly two decades," said Andy Stuart, President and Chief Executive Officer of Norwegian Cruise Line. "Tomorrow will mark an exciting evolution of our relationship. For the first time in the company's history we will christen our newest and most innovative ship in Seattle, before she begins her inaugural season cruising to Alaska. We look forward to a promising future and continuing to work with the Port of Seattle to further expand cruising opportunities in the Pacific Northwest."
In April 2018, Norwegian Cruise Line Holdings Ltd., the leading global cruise company which operates the Norwegian Cruise Line, Oceania Cruises and Regent Seven Seas Cruises brands released its 2017 Stewardship Report, highlighting the company's progress in minimizing waste to landfill, investing in emerging technologies, and reducing CO2 emissions. The Stewardship Report is part of their Sail & Sustain program, which reflects the company's mission to continually improve its sustainability culture through fresh innovation, progressive education and open collaboration.
Through the Sail & Sustain program, Norwegian Cruise Line Holdings is committed to:
Increasing sustainable sourcing
Minimizing waste to landfills
Investing in emerging technologies
Reducing their CO2 emissions
The cruise line has also established environmental partnerships with the Guy Harvey Ocean Foundation, the Alaska Raptor Center, and Nova Southeastern University's Oceanographic Center in coral reef restoration.
The cruise industry in Seattle is a major economic driver for the region, providing over 4,000 jobs and over $500 million into the region's economy each season. The Port of Seattle can handle some of the largest vessels in the world, with a naturally deep-water port, and award-winning world-class cruise facilities that will process over one-million revenue passengers for the second year in a row. Both cruise terminals offer convenience in a spectacular setting on the downtown waterfront, including easy access to Sea-Tac International Airport.
The Port of Seattle also leads the way among cruise ports by offering Port Valet, a complimentary service that allows eligible passengers to get airline boarding passes and check their luggage all the way to their final destination while still on board their ship. Guests can then enjoy Seattle luggage-free.
Seattle Cruise: a history of environmental leadership
Cruise ships visiting the Port of Seattle have gone above and beyond water quality requirements.
Starting 14 years ago, the Port of Seattle and our cruise line customers led the way to ensure environmental concerns were addressed. In 2004 the Port of Seattle partnered with Washington State Dept. of Ecology and the Cruise Line International Association (CLIA) to sign the Washington State Cruise Memorandum of Understanding, ensuring cruise ships exceed industry, state, and federal environmental performance standards. 
Cruise ship companies have demonstrated leadership by managing wastewater discharge long before this year's enactment of the No Discharge Zone - ban on treated and untreated discharges in Puget Sound. The MOU requires the highest treatment level (Advanced Wastewater Treatment Systems) avoiding discharges near shellfish beds and the discharge of untreated graywater. For the past seven years all cruise ships visiting the Port of Seattle have elected not to discharge at all in Washington waters.
The Port of Seattle also works closely with the cruise industry to minimize air quality impacts of cruise ship exhaust, comply with international, federal and state air quality regulations, and help provide lower carbon cruise access to Washington and Alaska waters. Today, the Port provides clean shore power at two cruise berths at Terminal 91 and is exploring opportunities to further expand access to shore power, including at Pier 66. 
The Port of Seattle was also an early supporter of international regulations to establish the North American Emission Control Area (ECA) which limits the sulfur content in fuels used in ships when they are within 200 miles of the coast. This regulation has significantly reduced sulfur emissions and air-quality related human health impacts. Also, many cruise ships calling on Port of Seattle have installed exhaust gas cleaning systems called "scrubbers," an alternative method to clean their exhaust and meet the emission requirements of the ECA. On the shore side, over 80 percent of the cargo-handling equipment at Port of Seattle's cruise terminals are powered by the latest clean fuel technology.
There are new International Maritime Organization requirements coming in 2020 requiring even cleaner fuel and Port of Seattle remains committed to working with all our shipping and cruise partners to achieve compliance and make Port of Seattle the cleanest, greenest, most energy efficient port in the nation.
---
About the Port of Seattle
Founded in 1911, The Port owns and operates Seattle-Tacoma International Airport, two cruise ship terminals, Fishermen's Terminal—home of the North Pacific fishing fleet, one grain terminal, a public cargo terminal, four public marinas, and manages a number of real estate assets for financial return and economic advantage. The port's operations currently help create nearly 200,000 jobs and $7 billion in wages throughout the region. Over the next 19 years, the port's "Century Agenda" seeks to create an additional 100,000 jobs through economic growth while becoming the nation's leading green and energy-efficient port. Learn more at www.portseattle.org.
About Norwegian Cruise Line 
Norwegian Cruise Line is the innovator in cruise travel with a 51-year history of breaking the boundaries of traditional cruising. Most notably, Norwegian revolutionized the cruise industry by offering guests the freedom and flexibility to design their ideal cruise vacation on their schedule with no set dining times, a variety of entertainment options and no formal dress codes. Today, Norwegian invites guests to enjoy a relaxed, resort-style cruise vacation on some of the newest and most contemporary ships at sea with a wide variety of accommodations options, including The Haven by Norwegian®, a luxury enclave with suites, private pool and dining, concierge service and personal butlers. Norwegian Cruise Line sails around the globe, offering guests the freedom and flexibility to explore the world on their own time and experience up to 27 dining options, award-winning entertainment, superior guest service and more across all of the brand's 16 ships.
Recently, the line was named "Europe's Leading Cruise Line" for the tenth consecutive year, "World's Leading Large Ship Cruise Line" for the sixth consecutive year, the "Caribbean's Leading Cruise Line" for the fifth consecutive year, as well as "World's Leading Cruise Line" and "North America's Leading Cruise Line" both for the second straight year by the World Travel Awards. Norwegian's next new build, the highly anticipated Norwegian Bliss, will be delivered in April 2018 featuring many firsts-at-sea for the global market including the largest race track at sea, award-winning Broadway entertainment, two observation lounges for guests to enjoy stunning ocean and glacier views and more. Norwegian will introduce an additional new "Breakaway Plus" Class cruise ship in 2019 and has four additional ships on order for delivery beginning in 2022, with an option to introduce two more ships in 2026 and 2027.
For further information on Norwegian Cruise Line visit www.ncl.com; contact us in the U.S. and Canada at 888-NCL-CRUISE (625-2784); or follow us on the following social channels for the latest company news & exclusive content: Facebook, Instagram and Youtube: @NorwegianCruiseLine; Twitter and Snapchat: @CruiseNorwegian; and WeChat: @gonclcn. High resolution, downloadable images are available at www.ncl.com/media-center.
Media Contact:
Peter McGraw | Maritime Media Officer
(206) 787-3446