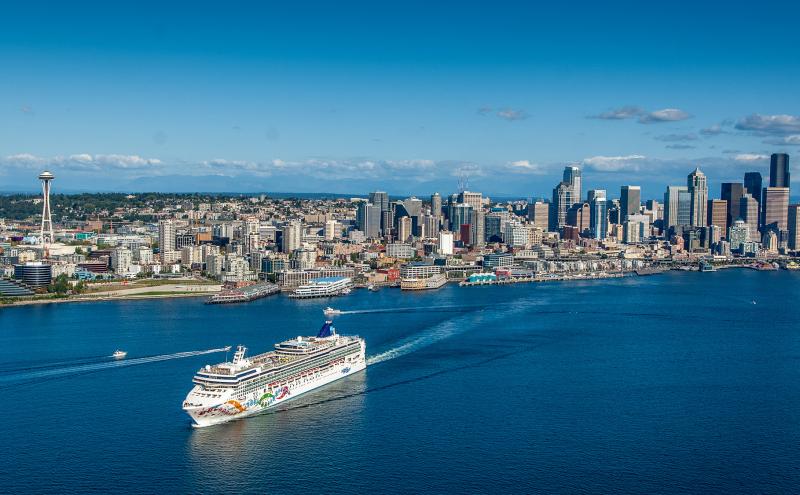 Over one-million passengers are expected, with larger ships leading the way
April 18, 2018
The Port of Seattle embarks on another record cruise season with the arrival of the first ship — Norwegian Cruise Line (NCL) Sun, making it the biggest cruise port on the West Coast for the second year in a row. The Port expects 1,100,468 revenue cruise passengers this year, breaking last year's record of 1,071,594. Larger cruise vessels to Alaska destinations are leading the way toward higher passenger counts.
"The Port of Seattle welcomes the cruise season every year, as it provides over a half a billion in economic value to our region," said Port of Seattle Commission President Courtney Gregoire. "These dollars reach businesses of all sizes, and we look forward to having more visitors stay and enjoy the beautiful state of Washington."
Port of Seattle Commissioners also approved the Port Valet program last week, a complimentary cruise luggage program where Seattle cruise passengers will be able to get their airline boarding pass and check their bags before leaving the cruise ship, so they can check out Seattle before flying home.
"Port Valet is a wonderful way for visitors to leave their baggage and explore the great things Seattle has to offer," said Tom Norwalk, CEO of Visit Seattle. "You can visit Pike Place Market, see the Space Needle, or even taste some wine in Woodinville before catching your flight home."
The Port will also welcome the NCL Bliss on May 30. At 4,000 passengers, Bliss will be the largest cruise ship on the West Coast this season.
Contact:
Peter McGraw                                                
Media Officer
206.787.3446