Screening During COVID-19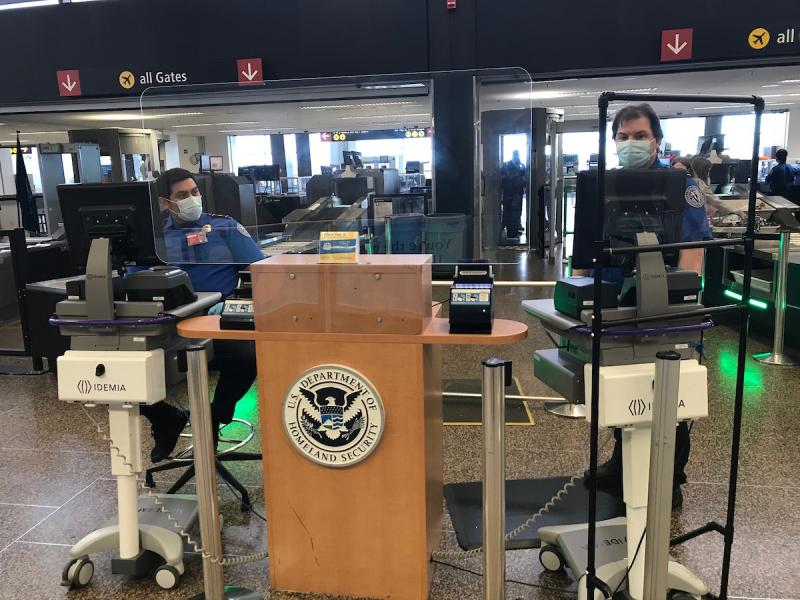 Below are some adjustments TSA has made at security screening checkpoints in response to the COVID-19 pandemic, more information is available at TSA.gov/coronavirus:
Travelers may wear a face-covering during the screening process, but a TSA officer may ask you to adjust the face-covering at any point during the screening process.
Please maintain 6 feet apart for physical distancing while waiting in the queue.
TSA is allowing one liquid hand sanitizer container, up to 12 ounces per passenger, in carry-on bags until further notice.
Checkpoint Hours of Operation
For international travelers, the Federal Inspection Checkpoint at the South Satellite is closed. All international arriving passengers will exit, check luggage, and go through screening at the main terminal. Please use our interactive map for step-by-step directions for navigating around the terminal and for more information and other advisories please see our Airport Traveler Updates.
Types of Screening
Travelers can access all gates from any checkpoint.  There are five main checkpoints at SEA Airport featuring general, premium, CLEAR, TSA PreCheck, and ADA-friendly screening. All checkpoints are ADA accessible for additional assistance please contact TSA Cares 72 hours prior to your flight.
Wait Times
Passengers should arrive two hours before domestic travel and three hours before international travel. TSA General and TSA PreCheck  screening hours are subject to change based on operational needs. All checkpoints are open daily operational hours are subject to change based on TSA operations, closure times are evaluated daily. SEA Staff will help guide you to the best checkpoint. To see the TSA PreCheck Checkpoint Schedule and when lanes are open, and live checkpoint wait times download the flySEA App!
Checkpoints

Screening Types Available

Checkpoint Operating Hours

Checkpoint 1

CLEAR and TSA PreCheck Screening

4 a.m. to 6 p.m.
Checkpoint 2

CLEAR, General and Premium Screening, and SEA Spot Saver

4 a.m. to 11 p.m.

SEA Spot Saver is available from 4 a.m. to noon

Checkpoint 3

CLEAR, General Screening, SEA Spot Saver, and SEA Visitor Pass

General: 24 hours

CLEAR: 6 a.m. - 4 p.m.

SEA Spot Saver is available from 4 a.m. to noon

SEA Visitor Pass is available from 8 a.m. to 9 p.m.

Checkpoint 4

CLEAR, General, and TSA PreCheck Screening

4 a.m. to 10 p.m.

General: 4 a.m. to noon

Checkpoint 5

CLEAR, General and Premium Screening, and SEA Spot Saver

4 a.m. to 8 p.m.

SEA Spot Saver is available from 4 a.m. to noon