Due to the COVID-19 pandemic and national emergency declaration, the REAL ID enforcement deadline has been extended to October 1, 2021. 
Identification Requirements
Security checkpoints at Seattle-Tacoma International Airport (SEA) are managed and regulated by the Transportation Security Administration (TSA). A Real ID Act approved identification will be required for access through airport security checkpoints if they do not have a REAL ID-compliant driver's license or another approved form of ID on October 1, 2021.
TSA will accept standard ID through the end of September 2021. Starting on October 1, 2021 all U.S. airports will require REAL ID, which includes an enhanced driver license or passport. Learn more about what forms of identification you may need at www.ID2020WA.com

Checkpoint Hours of Operation
Traveler Alert: Checkpoint 1 is closed until further notice, all TSA PreCheck Passengers will have to process through Checkpoint 4 until further notice. For international travelers the Federal Inspection Checkpoint at the South Satellite is closed. All international arriving passengers will exit, check luggage, and go through screening at the main terminal.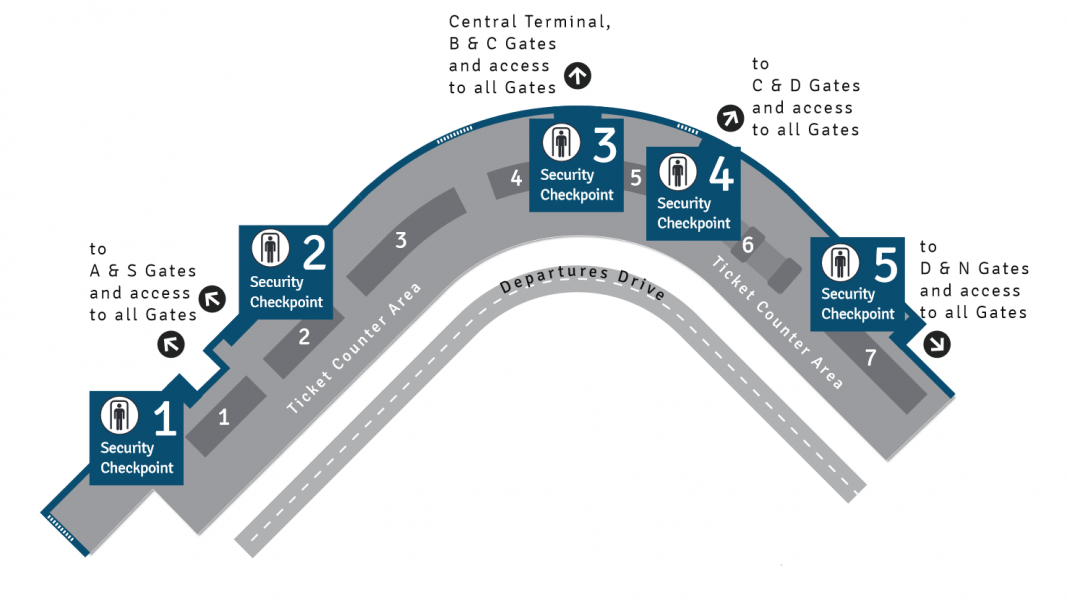 Travelers can access ALL gates from ANY checkpoint. Passengers should arrive two hours before domestic travel and three hours before international travel. There are five main checkpoints at SEA Airport featuring general, premium, CLEAR, TSA Pre✓® and ADA-friendly screening.
TSA General and TSA Pre✓®  screening hours are subject to change based on operational needs. All checkpoints are open daily operational hours are subject to change based on TSA operations, closure times are evaluated daily. SEA Staff will help guide you to the best checkpoint.
To see the TSA Pre✓® Checkpoint Schedule and when lanes are open at SEA Airport, please refer to TSA's website. All checkpoints are ADA accessible. For live checkpoint wait times download the flySEA App!
Checkpoints

Screening Types Available

Checkpoint Operating Hours

Checkpoint 1

Currently Unavailable

Closed until further notice
Checkpoint 2

CLEAR and General Screening

4 a.m. - 11 p.m.

Checkpoint 3

CLEAR and General Screening

CLEAR: 6 a.m. - 4 p.m.

General and Premium: 24 hours

Checkpoint 4

CLEAR and TSA Pre✓® Screening ONLY

4 a.m. - 11 p.m.

Checkpoint 5

CLEAR and General Screening

4 a.m. to 12 p.m.