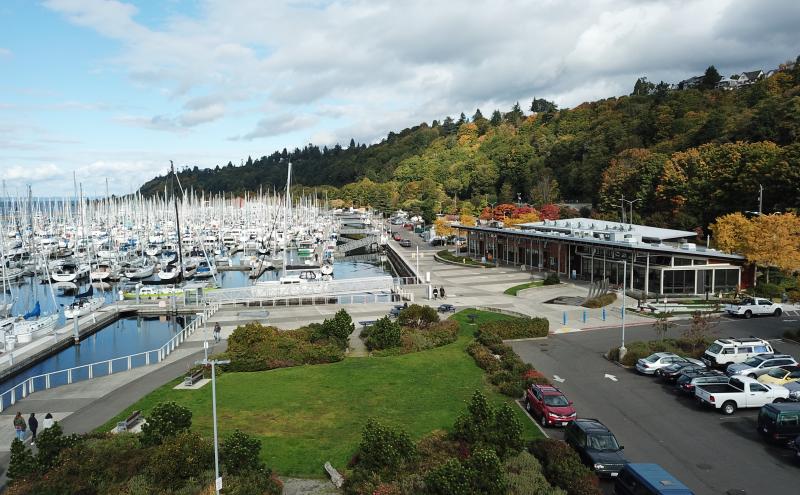 Iconic Seattle eatery to open in 2019 near largest live-aboard community on the West Coast
December 3, 2017
SEATTLE—The Port of Seattle Commission voted today to execute a ground lease for construction of a new building featuring Duke's Chowder House, an iconic Seattle eatery. The location is adjacent to Shilshole Bay Marina docks in the central plaza area. Design and permitting work will start immediately, with construction anticipated to start mid-2018, and a mid-2019 restaurant opening.
"We're thrilled to have Duke's Chowder House at Shilshole Bay Marina," said Port of Seattle Commission President Tom Albro. "This offers visiting recreational boaters, live-aboards, and the community a great local eating option at an incomparable location."
"The Duke's Chowder House family wants to thank the Port of Seattle for providing us this great opportunity for establishing our flagship location," said Duke Moscrip, owner of Duke's Chowder House. "We look forward to serving the sea-faring and land lubber alike of the greater Ballard and Shilshole Bay Marina community."
Duke's is a local, family-owned enterprise that currently operates in six different neighborhood locations in the Puget Sound area. Duke's has sustained and nurtured their concept for over 39 years, keeping current and innovative with food, décor, training, and maintaining a family quality with their employees.
The 6,500 square foot restaurant area will allow Duke's to construct a 5,000 square foot restaurant/bar and 1,500 square foot outdoor deck and seating area. The lease is for 20 years, with a 10-year option to extend, at $125,000 a year rent.
About the Port of Seattle
Founded in 1911, The Port owns and operates Seattle-Tacoma International Airport, two cruise ship terminals, Fishermen's Terminal—home of the North Pacific fishing fleet, one grain terminal, a public cargo terminal, four public marinas, and manages a number of real estate assets for financial return and economic advantage. The port's operations currently help create nearly 200,000 jobs and $7 billion in wages throughout the region. Over the next 20 years, the port's "Century Agenda" seeks to create an additional 100,000 jobs through economic growth while becoming the nation's leading green and energy-efficient port. Learn more at www.portseattle.org.
# # #