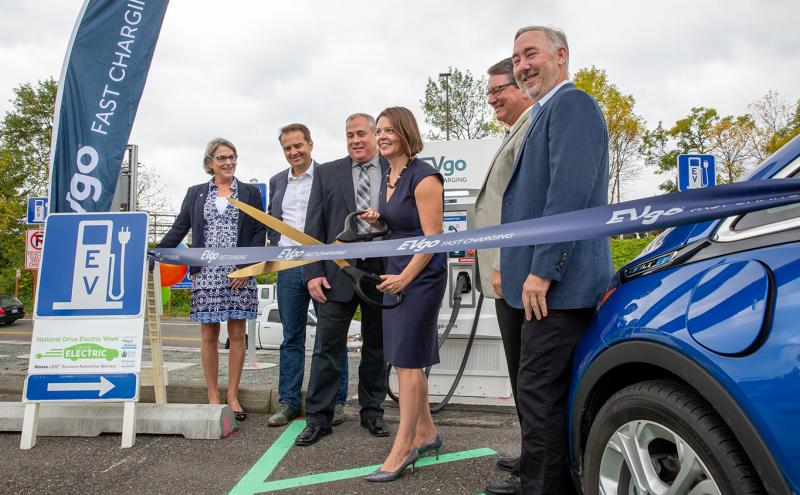 Port partners with WSDOT, EVgo, Forth, to add to West Coast Electric Highway Network
September 20, 2019
The Port of Seattle today announced that Seattle-Tacoma International Airport is now a destination along the West Coast Electric Highway with two new fast charging electric vehicle (EV) stations to serve up to four EVs at a time.
Revealed during Drive Electric Week, the EV fast chargers in the Sea-Tac Airport Cell Phone Lot are available to the public through a public-private partnership, including the Port of Seattle, Washington State Department of Transportation (WSDOT), Forth and EVgo.
"Drive Electric Week is the perfect time to celebrate the opening of the Sea-Tac Airport chargers," Gov. Jay Inslee said. "Electric cars are part of Washington's clean energy future. We just reached an ambitious goal to increase the number of EVs on Washington roads from 8,000 to 50,000 by 2020. These new chargers will help build up our charging infrastructure and keep our state at the forefront of the clean energy economy."
These EV chargers now serve important link in the electric vehicle charging infrastructure network in Western Washington. At Sea-Tac Airport, transportation electrification is an important component of our emission reduction and climate program.
"The Port of Seattle is contributing to electrifying the region's transportation," said Port of Seattle Commissioner Courtney Gregoire. "Each day, we pursue our goal to be the greenest and most energy-efficient Port in North America. These EV stations meet our Port values for supporting healthier communities and the environment.  They also make it easier for our customers to reduce pollution and embrace sustainability."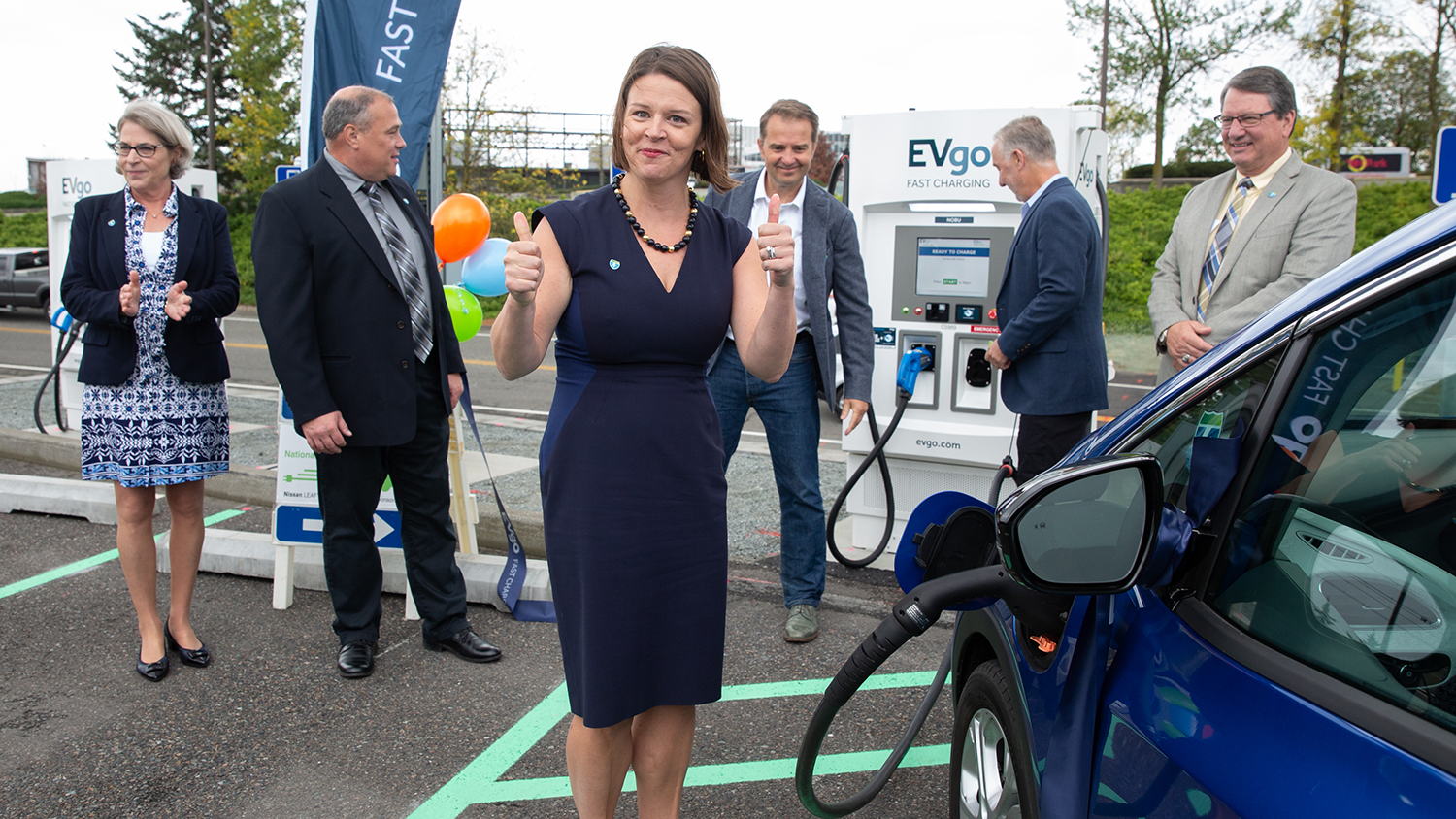 WSDOT's Electric Vehicle Infrastructure Partnerships Program (EVIPP) provided a $595,000 grant to incentivize the investment of charging stations in six communities along I-5. Sea-Tac Airport is the fifth of six locations to open as part of this project.
"Sea-Tac Airport will likely be one of the most popular charging locations in the state," said Tonia Buell, WSDOT EVIPP Lead. "This unique public private partnership is strengthening the West Coast Electric Highway network of fast charging along I-5. With more public charging combined with the state's sales tax exemption on the purchase of new and used plug-ins, Drive Electric Week is a great time to consider getting an electric car."
The electricity serving these chargers is purchased from the Bonneville Power Administration, which is more than 95 percent carbon-free. EVgo recently announced it contracted for 100 percent renewable energy to power its customers, becoming the first EV charging network in the United States to do so.
"EVgo's new fast charging station at Sea-Tac is a win-win-win for Washington travelers, the economy, and the environment," said Cathy Zoi, CEO of EVgo. "EVgo is delighted to continue our partnership with Washington State to enable more drivers and passengers to access the benefits of electric vehicles."
"The increased adoption of electric vehicles is directly tied to the widespread availability of fast charging," said Jeff Allen, executive director of Forth. "We applaud the Port of Seattle's action in expanding access to convenient and efficient charging for travelers along the West Coast Electric Highway."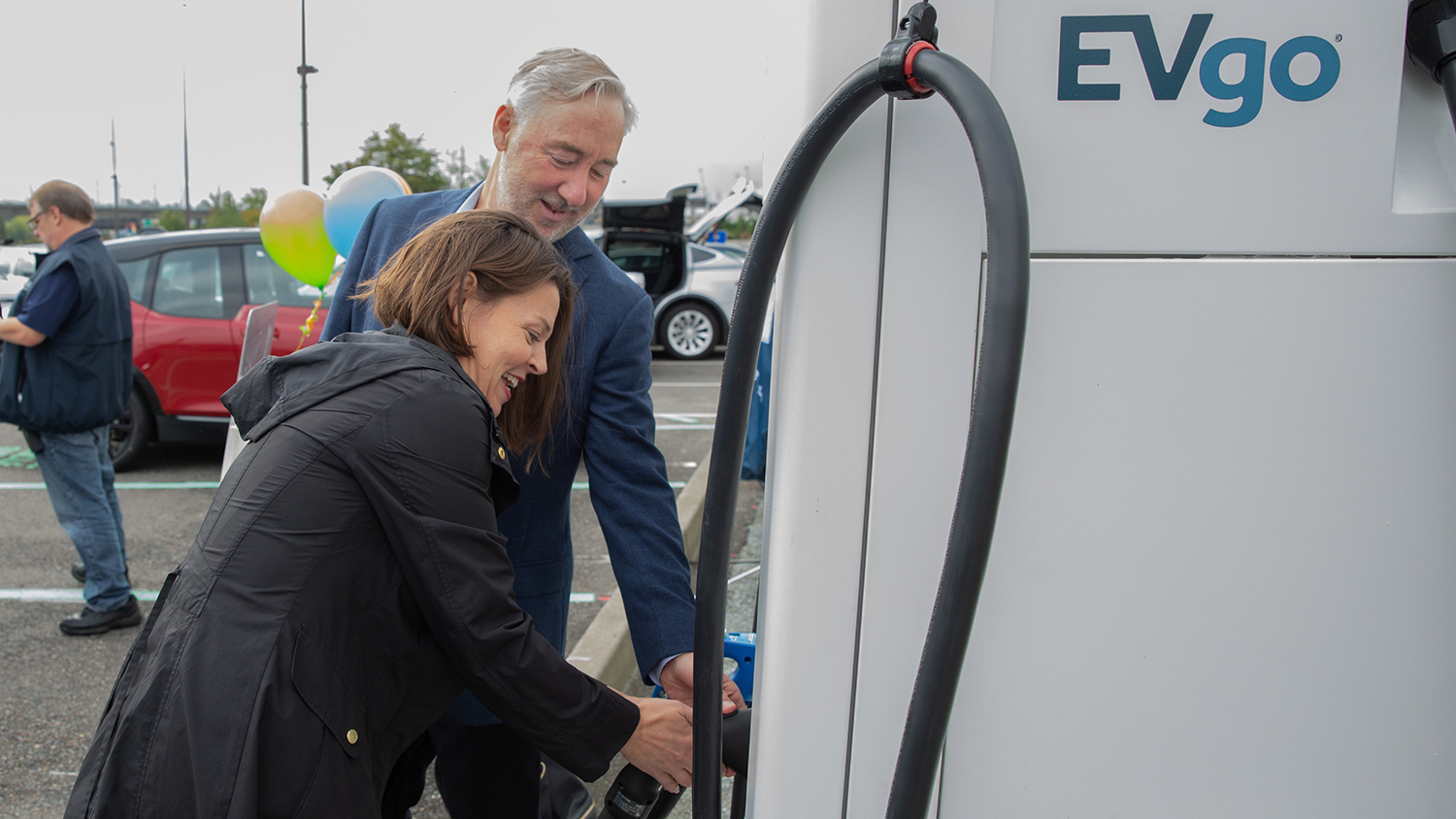 The new fast charging equipment powers most electric vehicles to 80 percent capacity in less than 30 minutes. The convenience of the two fast chargers in the Cell Phone Lot augments the airport's portfolio of 54 charging stations already installed in the parking garage. The airport garage is intended to serve long-term charging needs, where passengers can park for hours, days, or weeks. However, for EV drivers with shorter battery range or are coming from longer distances, the newly installed fast charging stations in the Cell Phone Lot serve a critical role.
The Cell Phone Lot equipment are 50kW EVgo DC fast-chargers with both CCS and CHAdeMO connectors, and can charge all fast charge capable EV models, including Tesla Model 3, Model S, and Model X with a CHAdeMO adapter.
Contact
Contact: Perry Cooper | Media Officer, Sea-Tac Airport
(206) 787-4923 | cooper.p@portseattle.org