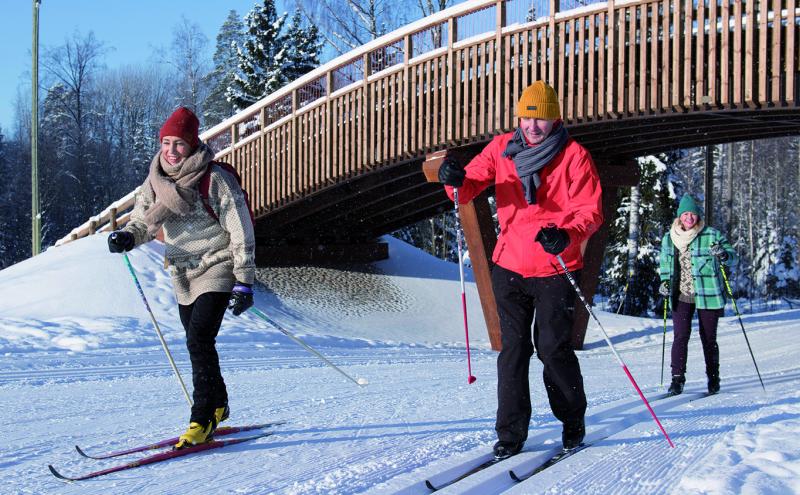 New nonstop service will use the polar route for shortest flight to continental Europe
December 3, 2021
Seattle-Tacoma International Airport (SEA) will welcome a new international airline with Finnair beginning service to Helsinki on June 1, 2022. The flight's shorter polar routing will give passengers efficient connections not only to Scandinavia and Eastern European destinations like Poland and Russia, but also to popular destinations in Western Europe. Passengers will also be able to connect to oneworld alliance member Alaska Airlines' extensive network through SEA. The new service will also highlight the Port of Seattle's investment in the new International Arrivals Facility (IAF) scheduled to open in 2022.
"This is exciting to hear of Finnair's new Seattle-Helsinki service which will provide additional options for travelers to reach more of the world directly from SEA," said Lance Lyttle, SEA Airport Managing Director. "This is also a testament to the strength and attraction of the Seattle region as travel rebounds from the pandemic. In addition, we look forward to welcoming Finnair passengers into our brand new International Arrivals Facility, opening in early 2022."
The three times a week (Monday, Wednesday, and Friday) nonstop service to Helsinki (HEL) will operate using an Airbus A330.
"We're thrilled to announce the new SEA-HEL route as the demand for international travel continues to grow exponentially," said Caroline Borawski, General Manager, North America at Finnair. "Finnair is deeply committed to providing customers throughout North America, and now the Pacific Northwest, with direct access to Finland, Scandinavia and the Baltics as well as crucial connections to additional European countries."
With Alaska Airlines' recent entry into the oneworld alliance in 2021, Alaska Mileage Plan members will be able to earn and redeem frequent flier miles on Finnair's entire network.
SEA Airport is making significant investments to make international travel through SEA more efficient and representative of our region. Opening in early 2022, the new International Arrivals Facility will create an expanded and enhanced experience to meet the growing regional demand for international travel. The IAF will be over four times the size of the current facility and include an iconic aerial walkway which is the longest over an active taxilane in the world!
Over 75% of our pre-pandemic international services have returned to SEA. Four new international services started in 2021, and additional services will begin in 2022 including Finnair.
Flight details
The new flight will operate three times per week – Monday, Wednesday, and Friday.
| Route | Flight | Depart | Arrive |
| --- | --- | --- | --- |
| HEL to SEA | AY 033 | 17:55 | 17:40 |
| SEA to HEL | AY )34 | 19:20 | 14:50 +1 |
More details  
Finnair's vast European network from Helsinki delivers seamless connections to more than 70 European cities, including flights twice a day to cities like Amsterdam, Düsseldorf, Hamburg, Vienna, Zürich, Gdansk and Milan. It offers consistent, daily flights to Paris, London, Berlin, Warsaw, Brussels, Moscow, and St. Petersburg, as well as the Scandinavian and Baltic cities.
SEA will be the sixth U.S. airport served by Finnair including Chicago/O'Hare (ORD), Los Angeles (LAX), Miami (MIA, New York's JFK, and recently announced Dallas-Ft. Worth (DFW).
To support the increase of Finnair's traffic and ensure smooth transfers at HEL, the airport is opening new arrival and departure halls this month and new security control and check-in areas in May 2022.
About Finnair
Finnair is a network airline, specializing in connecting passenger and cargo traffic between Asia and Europe via the short northern route. Sustainability is at the heart of everything we do – Finnair intends to reduce its net emissions by 50% by the end of 2025 from the 2019 baseline and achieve carbon neutrality latest by the end of 2045. Finnair is a member of the oneworld alliance. Finnair Plc's shares are quoted on the Nasdaq Helsinki stock exchange.
Contact
Perry Cooper | SEA Airport Media Officer
(206) 787-4923 | cooper.p@portseattle.org
Photo credit: Mikko Huotari, photographer. Photo and permission for use granted through Visit Finland.