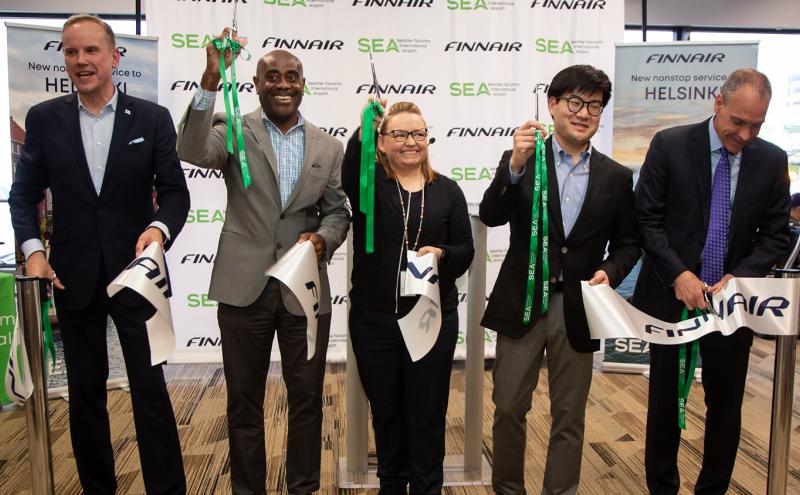 New nonstop service uses the polar route for shortest flight to continental Europe
June 2, 2022
Seattle-Tacoma International Airport (SEA) welcomed its latest new international service last night with Finnair's inaugural service from Seattle to Helsinki. The flight's shorter polar routing provides easy access to the Nordic countries as well as efficient connections to destinations throughout Europe and beyond. In Seattle, passengers can connect to the extensive network offered by Finnair's oneworld partner, Alaska Airlines.
"We're proud of the resilience of the Seattle market," said Lance Lyttle, SEA Airport Managing Director. "Finnair's Helsinki service is SEA's eighth new international service to launch since the start of the pandemic, and we're excited to be able to welcome them into our brand new International Arrivals Facility."
For video and images of arrival and event, visit our Finnair Inaugural Flight photo gallery (password: portpress). 
With Alaska Airlines' entry into the oneworld alliance in 2021, Alaska Mileage Plan members will be able to earn and redeem frequent flier miles on Finnair's entire network.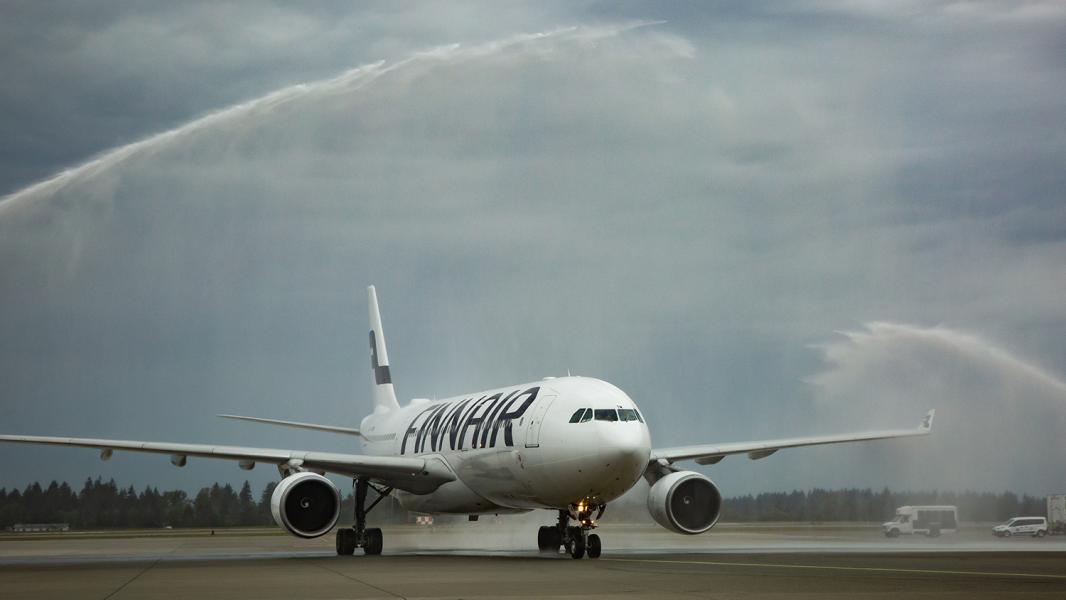 SEA Airport is making significant investments to make international travel through SEA more efficient and representative of our region. The recently-opened new International Arrivals Facility provides travelers an expanded and more efficient experience to meet the growing regional demand for international travel. The new facility is over four times the size of the current facility and includes an iconic aerial walkway which is the longest over an active taxilane in the world!
Flight Details
The new flight operates three times per week – Monday, Wednesday, and Friday using an Airbus A330 aircraft.
| Route | Flight #  | Departure  | Arrival  |
| --- | --- | --- | --- |
| HEL to SEA  | AY 033  | 5:55 p.m. | 5:40 p.m.   |
| SEA to HEL  | AY 034 | 7:20 p.m. | 2:50 p.m. +1 |
International Service at SEA
Finnair's service is one of four new international services launching this year. Turkish Airlines recently launched service to Istanbul, Air Canada debuted Montreal service yesterday, and SEA will welcome Air Tahiti Nui's service to Tahiti in October. Overall, 42 international services are currently in operation at SEA, providing nonstop flights to 27 unique international destinations.
More Details
Finnair's vast European network from Helsinki delivers seamless connections to more than 70 European cities, including flights twice a day to cities like Amsterdam, Düsseldorf, Hamburg, Vienna, Zürich, Gdansk, and Milan. It offers consistent, daily flights to Paris, London, Berlin, Warsaw, and Brussels, as well as the Scandinavian and Baltic cities.
SEA will be the sixth U.S. airport served by Finnair including Chicago-O'Hare (ORD), Los Angeles (LAX), Miami (MIA), New York (JFK), and Dallas/Ft. Worth (DFW).
About Finnair
Finnair is a network airline, specializing in connecting passenger and cargo traffic between Asia and Europe via the short northern route. Sustainability is at the heart of everything we do – Finnair intends to reduce its net emissions by 50% by the end of 2025 from the 2019 baseline and achieve carbon neutrality latest by the end of 2045. Finnair is a member of the oneworld alliance. Finnair Plc's shares are quoted on the Nasdaq Helsinki stock exchange.
Contact
Perry Cooper | SEA Airport Media Officer
(206) 787-4923 | cooper.p@portseattle.org