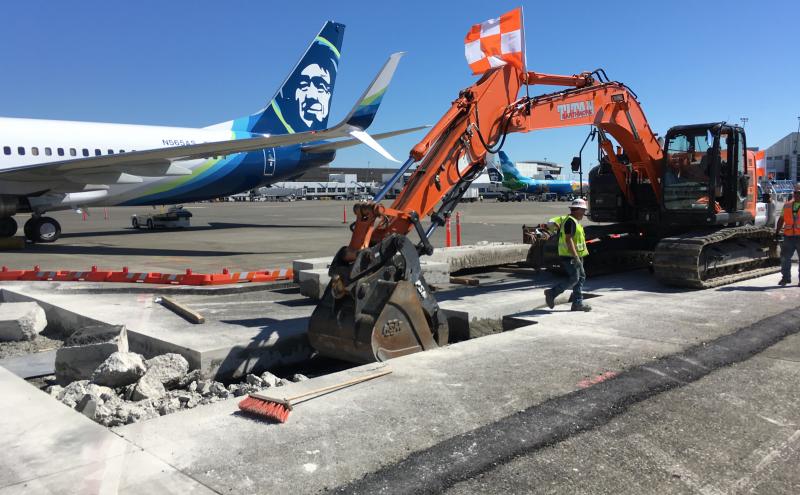 Funds will ensure local workers get local work in coming years
February 13, 2018
The Port of Seattle Commission approved funds today to address the shortage of local construction workers and to broaden access to training and jobs for underrepresented populations in the industry. This is also part of a concerted regional effort to address the shortage of skilled workers in construction and trades-related industries in the Puget Sound Region. It addresses increasing demand for skilled construction workers, the result of growing construction activity as well as an aging workforce.
"Local workers of all backgrounds should benefit from major public construction projects, but the facts tell us that has not been the case. We need a deliberate and regional effort to fix a historical imbalance and give women, minorities and workers from disadvantaged neighborhoods real opportunities," said Commission President Courtney Gregoire. "Hiring local workers for skilled construction jobs also makes business sense by improving project delivery, lowering project cost, and helping our industries find skilled workers."
This effort begins to implements a Priority Hire Policy Directive approved by the Port of Seattle Commissioners in November 2017, and complements regional efforts to collaborate on skilled construction recruitment and retention. The program will:
Increase recruitment and referrals among women, minorities and those in economically distressed neighborhoods to construction pre-apprentice or apprentice training programs to expand knowledge of trades occupations.
Expand pre-apprenticeship hands-on and classroom training to focus on math, safety, and physical conditioning to prepare individuals with the skills needed to enter apprenticeships.
Provide support services to overcome obstacles such as childcare and transportation that can challenge working parents in the construction industry—to ensure workers are successful from pre-employment to apprenticeship completion.
Over the next 25 years, the region's public agencies are expected to work over 65 million labor hours to complete their construction projects. Regional labor supply is forecasted to underserve demand by an average of nine to ten percent between 2018-2042. These shortages will cause project delays, and increase the overall cost to the Port as well as other public and private developers. The demand for trades workers is also growing in the manufacturing and maritime sectors who are reporting difficulty finding and retaining trades workers due to increased competition and wages being paid in the construction sector.
The Port supports greater equity in business and workforce development through policies such as Priority Hire, a new Women and Minority-owned Business Enterprise Policy aimed at tripling the number of WMBE businesses contracting with the Port and increasing the value of those contracts, a successful high school and college internship program that supports more than 100 paid summer jobs, and year-round career connected learning programs that bring students to Port and Port-related facilities.
Commissioner Gregoire joined Seattle Mayor Jenny Durkan and King County Executive Dow Constantine at a press conference on February 15 at a vocational center to tout this regional effort.