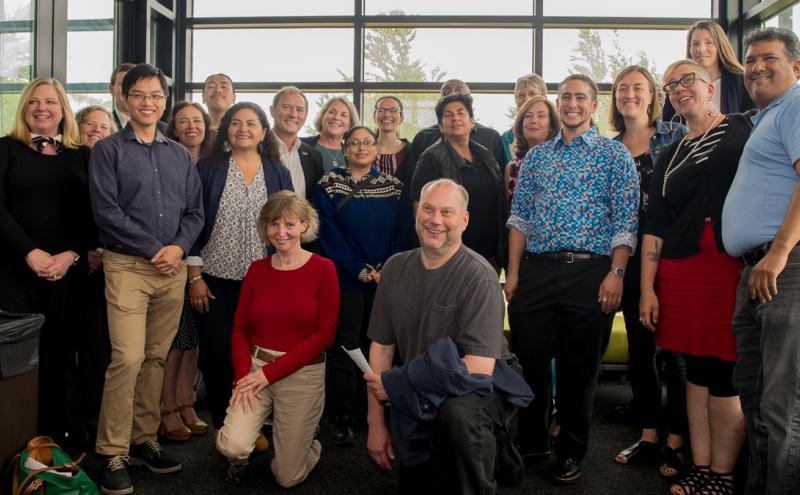 Landmark Duwamish program also provides skills, training for living-wage jobs
May 28, 2019
The Port of Seattle's Maritime Environment and Sustainability has partnered with two Duwamish Valley organizations, DIRT Corps and the Duwamish River Cleanup Coalition to train local youth and adults as stewards of the Port's habitat sites. This is part of a landmark Port contract to promote environmental equity, which will allow those who live nearest to the Duwamish River to gain the skills and expertise needed to restore this critical area of the watershed.
DIRT Corps, a small business that was started as a community program to restore the Duwamish River, increases access to green jobs and fosters healthy communities. Their model as a social enterprise is to provide on-the-job training for adult workers, specifically encouraging women, people of color, LGBTQ individuals, and veterans to build careers in the environmental and sustainability field. Throughout 2019, DIRT Corps will also train youth participants of the Duwamish Valley Youth Corps—an environmental leadership development program of the Duwamish River Cleanup Coalition—to steward habitat areas at Port-owned Terminal 107 Park, Terminal 108 Park, and Gears Park.
"The partnership with DIRT Corps and Duwamish Valley Youth Corps is an important first step to addressing disparities in our near-Port communities' access to our region's green economy" said Commission President Stephanie Bowman. "Each one of these newly trained habitat stewards will take their skills forward to build on our region's efforts to restore our salmon, and in turn, our orca population. This is a win-win for our environment and for our local workforce development goals."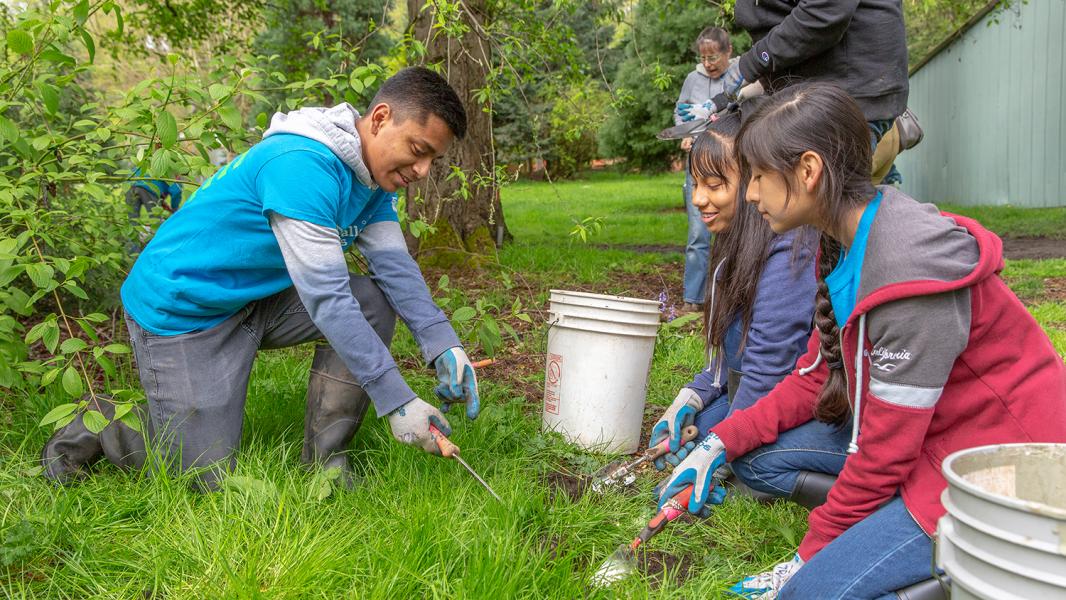 "The skills we are providing are definitely transferable to a growing market in sustainability and urban design in the built environment. Trainees learn invasive species removal techniques, create vegetation management plans, and assist with long-term planning and native plant landscape designs that are useful for parks and even private residences," said Andrew Schiffer, DIRT Corps instructor.
Sixteen year-old David Garcia with the Duwamish Valley Youth Corps said "Learning how to care for my own community has been great and fulfilling. I really enjoy our times learning how to better care for our parks and river. I am proud of all the work we have been doing and that my little brothers will play in safer places."
This effort to provide economic opportunities to low income adults and local youth in near-Port communities is an outcome from the two-year Duwamish Valley EPA Environmental Justice Project. In fall 2016, the Port, community members, and the health equity non-profit, Just Health Action, jointly applied for an EPA technical assistance grant to begin this process with a primary focus on environmental issues in the Duwamish Valley. The Port of Seattle was one of only three ports in the nation selected to receive the technical assistance grant.
Over the course of the pilot project, Port staff and community members identified that the challenges facing the community were not only environmental impacts, but that the community experiences a lack of access to benefits that the Port provides, such as living-wage jobs and access to career pathways.
Today, the Port of Seattle Commission transitioned the pilot project into a long-term program at the Port, with the Duwamish Valley Community Equity Program, which seeks to achieve three shared goals: 1) Community-Port Capacity Building, 2) Healthy Environment and Communities, and 3) Economic Prosperity in Place. 
Contact
Peter McGraw | Media Officer
(206) 787-3446 | mcgraw.p@portseattle.org