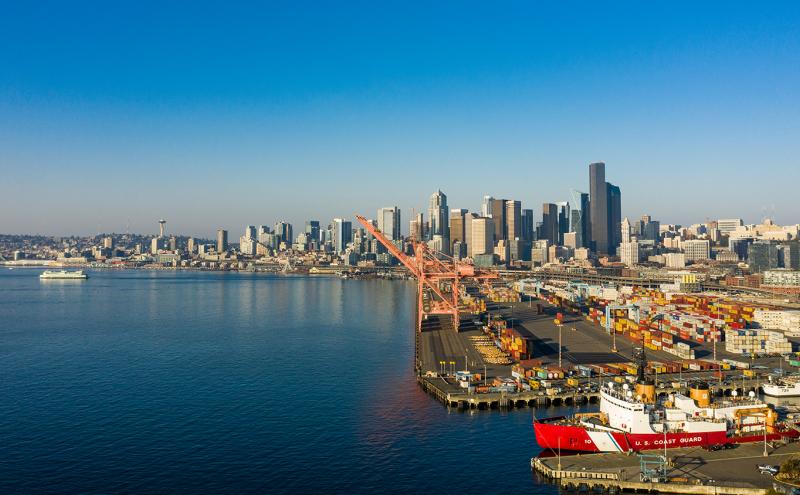 October 11, 2021
The Port of Seattle kicks off its annual budget process with several public engagement opportunities. Increased demand for infrastructure capacity prompts increases in budget needs. Key 2022 initiatives include a targeted increase in spending for airport, maritime, and economic development projects to strengthen trade, improve customer experience, and create thousands of new job opportunities.
"Community input has been part of this budget development from the very beginning," said Port of Seattle Commissioner Ryan Calkins. "As a community, we face an incomplete and uneven recovery from COVID. Our annual budget and five-year capital improvement plan meet the community need for services while expanding equitable economic opportunities and supporting rapid transformations in sustainability."
The Port of Seattle will continue to expand successful workforce development and youth-employment initiatives focused on disadvantaged communities and invest deeply in environmental projects to address climate change. The preliminary budget proposes an increase in the Port's capital improvement plan, from $3.7 billion in 2021-2025 to $4.4 billion in 2022-2026.  
Community engagement opportunities:
October 12, 2021
2022 Aviation Division Operating and Capital Budgets Briefing
8:30 a.m. – 10:15 a.m.
Join from the Commission meeting page
October 12, 2021
Noon – 4:00 pm
2022 Maritime and EDD Operating and CIP Budgets Briefing
Join from the Commission meeting page
October 20, 2021
2022 Maritime and Economic Development Community Budget Briefing
4:00 p.m. - 5:00 p.m.
Register Here
October 21, 2021
2022 Aviation Budget and Capital Investment Program
4:00 p.m. - 5:00 p.m.
Register Here
The Port of Seattle's five-year capital plan includes the largest ever proposed set of capital investments to anchor industry and economic activity, as well as to improve efficiency and service at our airport and maritime facilities.  Port gateways generate billions in economic activity. Safe operation before, during, and after a pandemic requires partnership with hundreds of private businesses and a pipeline of highly skilled staff. In 2022 the Port expanded their budget to maintain millions of square feet at new facilities and increase workforce development investments to ensure a strong pipeline of skilled local workers seeking careers in port industries.
Contact
Peter McGraw | Port of Seattle Media Officer
(206) 787-3446 | mcgraw.p@portseattle.org