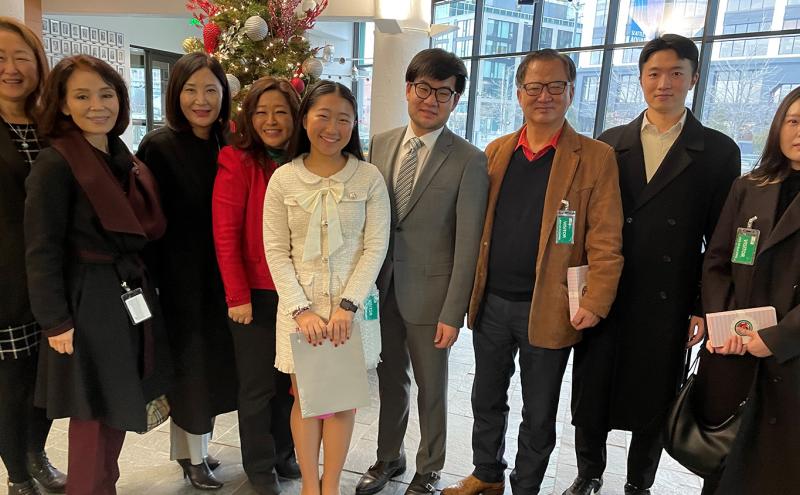 Proclamation highlights significance and history of trade, cultural ties
December 13, 2022
The Port of Seattle Commission passed a proclamation celebrating Korean American Day, highlighting the long and illustrious history between the two nations and their people. Starting on January 13, 1903, the first of three subsequent waves of Koreans would emigrate to the United States, where they settled and thrived through strong family ties, community support, and hard work. Korean Americans have since made significant contributions to the economic vitality of the United States, and continue to make great contributions to our nation, our region, and our Port.
"As the Port of Seattle celebrates Korean American Day with this proclamation, we also highlight our strong trade relationship with Korea, the Northwest Seaport Alliance's third largest partner by TEUs," said Port of Seattle Commissioner Sam Cho. "That is significant in a state such as Washington, where four in ten jobs are tied to international trade. As a Korean American, I am proud of the deep ties we have to the country of my family's origin and I look forward to growing it for many years ahead."
Washington State has the fifth highest concentration of Korean Americans in the United States; the fifth largest Asian Americans subgroup in the United States; and the United States is home to the largest Korean diaspora community in the world.
The contributions of Korean Americans may be observed in all facets of American life, from politics to industry, entrepreneurship to volunteerism, the arts, and education. Korean Americans have built and strengthened the alliance between the United States and the Republic of Korea, fostering peace on the Korean Peninsula and promoting trade alliances.
2023 will mark the 70th anniversary of the signing of the Mutual Defense Treaty between the United States and the Republic of Korea in 1953, which commits the two countries to provide mutual aid if either faces an external armed attack.
Korean Americans have made enormous contributions to the military strength of the United States and served with distinction in the Armed Forces during World War I, World War II, the Vietnam war, the conflict in Korea, and subsequent military conflicts across the globe.
Contact
Peter McGraw | Port of Seattle Media Officer
(206) 787-3446 | mcgraw.p@portseattle.org
Top photo from L to R: Erica Chung, Port of Seattle Commission Strategic Advisor; SoonA Kim, WA State Korean American Day Celebration Foundation member; Lisa Cho, WA State Korean American Day Celebration Foundation member; Julie Kang, WA State Korean American Day Celebration Foundation member; Katherine Kang, Seattle University Prep; Commissioner Sam Cho; Joseph Hong, WA State Korean American Day Celebration Foundation member; Jun Ki Min, Seattle University Student; Katie Lee, Seattle University Law Student