Inaugural arrival highlights beginning of two times per week service
May 27, 2018
SEATTLE – There's no taking a holiday for new international airlines as the Port of Seattle welcomed the inaugural flight of Thomas Cook Airlines nonstop service to Manchester on Sunday. This seasonal service provides opportunities for Puget Sound travelers with twice a week flights on Thursdays and Sundays to one of the United Kingdom's most-visited cities, behind London and Edinburgh.
Both Thomas Cook Airlines and its Germany-based sister carrier, Condor, are part of the British global travel company Thomas Cook. Condor has served Seattle since 2011, with nonstop seasonal service to Frankfurt that was upgraded to year-round service in 2016.
"We are thrilled to welcome this new service from Thomas Cook Service. This success demonstrates our growing significance as an international destination and creates new opportunities for our region's travelers and businesses," said Port of Seattle Commission President Courtney Gregoire. "Not to mention, the sports fan will now connect their love of the Seattle Sounders FC with one of the legendary UK football cities!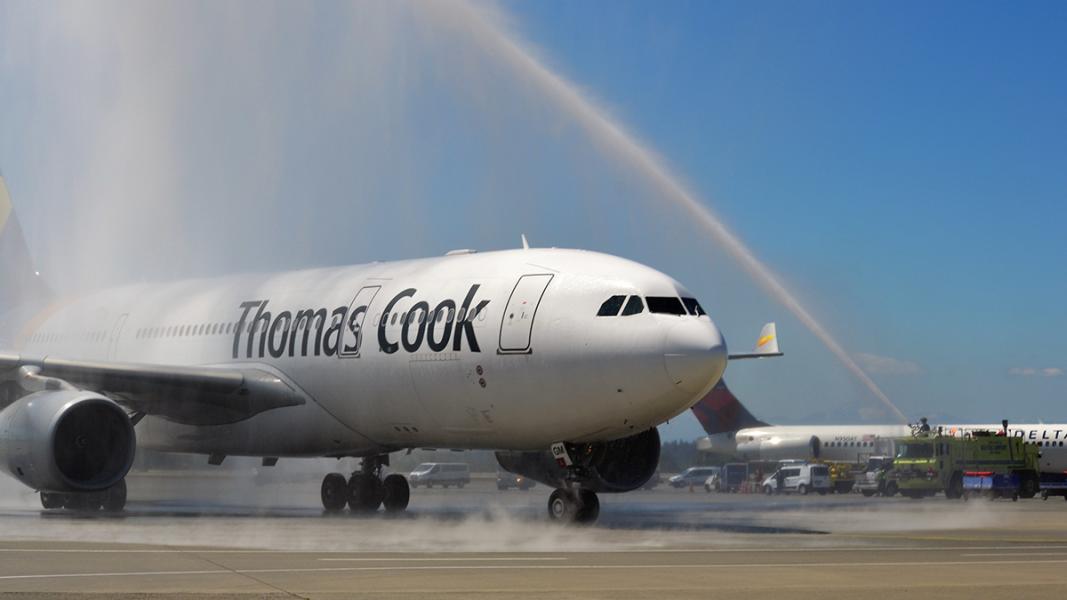 "Seattle is an extremely important market for Thomas Cook Group Airline. The city and Sea-Tac has been extremely supportive of our Condor service. We originally started with seasonal service on that route, but it was so successful that we expanded it to year-round service," said Christoph Debus, chief airlines officer for Thomas Cook Group Airline. "We are pleased to continue to expand our operation in Seattle with a seasonal route to Manchester on Thomas Cook Airlines U.K., providing Seattle and the northwest U.S. with even more options for affordable and convenient flights to Manchester, Northern England and Continental Europe."
Flights are scheduled to arrive in Seattle at 2:25 p.m., and depart for Manchester at 4:25 p.m. The flight will be operated by an Airbus A330-200.
Sea-Tac is one of the fastest-growing large hub airports in the U.S. with a passenger increase of 41 percent in the last five years. International traffic grew 57.9 percent over the same period. Thomas Cook is the third new international carrier to begin operations at Sea-Tac this year, while four new international carriers joined the airport in 2017.
---
About Seattle-Tacoma International Airport
Operated by the Port of Seattle, Seattle-Tacoma International Airport (SEA, KSEA) is ranked as the 9th busiest U.S. airport, serving nearly 46.9 million passengers and more than 425,800 metric tons of air cargo in 2017. With a regional economic impact of more than $22.5 billion in business revenue, Sea-Tac generates 151,400 jobs (87,300 direct jobs) representing over $3.6 billion in direct earnings and more than $442 million in state and local taxes. Currently, thirty-two airlines serve over 90 non-stop domestic and 29 international destinations.
Media Contact
Perry Cooper | Media Office Sea-Tac Airport
Cooper.p@portseattle.org | (206) 787-4923