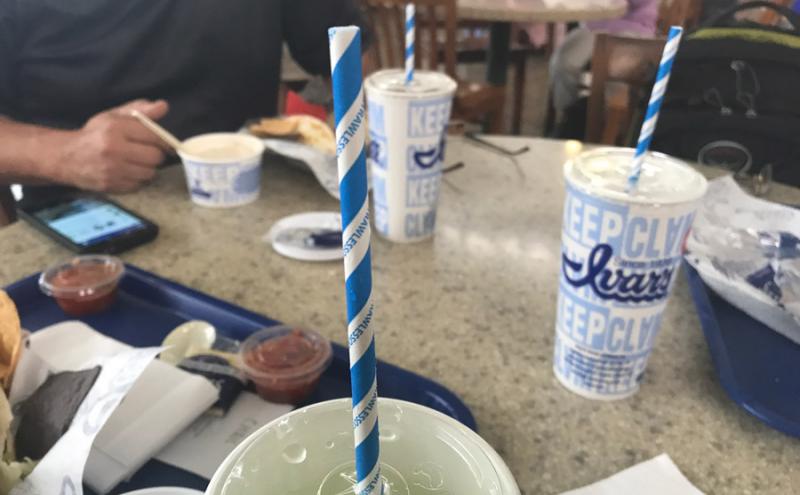 Sea-Tac Airport and waterfront facilities support citywide environmental effort


September 7, 2017
The Port of Seattle commends a diverse list of 25 dining tenants for their commitment to the environment by participating in Strawless in Seattle. The first of its kind campaign is the culmination of the Lonely Whale Foundation's Strawless Ocean global initiative, which aims to remove 500 million plastic straws from the U.S. waste stream in 2017.
More than 100 Seattle restaurants have committed to incorporating sustainable alternatives to plastic straws in their establishments to support the reduction of plastic straw consumption. Guests who do want to use a straw will be given a paper straw that is durable and marine degradable and can decompose in just 45 to 90 days.
The Port of Seattle joins together with the Seattle Seahawks, Seattle Mariners, Seattle Aquarium and Tom Douglas' restaurants, among others, in promoting going strawless.
"As a marine life researcher, I know firsthand that efforts like Strawless in Seattle help improve the health of oceans," said Port of Seattle Commissioner Fred Felleman. "The Port of Seattle's Fishermen's Terminal is the home of the North Pacific fishing fleet, and through Sea-Tac Airport, our cruise and maritime facilities we host millions of travelers who come here to experience our natural environment. Port industries and their employees depend upon healthy oceans and supporting this effort fits our mission to improve the health of our environment and community."
Commissioner Felleman is featured in a video that highlights the need to go strawless.
The following Port of Seattle establishments are going "strawless" for September.
Seattle-Tacoma International Airport:
Anthony's Restaurant and Fish Bar, Alaska Lodge, Burger King, Great American Bagel Bakery, Wolfgang Puck Gourmet Express, Sport Page Pub, Seattle Seahawks 12 Club, Seattle Taproom, Dungeness Bay Seafood House, Sbarro, Vintage Washington Wine Bar, Ivar's Seafood, Hudson News/Alki Bakery (three units), Lounge at SEA (Concourse A, South Satellite), Café Pacific (Port Catering), USO (Mezzanine), Dish D'Lish (CT), Coffee Bean & Tea Leaf (Conc A), La Pisa Café (Conc A), Waji's (Conc C), Pallino Pastaria (CT)
 
Seaport Locations:
Fisherman's Terminal: Chinook's Restaurant, Highliner Pub Fisherman's Terminal: Chinook's Restaurant, Highliner Pub
Pier 66: Anthony'sPier 66: Anthony's
Shilshole Marina Jibe Espresso
Other waterfront locations: World Trade Center (Alaskan Way), Bell Harbor Conf. Center (Pier 66), Clipper Café (Pier 69)
For more information on Strawless in Seattle and to find all participating venues, visit www.strawlessocean.org/seattle.
Recyclable straw being used at Sea-Tac Airport
About Lonely Whale Foundation
Founded in December 2015 by Adrian Grenier and Lucy Sumner, the Lonely Whale Foundation strives to inspire empathy towards marine species and develop life long advocates for ocean health. Through the powerful narrative of the 52Hz Whale, Lonely Whale Foundation initiatives focus on delivering educational curriculum that inspires our youngest learners and our innovative campaigns build community and encourage dialogue on and advocacy for ocean health issues and direct positive impact. Learn more at www.LonelyWhale.org.