More than just pay and benefits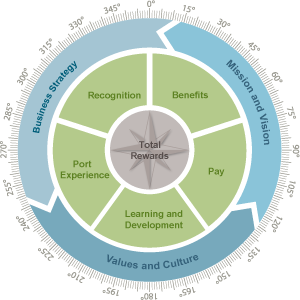 Competitive pay and benefits, robust learning and development opportunities, recognition programs, as well as a unique and inclusive work environment are offerings designed to demonstrate that you are a valued and important member of the Port team. Our Total Rewards Philosophy (PDF) provides the framework that guides the Port's decision-making about various reward programs. Total Rewards means more than just pay and benefits—it represents everything of value you and your family receive or have available to you as a result of your contribution to the Port's mission.
Browse the topics below to learn more about the Port's Total Rewards offerings.