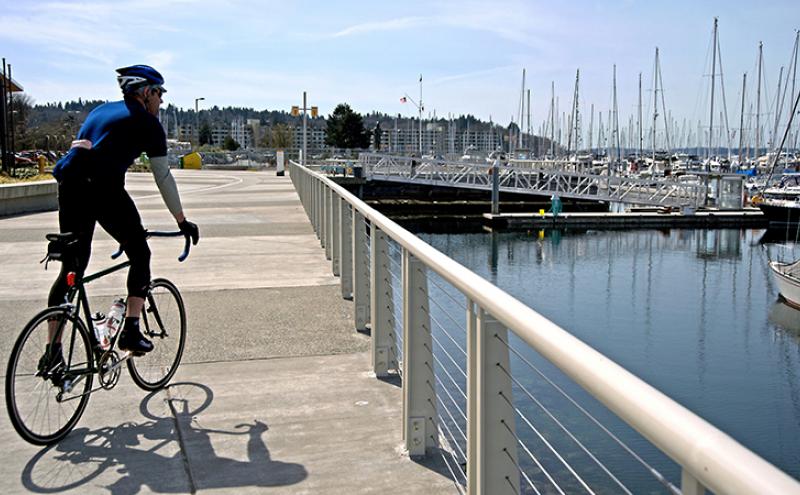 Clean Marina Initiative - Partnering with Marina Operators and Boaters to Protect Coastal Waters
The Maritime Port's three marinas serving recreational boaters - Bell Harbor, Harbor Island and Shilshole Bay - participate in the Clean Marina Initiative, which encourages marina operators and boaters to follow sound environmental practices.
Marina and boating activities introduce pollutants such as oil, metals and bacteria, into local waters and can cause environmental damage including shoreline erosion. The Port of Seattle environmental teams are on hand at boating events, such as the annual Maritime Festival and the Fishermen's Fall Festival, to educate boaters on everything from alternative fuels to environmentally friendly waste disposal. Boaters at Shilshole Bay Marina have access to biodiesel fuels and a free wastewater pump out service.
Port Programs Earn Recognition
Port Marinas Awarded EnviroStar Rating
Three Port marinas - Bell Harbor, Harbor Island and Shilshole Bay - have earned EnviroStar ratings for their environmental practices. In King County, three of the five EnviroStar marinas are owned and operated by the Port of Seattle. EnviroStars is a regional program that gives businesses incentives and recognition for reducing hazardous wastes and provides consumers with a way to identify businesses working to protect the environment.
To qualify as EnviroStar facilities, Shilshole, Bell Harbor and Harbor Island marinas demonstrated that hazardous wastes are stored, contained, handled, and labeled according to specific guidelines. They also provided a materials spill and response plan, safety information for hazardous products and documentation of appropriate off-site handling of hazardous materials related to the marinas' operations. In addition, each facility showed that its operations generated less than 220 pounds of hazardous wastes per month and at no time accumulated more than 2,200 pounds of hazardous wastes on site.
Environmental Improvement Award
Shilshole Bay Marina's Best Management Practices earned them the 2005 American Association of Port Authorities (AAPA) Environmental Improvement Award in the category of "Environmental Enhancement." The goal of the marina's Best Management Practices was to protect and enhance the environment by revising, implementing and enforcing new practices to achieve zero discharge to water and air, and reduce and recycle solid and hazardous waste.
Got a question or comment? Email us.