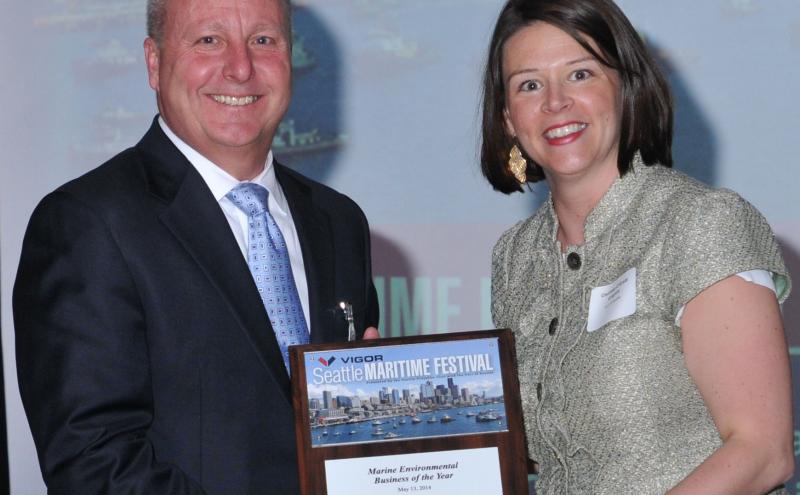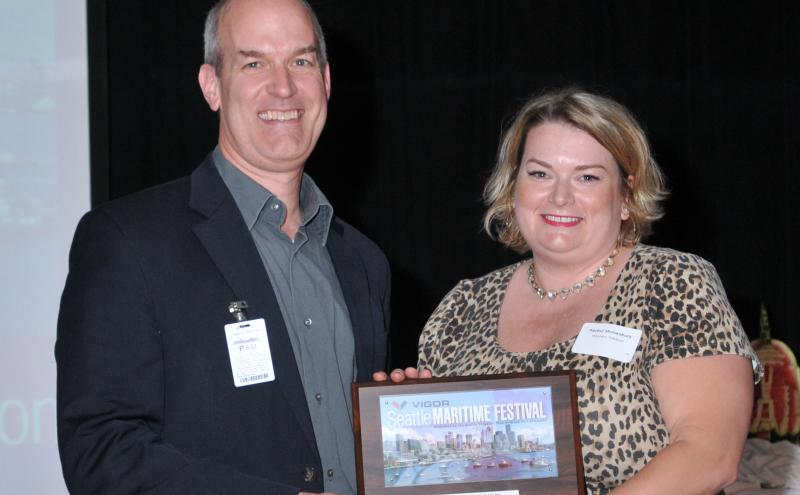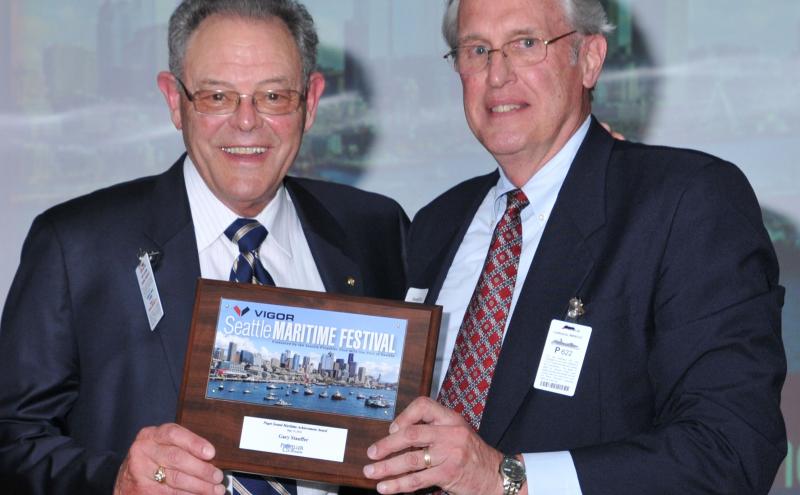 May 15, 2014
The annual Seattle Maritime Festival, sponsored by Vigor Industrial, Port of Seattle, and the Seattle Propeller Club, concluded Tuesday with a round of environmental and community leadership awards at the 63rd Annual Maritime Festival Luncheon.
"The maritime festival is one of the best ways we can spread awareness about the wonderful jobs and opportunities our working waterfront provides in the community," said Frank Foti, CEO of Vigor Industrial, a shipbuilding and repair operating on Harbor Island. "It's also the best way we can say 'thank you' and celebrate this community's pride and support for the maritime sector."
The Annual Maritime Festival Luncheon, attended by several hundred participants, is the maritime community's venue to showcase the best in individuals and businesses that help make this industry thrive in Puget Sound.
The Marine Environmental Business Awards spotlight the Pacific Northwest maritime industry's environmental leadership for their outstanding commitment and support in making the Port of Seattle the Green Gateway.
"We're pleased to salute Holland America Line for their environmental leadership. From reducing air pollution and increasing recycling to serving 100% sustainable seafood, Holland America Line continues to serve as a tremendous community partner," said Commission Co-President Courtney Gregoire.
The Seattle Propeller Club also announced its winner of the 2014 Public Official of the Year Award. This year's honoree Representative Rick Larsen, who has served as the member of Congress for Washington's 2nd Congressional District for the past 13 years, is being recognized for his leadership on the House Armed Services and Transportation & Infrastructure Committees in supporting key U.S.-flag-maritime issues as the Jones Act, Maritime Security Program, Title XI shipbuilding financing, and fishing fleet recapitalization. Mr. Larsen is noted as a firm and persistent voice in Congress for promoting trade initiatives that will help assure cargo to our regional ports, along with government vessel construction and ship placement for Puget Sound bases.
"The fact that so much of Mr. Larsen's district is covered by the working waterfront is not lost on him. Rick Larsen understands this region's maritime commerce is critical to the success of literally hundreds of large, small, and medium-sized firms and the many thousands of livelihoods they support," said Rachel Shrewsbury, President of the Seattle Propeller Club. "The Puget Sound maritime community, as reflected in the diverse membership of the Propeller Club of Seattle, is keen to distinguish Congressman Larsen for being the steady hand giving our industry recognition in Congress."
"During my time in Congress I have always appreciated working with the maritime community, which is a critical component of the economy and culture of the Northwest. I am honored to receive this award. I look forward to continuing to make progress on issues like fleet recapitalization and Arctic policy that will grow our maritime industry," Rep. Larsen said.
Finally, the 2014 Puget Sound Maritime Achievement Award was given to Dr. Gary Stauffer, who spent most of his career with the National Marine Fisheries Service (NMFS) of the National Oceanic and Atmospheric Administration (NOAA), and is just as recognized by his lifetime of mentoring youth in maritime as President of the all-volunteer Youth Maritime Training Association (YMTA), a position he's held since 2006.
"Not only does our winner have a superb education, has helped to lead the nation's fisheries research and management, lead a group of scientists at NOAA, lead the all-volunteer YMTA and participated in numerous educational committees in the area, he has been a mentor without equal," said Ken Passe, Northwest Representative, California Maritime Academy.