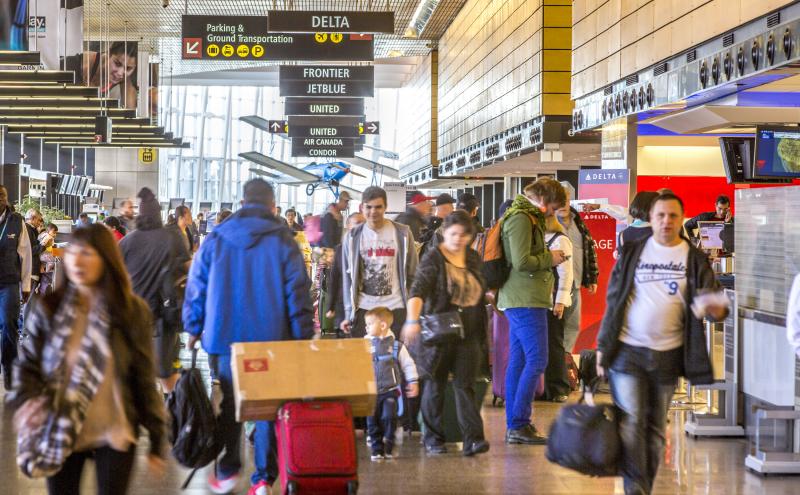 Fastest growing large hub airport in the U.S.


January 29, 2015
For the fourth straight year a record number of passengers, nearly 37.5 million, traveled through Seattle-Tacoma International Airport in 2014, according to statistics released today by the Port of Seattle. Growth exceeded previous projections by jumping 7.7% over 2013, making Sea-Tac the fastest growing large hub airport in the U.S.
"The economy of this region continues to grow and Sea-Tac Airport reflects that," said Mark Reis, Managing Director of Sea-Tac Airport. "These numbers show this has been an under-served region, as airlines continue to add options for business and leisure travelers and the planes continue to fill up. This is an exciting time and Sea-Tac's growth continues to show it is a premier international airport and economic engine for our region."
The total 2014 passenger figure of 37,497,941 beat the previous record set in 2013 of 34,826,741 – an increase of more than 2.6 million passengers. The total means Sea-Tac now sees an average of more than 100,000 travelers per day – nearly the size of the city of Everett.
Domestic traffic growth was the primary driver rising 7.8%, while international traffic grew an impressive 6.8% compared to 2013. International passengers increased by 243,183 to 3,822,548.
Twenty-seven new services were added at Sea-Tac in 2014 including five new (previously unserved) nonstop destinations (New Orleans, Tampa, Hong Kong, Jackson Hole, and Cancun). New services added to an airlines network, included 19 by Delta, six by Alaska and one each by Frontier and Southwest.
The added number of flights did not reduce how full the planes were as load factor rose 0.5% to 87.1%. That's the average number of seats filled for any flight out of Sea-Tac.
The increase in traffic will likely boost Sea-Tac's standing as the 14th largest airport in the country once final numbers come in around the country.
Air Cargo Increases
In addition, air cargo numbers also jumped for the third straight year in 2014 by 9.1%, including a 21.5% jump in international airfreight. The 2014 total of 319,358 metric tons is the largest total at Sea-Tac since 2006, while international air freight reached its highest mark ever at 107,607. Sea-Tac is currently completing two major air cargo projects worth $20 million to attract the newest, larger freighters being used by the industry.
Record Sales in Dining and Retail
A record number of passengers also spent a record amount of money in dining and retail last year. Preliminary sales for restaurants, shops and passenger services totaled $220 million, or a 12% gain over 2013. Sales per boarded passenger rose to $11.70. Duty free sales jumped to a record $21 million, an increase of 27%. The Port earned $33 million in revenues which go directly back to airport improvements.
More Details
Airport operations (aircraft landings and departures) increased 7.3% in 2014 compared to 2013, the highest operations year since 2008.
This is the fifth straight year Sea-Tac has seen an increase in travelers. The last yearly decrease came in 2009 after the national economic downturn. Since 2002, Sea-Tac's passenger traffic has seen an annual increase in 11 of 12 years.
Sales Fun Facts!
Anthony's Restaurant, in the central terminal, is believed to be the highest grossing airport restaurant in North America at $13.4 million in 2014.
Notable 2014 product sales from Hudson retail:
121,754 Seahawks items sold
27,500 packages of beef jerky
58,700 packages of Kleenex
830,000 bottles of water
One $24,000 bottle of Remy Martin French cognac (from duty free sales)
Butter London: performed 16,445 manicures and 8,090 pedicures. Also sold 16,522 nail lacquers!
Massage Bar: served 52,000 customers and performed 84,000 different massages (neck, foot, hand, etc.)