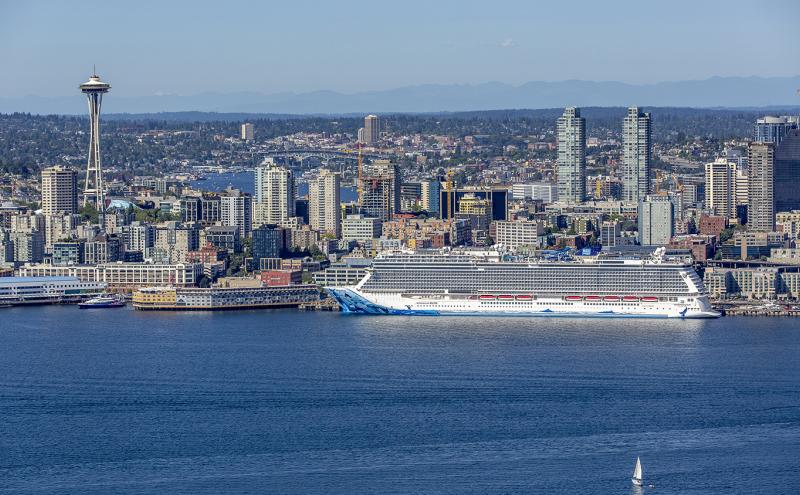 Partnerships expand economic, sustainability opportunities
April 15, 2023
Community leaders came together at the Port of Seattle's Pier 66 today to welcome Norwegian Bliss for the first sailing of the 2023 cruise season. During the season stretching from April 15 to October 30, the Port forecasts that 289 sailings will carry 1.4 million revenue passengers, or 700,000 travelers, to Alaska and back.
The 2023 cruise season is expected to support over $900 million in economic activity, 5,500 jobs, and generate $14.5 million in statewide taxes. Each homeported vessel brings in over $4 million to the local economy each time it provisions at the dock.
The Port also says it expects many ships to utilize shore power connections. Providing shore power connections to vessels allows them to turn off diesel engines while at the dock, which reduces air pollution and greenhouse gas emissions that contribute to climate change. The Port forecasts that 111 sailings will connect at Terminal 91 this year, nearly double the connection rate of last year.
"This six-month cruise season delivers a critical economic boost for all of King County," said Port of Seattle Executive Director Steve Metruck. "The demand for the Seattle to Alaska cruise itinerary made it possible for our port to expand investments in workforce development and clean energy infrastructure. We recently helped form the world's only cruise-focused "Green Corridor" effort, focused on exploring decarbonization strategies from the Pacific Northwest to Alaska. With so much interest in this itinerary, partnership with cruise lines and ports along the route, we see extraordinary potential for the economic and environmental future of Seattle cruise."
"As we continue our work to activate Downtown as a safe and welcoming place for neighbors and visitors, we are excited to welcome hundreds of thousands of cruise passengers to Seattle," said City of Seattle Mayor Bruce Harrell. "The cruise season in Seattle makes a real difference for downtown businesses — allowing us to share what makes our city special with tourists from around the world through local retail, restaurants, hospitality, and hotels during their stay here each season."
"Seattle has always felt like our second home since we launched the industry's first roundtrip cruises to Alaska over 20 years ago. We are committed to contributing to the local economy and promoting sustainable tourism and will continue to work together with the Port of Seattle and the local government to ensure we can continue to welcome our guests to this beautiful city and deliver the best Alaska cruise experience," said President of Norwegian Cruise Line David Herrera.
"The cruise season in Seattle provides over $200 million in labor income for working men and women," said Matt Ventoza, Vice President of ILWU Local 19. "We are proud to partner with the Port of Seattle in the creation of these jobs in so many sectors and industries, from the waterfront to farms, restaurants, and hotels across the state."
"As a pivotal homeport for the Alaska cruise industry, Seattle has the valuable opportunity to welcome nearly 700,000 individual travelers before and after their cruise," said Tammy Blount-Canavan, President and CEO of Visit Seattle. "During their time here, passengers are able to sample our outstanding dining options, beautiful hotels, unique shops, and authentic Seattle experiences. This taste of what the destination offers not only enhances the overall cruise experience, it also encourages those passengers to return to Seattle to explore all the things that make the Emerald City and the Pacific Northwest such a magical place, expanding the economic impact of this valued part of the Tourism Economy."
Environmental Commitment
The Port of Seattle is one of the most environmentally progressive cruise homeports in North America. The Port works closely with cruise lines to minimize impacts from cruise ship operations through the use of cleaner fuels, access to shore power, and a strong collaborative relationship focused on the environment.
The Port has set a goal to have 100 percent of homeport cruise ships in Seattle equipped with shore power capability and connect to power on every call by 2030. The port is making significant progress and expects to achieve this goal early.
Currently, 100 percent of Holland America, Carnival Cruise Line, and Princess ships calling the Port of Seattle will be shore power capable in 2023.
The Port forecasts that 111 sailings will connect at Terminal 91, nearly doubling the use of shore power over the prior year for connections at the Port.
The Port will complete its third berth electrification project at Pier 66 in 2024, making the Port of Seattle one of the world's leading ports for shore power use.
In 2022, the Port joined ten other organizations in creating the world's first cruise-focused Green Corridor, developed to explore decarbonization strategies from the Pacific Northwest to Alaska. The Green Corridor is helping ports, cruise lines, cities, and industry experts strategize on alternative fuel production, storage, and related infrastructure requirements.
On April 6, cruise lines, ports, cities, and decarbonization experts gave an update on the Green Corridor initiative and other decarbonization strategies (view the event on YouTube).
Cruise lines operating in Seattle not only follow state and international regulatory guidelines, but they also continue to voluntarily adapt operations and equipment to protect air and water quality.
A full fourteen years before Puget Sound officially became a 'No Discharge Zone,' cruise lines voluntarily stopped discharging untreated wastewater and greywater in Puget Sound.
Starting in 2020, the Port prohibited the discharge of exhaust gas cleaning system wash water from cruise ships at berth.
In 2021, all ships calling on the Port voluntarily agreed to pause all discharges of exhaust gas cleaning system wash water in Puget Sound. This pause will remain in effect until findings from a third-party research study can show that wash water discharges do not impact Puget Sound water quality, and until that time, cruise ships do not discharge anything into Puget Sound waters.
Since 2004, the Port has partnered with the Washington State Department of Ecology and the cruise industry in a voluntary agreement. The memorandum of understanding, often referred to as the "Cruise MOU," was originally put in place to increase both standards and oversight on cruise ships, allowing for random inspections of systems and records on ships each season.
Contact
Peter McGraw | Port of Seattle Media Officer
(206) 787-3446 | mcgraw.p@portseattle.org