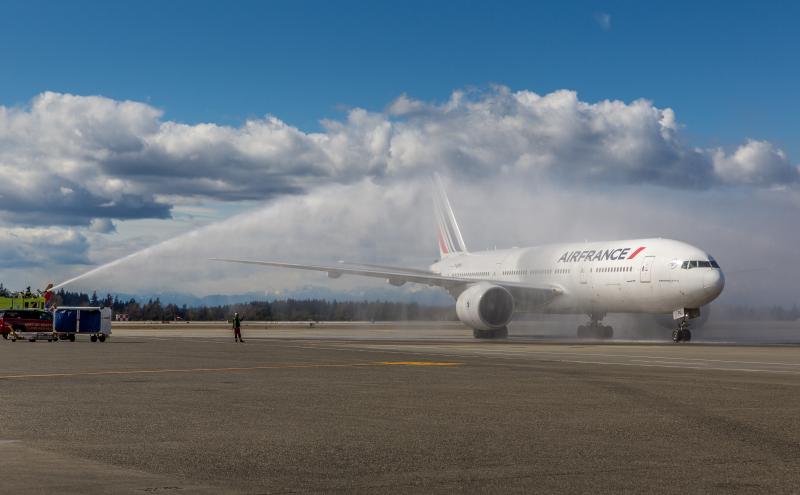 Air France and Delta offer up to 12 flights each week to Paris-Charles de Gaulle
March 26, 2018
With the tricolor flying proudly, Air France returned nonstop service to Paris from Seattle-Tacoma International Airport today with a water turret welcome from the Port of Seattle. The airline originally served Sea-Tac from 2007-2012 before the flight was taken over by their joint-venture partner Delta Air Lines. Now the service combines with Delta to provide up to 12 flights each week direct to Paris.
Air France returns to a very different Sea-Tac airport from when it first arrived. Back in 2007, the Air France flight to Paris was the first new international destination in over a decade and Sea-Tac was the 19th busiest airport in North America. Now, Sea-Tac has risen to the 9th busiest airport with nearly 47 million passengers in 2017, including 19 new intercontinental services and 11 new destinations in Europe, Asia, and the Middle East.
"The region's economic growth plays a major role in driving new services, but Puget Sound also has that je ne sais quoi appeal," said Port of Seattle Commission President Courtney Gregoire. "Our reputation as a welcoming, inclusive, and future-minded community also makes this region an exciting place to visit."
Beginning with three times a week service (Wednesdays, Fridays and Sundays), Air France will operate a Boeing 777-200 with flights increasing during the summer peak season to five times a week (adding Mondays and Tuesdays).
"Seattle is a center of tech commerce, and there's demand for additional lift from the emerging community of entrepreneurs in Paris," said Stéphane Ormand, Vice President and General Manager, USA – Air France KLM. "Air France is excited for this new route because it creates opportunities by directly connecting the global community of entrepreneurs and digital innovators in Paris and beyond."
Scheduled Flight Information

The Port of Seattle is poised to welcome more international travelers with a new International Arrivals Facility scheduled to open in late 2019. The facility will double passenger capacity, reduce connection times and increase gates capable of serving international wide body airplanes from 12 to 20. 
About Air France
Air France-KLM is the leading Group in terms of international traffic on departure from Europe. In 2017, it offers its customers access to a network covering 328 destinations in 118 countries thanks to its five brands Air France, KLM Royal Dutch Airlines, Transavia, Joon and HOP! Air France. With a fleet of 534 aircraft in operation and 93.4 million passengers carried in 2016, Air France-KLM operates up to 2,300 daily flights, mainly from its hubs at Paris-Charles de Gaulle and Amsterdam-Schiphol.
Air France-KLM and its partners Delta Air Lines and Alitalia operate the biggest trans-Atlantic joint-venture with over 270 daily flights. Air France-KLM is also a member of the SkyTeam alliance which has 20 member airlines, offering customers access to a global network of over 17,000 daily flights to more than 1,060 destinations in 177 countries.