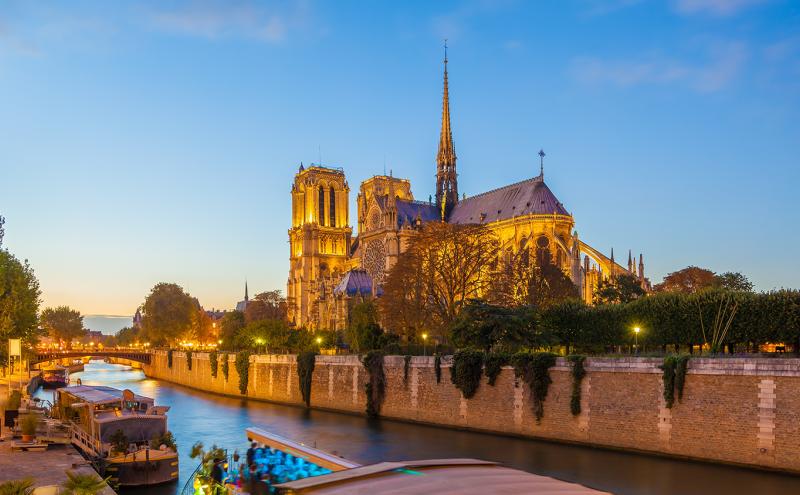 New year-round service creates a unique link of Tahiti–SEA–Paris starting June 13
March 18, 2023
Seattle-Tacoma International Airport (SEA) welcomes new international service to Paris (CDG) through French Polynesian airline Air Tahiti Nui that will begin on June 13 and operate year-round. After launching non-stop 787-9 Dreamliner service last October from SEA to Tahiti, French Polynesia, Air Tahiti Nui is extending its service to connect Seattle and Paris.
In partnership with Alaska Airlines, Air Tahiti Nui is the first and only carrier offering nonstop flights connecting the South Pacific, the Pacific Northwest, and France with unique opportunities to create connections through each stop while also allowing Seattle travelers to connect individually east or west. Air Tahiti Nui will be operating Seattle-Paris twice weekly, in addition to the existing twice-weekly service to Tahiti.
"We are proud to be only the second gateway for Air Tahiti Nui in North America, and this new, year-round flight to Paris is a wonderful complement to their existing Seattle-Tahiti service," said Lance Lyttle, SEA Airport Managing Director. "Whether you're traveling just between Paris and Seattle or are transiting between Paris and French Polynesia, we look forward to welcoming you to SEA and invite you to experience our efficient new international arrivals facility."
"The opening of the new Tahiti-Seattle direct service was already an exciting achievement for Air Tahiti Nui," said Mathieu Bechonnet, Air Tahiti Nui's Managing Director. "Pushing this service to Paris for the summer was a way for us to offer even more options for our client base in Tahiti to reach Paris while also allowing the Seattle region to enjoy more options to explore France and Europe." 
Bechonnet continues, "Our decision to move this to a year-round service is made possible today thanks to the great response we are getting from the market. We are really thrilled about the new business opportunities this represents for us and the dynamism it brings to our operations."
SEA Airport is making significant investments to make international travel through SEA more efficient and representative of our region. The recently-opened new International Arrivals Facility provides travelers an expanded and more efficient experience to meet the growing regional demand for international travel. The new facility is over four times the size of the old facility and includes an iconic aerial walkway which is the longest over an active taxilane in the world!
The codeshare partnership between Air Tahiti Nui and Alaska Airlines allows passengers to travel via Seattle-Tacoma International Airport (SEA) to and from almost 100 cities in North America. Air Tahiti Nui passengers are also able to earn and redeem miles with Alaska's Mileage Program.
Flight Details
The new flights operates twice a week – Tuesday and Saturday using a Boeing 787-9 Dreamliner aircraft.
| Route | Days | Depart | Arrival | Flight No. |
| --- | --- | --- | --- | --- |
| Tahiti (PPT) to SEA | Monday, Friday | 11:35 p.m. | 12:00 noon (+1) | TN58 |
| SEA to Paris (CDG) | Tuesday, Saturday | 2:30 pm | 9:00 am (+1) | TN58 |
| Paris (CDG) to SEA | Wednesday, Sunday | 12:05 p.m. | 1:20 p.m. | TN57 |
| SEA to Tahiti (PPT) | Wednesday, Sunday | 3:20 p.m. | 9:50 p.m. | TN57 |
International Service at SEA
Air Tahiti Nui's service is already the second new international service to be announced in 2023, following WestJet's announcement of new Edmonton service beginning in May. In 2022, SEA added four brand-new international services: Turkish Airlines to Istanbul, Air Canada to Montreal, Finnair to Helsinki, and Air Tahiti Nui to Tahiti. Overall, 44 international services are currently in operation at SEA, providing nonstop flights to 29 unique international destinations on 25 airlines.
About Air Tahiti Nui
Air Tahiti Nui links the South Pacific with four continents as the leading carrier to French Polynesia, with daily non-stop service to Tahiti from Los Angeles, and is one of only two airlines to offer a selection of non-stop flights connecting Los Angeles and Paris. With the new non-stop service to Tahiti from Seattle commencing on October 5th, 2022, Air Tahiti Nui becomes the only airline connecting the Pacific Northwest and French Polynesia. Headquartered in Papeete, Tahiti, Air Tahiti Nui currently operates from its Tahiti base to destinations in 10 countries in cooperation with a number of codeshare partners including Alaska Airlines, American Airlines, SNCF, Air Calin, Air New Zealand, Japan Airlines, Korean Air, Qantas and LATAM. Follow Air Tahiti Nui on Facebook and Instagram @airtahitinui. For more details, please visit www.airtahitinui.com.
About Seattle-Tacoma International Airport 
Operated by the Port of Seattle, Seattle-Tacoma International Airport (SEA) serves the people of the Pacific Northwest with essential services, access to hundreds of domestic and global destinations, and economic activity that supports tens of thousands of jobs and produces $20 billion in economic activity. SEA is a top 12 U.S. airport that has earned the travel industry's prestigious 4-Star Skytrax Airport Rating and designation as Best Airport in North America for the past two year, focused on customer-centered travel with better services, facilities, and amenities. SEA totaled 45.9 million passengers in 2022 – down just 11% from 2019 – with a forecast to reach pre-pandemic traveler volumes in 2024. For more information about our U.S. Top 12 airport, visit www.flysea.org and follow us on Twitter, Facebook, and Instagram. Every day. Elevate.
Contact
Perry Cooper | Port of Seattle Senior Media Officer
(206) 787-4923 | cooper.p@portseattle.org