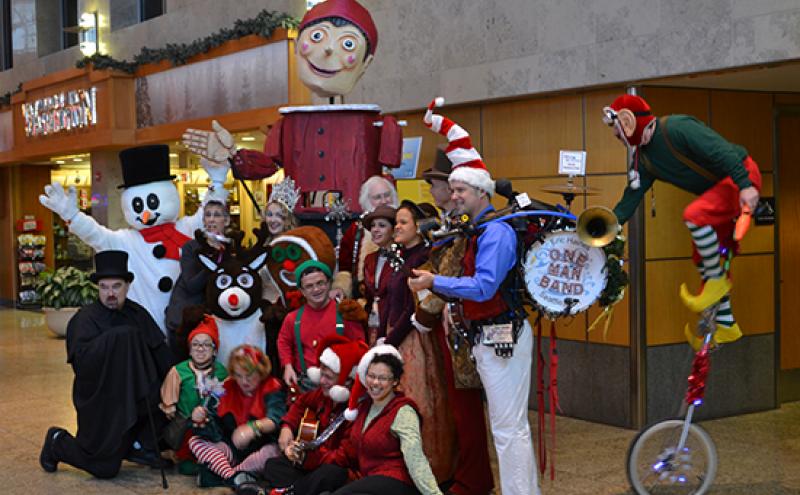 Avoiding traffic, pickup tips, what's new, and the busiest days


December 11, 2014
As December holiday travel is upon us, enjoy passenger amenities at Seattle-Tacoma International Airport that ranked #1 among U.S. airports this year by the Global Gateway Alliance. Here's a rundown of holiday traffic numbers and travel tips, all to help reduce stress and waiting time for passengers and visitors alike. There's even a holiday program for the entire family with live entertainment, Seattle-themed photo opportunities and souvenir giveaways throughout the terminal.
Holiday Traffic Numbers
The busiest days for the December holiday season:
Friday, Dec. 19 (110,400 passengers going through the airport), Monday, Dec. 22 (108,100), Tuesday, Dec. 23 (108,100), Sunday, Dec. 21 (106,950), and Friday, Dec.26 (103,500).
As usual, the lowest traffic numbers will be the holiday, Wednesday, Dec. 25 (86,000) plus New Year's Eve (82,800) and New Year's Day (78,000).
The largest passenger day of the year was 128,200 on August 1st.
Additional Sea-Tac Airport Traffic Notes:
December is not the busiest time of the year at Sea-Tac, but airport activity can rise over the holidays due to more traffic on the Arrivals drive with picking up of passengers in winter weather [see tips below for picking up out-of-town arrivals].
An average summer day (June-August) will see over 110,000 passengers and summer is the peak air travel time for Sea-Tac. August is traditionally the busiest month of the year followed by July, June and May (December is 5th, November 10th).
For 2014, through October, passenger traffic is up 7% over 2013, including a 5.7% rise for international traffic. That trend will result in another record year at Sea-Tac with a projected total over 37 million!
Holiday Entertainment and Photo Opportunities, December 16 - 24
Enjoy live holiday performance art, parades, carols, puppetry, music, souvenir giveaways and more throughout the terminal! This annual Holiday Entertainment Program, sponsored by the Merchants of Sea-Tac Airport, brings in local and world-renowned performers from Dec. 16 – 24 during peak passenger traffic hours of 5 a.m. to 6 p.m. For social media lovers, take your photo as Sasquatch, a Seahawks fan and other Seattle-themed characters in fun face cut-outs. Then tweet, Facebook or Instagram your holiday souvenir using hashtag #SEAthecheer!
Wrap Gifts Before You Fly!
Wrapped gifts may need to be opened by security to take a closer look, so consider our gift wrapping station post-security. From 6 a.m. to 2:30 p.m., volunteers from USO Northwest will be in the central terminal for quality care of your gift-wrapping needs. Donations to USO Northwest are welcome.
Tips for Avoiding Traffic Congestion:
THINK OPPOSITE! Pickup on the departure drive, drop-off on the arrivals drive –- If traffic is congested, look for the opposite airport drive for relief. Try meeting your arriving guests one level up from baggage claim at the less crowded departure drive. Those with only carry-ons can go straight out the ticketing level. For drop-offs, reverse it. Go to the arrivals drive and travelers only have to go up one level to ticketing. Remember, the busiest times are mornings for departures and evenings for arrivals.
Pick-up/drop-off further down the drive -- The most congestion on the drives is right at the beginning, or the north end. Try driving further south down the drives to meet or drop-off your passengers.
Wait until your pick-up reaches the drive -- You may get a call from a passenger when they land, but it could be 20-30 minutes until they deplane, collect luggage, and get to the drive. Time your arrival to reduce congestion and save time waiting in the car!
Park in the airport garage for only $3 or $4 an hour! -- Park in the airport parking garage on the 4th floor of Terminal Direct; it's the quickest and most convenient option for meeting arriving passengers. It's just a short walk from the main terminal to the parking garage via any connecting skybridge. Or use any other floor for $3 per hour.
Try the cell phone waiting lot -- It's twice as large as the last one, but during peak holiday periods it can reach full capacity. Free WiFi is available and drivers can wait in their car for free up to 20 minutes. Take advantage of the posted QR code to scan for the most recent flight arrival information. Remember, there is no parking or waiting allowed on the airport roadway shoulders.
Save on Holiday Parking Rates
Heading out of town for the holiday? Plan ahead and save time by parking in the airport garage. From December 17, 2014 through January 4, 2015, park for only $18/day or $95/week (up to seven days) in General Parking of the airport garage with our free holiday parking coupon. Minimum stay required. Sign up now to get your coupon from the airport website. Sea-Tac's parking rates are inclusive of taxes and fees, making the airport garage less expensive than many offsite lots!
What's New?
Healthy food options await you in 90 percent of our restaurants! The 2014 Airport Food Review, a report by the Physicians Committee for Responsible Medicine, awarded Sea-Tac second place out of the nation's busiest airports for offering healthy meals.
Delight in Sea-Tac's quality and range of passenger amenities, ranked #1 out of 20 of the busiest U.S. airports by the Global Gateway Alliance. Sea-Tac had the highest percentage of amenities that focused on technology, entertainment and health & wellness, among others: 
Three new information kiosks are open to help travelers with questions and find their way at the airport. Each kiosk is staffed with Pathfinders, dressed in teal blazers/vests, and volunteers , in blue, with blue clipboards. Find them at the ticketing level by Door 21 or across from Security Checkpoint 3, after security in the food court, and in the waiting area to catch a train to the south satellite.
Enjoy twice the number of live northwest musicians in twice the locations from last year! Our ground-breaking Experience the City of Music program continues to showcase the Pacific Northwest's rich cultural heritage, and musicians will play holiday music, too. Check online for a schedule and details. Don't forget to stop by the Jimi Hendrix exhibit from EMP!
Take the Sea-Tac Airport Art Walk for a little exercise and public art education. The free, self-guided tour takes you ½ mile (one way) through more than 16 permanent art installations and rotating temporary exhibits. QR codes guide your way and provide artistic information.
Want to escape the busy airport terminal? Visit one of our airport lounges, which are now open to all passengers for a daily rate of $50. Locations: Gate S9 and across from Gate A11.
Our "Flight Path" art and exhibition area is a place to learn about our honeybee hive pollinator project and relax before or after a flight. Location: pre-security, by the concourse B exit.
For users of electronics, take advantage of 2,400 power outlets attached to seats or at laptop charging counters at gate areas in all concourses. Check out our free WiFi throughout the terminal.
Forgot to empty your liquids? At Security Checkpoints 2, 3 & 5, look for the liquid drain and keep your favorite container through security. Then when you get to the other side, refill with one of four water bottle fillers located at A2, A5 and by D1, and in the central terminal food court.
Hawaiian Airlines continues to offer traveler convenience with self-tagging and boarding passes by using the airport's self-service kiosks, which are located near the international ticket counters.
Don't forget other amenities to enjoy your trip -- rocking chairs in Central Terminal, the salmon walk on concourse B, a children's play area where concourse A and B come together, pet relief areas – and find the talking water fountains. See more under Travel Tips.
Find out about new concessions options, construction, and news at Sea-Tac homepage.
General Travel Tips
Do some advance planning – Confirm your travel details and make sure the name on your boarding pass and your government-issued ID match.
Pack with security in mind – Know what is and isn't allowed in carry-ons and checked luggage by checking the TSA website. Also see if you qualify for the new TSA PreCheck program.
Get your boarding pass early – Print it online before you arrive or use convenient check-in kiosks in the airport garage or at airline check-in counters. Passengers with only carry-on baggage can go directly to the security checkpoint. Passengers with luggage can go to airline bag-check points.
Check the status of your flight online or via email notification – Check our flight status page for updates online or through email alerts.
Arrive at least two hours before your flight – Give yourself time to get through security.
Park in the Airport Garage – Save time, stay dry and be close. No shuttles, covered skybridges, and you are right next to the terminal.
Traveling Internationally? Sign-up for Global Entry
Frequent international travelers can significantly speed up their clearance process through U.S. Customs and Border Protection by enrolling in Global Entry, an expedited clearance for pre-approved, low-risk travelers upon arrival in the United States. A five-year membership is only $100. Visit the Global Entry website for more information.
Earn Airline Miles When You Park, Dine or Shop
Sea-Tac Airport partners with the Thanks Again loyalty program to offer airline miles when you make a purchase at any of our airport merchants. Enrollment is free and when you register by texting (text FLYSEATAC to 82257) you will receive 100 bonus miles.