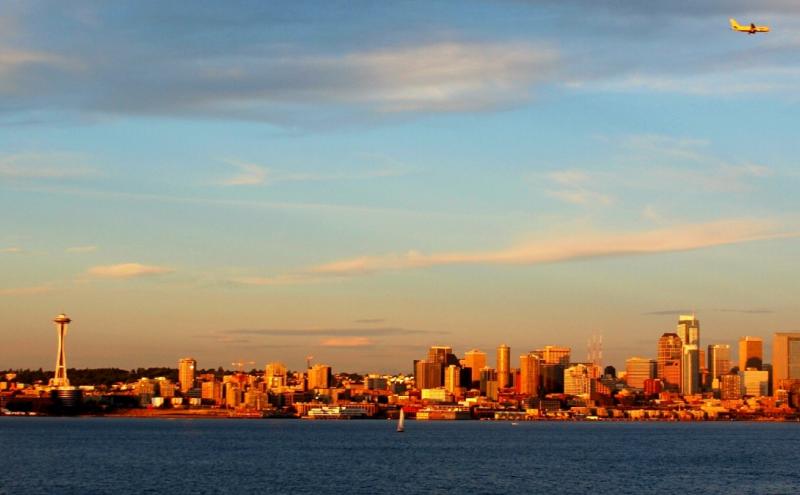 Goes along with annual recognition of limiting noise exposure over 2020
October 5, 2021
Frontier Airlines, SkyWest Airlines, and British Airways received the Port of Seattle's Fly Quiet Awards for 2020 today.  The awards annually recognize deserving airlines making significant contribution to reducing noise at Seattle-Tacoma International Airport (SEA) in the last calendar year.  
"We applaud the efforts of these airlines and manufacturers to reduce noise in our community," said Port of Seattle Commissioner Sam Cho. "The quietest airlines bring forward all the policy and innovation tools in their toolkit, which is what it will take to meet our environmental goals."  
Airlines are judged using four award criteria:  the sound levels of their operations (utilizing four of the Port's noise monitors); success at flying within the noise abatement flight procedures; limiting late-night noise; and adhering to the airport's ground maintenance engine run-up regulations. 
As part of the Port's late night noise limitation program, airlines can receive a penalty score to the Fly Quiet program if an operation exceeds an established noise threshold.  
Frontier Airlines and SkyWest Airlines were the top two scorers in 2020 for being the quietest jet airlines operating at SEA Airport.   
A new category for 2021 recognizes how the newest generation of aircraft have helped quiet the skies in the area. 
British Airways won the award for the airline making the most significant contribution to reducing noise over the course of the year. BA made a switch from the older Boeing 747 and 777 aircraft to the quieter Boeing 787 in March 2020, yielding a dramatic reduction in noise.
In addition to the annual awards, the Port publishes quarterly data on the airlines with late night operations that exceed noise thresholds during the quarter.  For a more detailed look at the specific operations that exceeded thresholds along with a list of all airlines that operated during these hours, please view Full Report.
Contact
Perry Cooper | SEA Airport 
(206) 787-4923 | cooper.p@portseattle.org  
Top photo credit: "Plane Over Seattle Skyline" by richardha101 is licensed under CC BY 2.0